Wetherby Young Offender Institution
Wetherby is a young offender institution (YOI) in Yorkshire for boys and young men aged 15 to 18.
Book and plan your visit to Wetherby
Wetherby is offering visits for family and friends. Visiting times and availability may change at short notice. You should contact the prison direct for any queries.
Now that regular COVID testing of people in the wider community has ended, you are no longer required to take a COVID test before coming to see someone for a visit, although we would still encourage you to do so.
We will continue to run social visits whilst it is safe to do so.
Visiting rules may change if there is an outbreak within the prison, this may include bringing back testing before visits for a short time to protect you, the person you are visiting and staff.
If you are unable to visit someone in prison you can still keep in touch.
You can also contact the Prisoners' Families Helpline on 0808 808 2003. You will not be able to book a visit using this number.
To visit someone in Wetherby you must:
be on that person's visitor list
book your visit at least 2 working days in advance
have the the required ID with you when you go
At least one visitor must be 18 or older at every visit. Up to 3 people aged 12 or older, plus 3 children under 12, can visit at once.
Visits last up to 2 hours.
If the young person is on remand they can have 1 weekday visit and 1 weekend visit a week.
If the young person has been convicted (they have been sentenced or are awaiting sentencing) they can have 3 visits a month.
Contact Wetherby if you have any questions about visiting.
Help with the cost of your visit
If you get certain benefits or have an NHS health certificate, you might be able to get help with the costs of your visit, including:
travel
somewhere to stay overnight
meals
How to book family and friends visits
Wetherby is running a limited visits schedule. Visits are also happening differently than normal, observing strict guidelines, which must be followed.
Visits are led by prisoner application. There is no online or telephone booking service available.
Visiting times:
Monday - Friday: 6.45pm – 7.45pm
How to book legal and professional visits
There are currently no legal visits taking place.
Getting to Wetherby
The closest railway stations are Leeds and York, where you can catch local buses to Wetherby town centre. Wetherby YOI is a 15 minute walk from the town, or you can take a taxi.
To plan your journey by public transport:
There is a visitors car park at Wetherby, including spaces for Blue Badge holders.
Entering Wetherby
All visitors, aged 16 or older must prove their identity before entering the prison. Read the list of acceptable forms of ID when visiting a prison.
All visitors will need to be given a pat-down search, including children.
There will be no refreshments available during your visit.
You can use a locker for any personal items that are not allowed into the visiting area. You'll need to bring a £1 coin if you want to use a locker.
You will be told the rules by an officer at the start of your visit. If you break the rules, your visit could be cancelled and you could be banned from visiting again.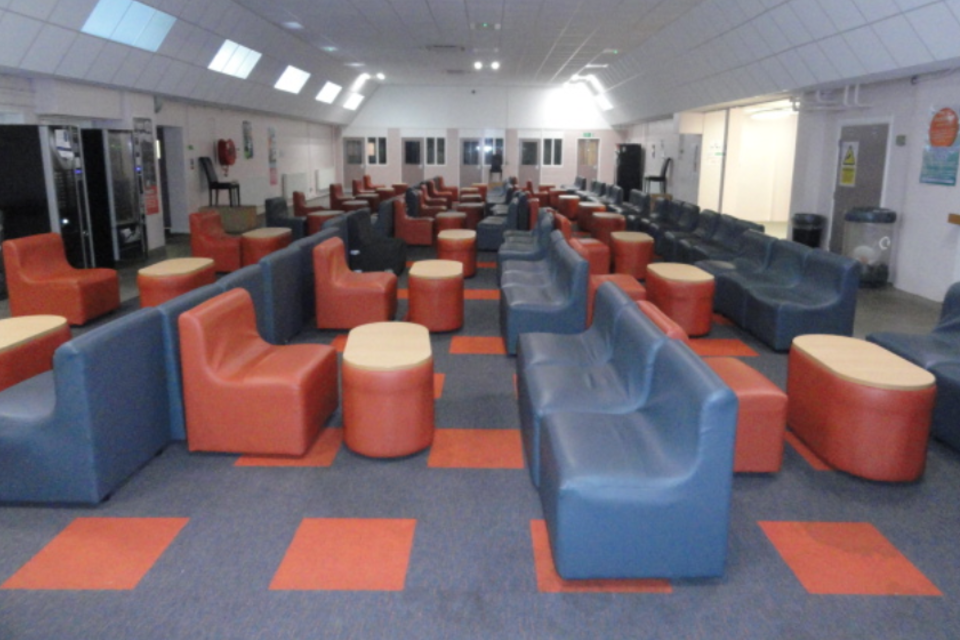 Family days
There are currently no family days running.
##Keep in touch with someone at Wetherby
You may not be able to speak to someone at Wetherby during their first few days. This is because it can take time to approve who they can contact by phone.
Young people have phones in their rooms and they will always need to call you rather than you call them. However, as a parent or carer you will be given a phone number for your young person's caseworker (during the first week) so that you can contact them if you have concerns.
Phone calls
Every person arriving at Wetherby is given £2 credit for telephone calls.
A person in Wetherby can only phone you if you are named on their list of friends and family. This list is checked by security.
Young people have a phone in their rooms and are most likely to call you during their free time ('association time') from 6:30pm to 8pm.
You can also exchange voicemails using the Prison Voicemail service.
Officers may listen to phone calls as a way of preventing crime and helping keep people safe.
Secure video calls
Secure video calling is available at this prison. Family and friends need to download the purple visits app, create an account, register all visitors, and add the prisoner to their contact list.
Email
You can send emails to someone in Wetherby using the Email a Prisoner service.
You might also be able to attach photos and receive replies from the prisoner, depending on the rules at Wetherby.
Letters
Include the person's name and prison number on the envelope.
If you do not know their prison number, contact Wetherby.
All post apart from legal letters will be opened and checked by officers.
Young people in Wetherby can post 2 letters a week for free. They will need to buy stamps if they want to post more than 2 letters.
Family and friends can also post extra stamps to their young person.
Send money and gifts
You can use the free and fast online service to send money to someone in prison.
You can no longer send money by bank transfer, cheque, postal order or send cash by post.
If you cannot use the online service, you may be able to apply for an exemption - for example if you:
are unable to use a computer, a smart phone or the internet
do not have a debit card
This will allow you to send money by post.
Gifts and parcels
Each young person is given a list of approved items that can be sent to them as gifts.
Approved items might include:
clothing (no logos of sports teams, hoods)
footwear (no air pockets in the sole)
sealed CDs and DVDs
books
Friends and families of prisoners are permitted to send books directly to their loved ones, or can order books from approved retailers, which can source and send the books on to prisoners.   For the full list of approved retailers, you can read the HMPPS Incentives Policy, Annex F.
Contact Wetherby for more information on the gifts that are allowed.
All parcels will be opened and checked by officers.
Life at Wetherby
Wetherby is committed to providing a safe, decent and educational environment where young people are encouraged and cared for by professional staff.
Security and safeguarding
Every young person at Wetherby has a right to feel safe. The staff at Wetherby are responsible for their safeguarding and welfare at all times.
For further information about what to do when you are worried or concerned about someone in prison visit the Prisoners' Families helpline website.
All safeguarding processes are overseen by Leeds City Council's safeguarding children board.
Wetherby has written policies and procedures explaining how it meets all safeguarding requirements, including:
reception of the young person
investigating and resolving cases of bullying
child protection concerns
healthcare and substance misuse
letting the young person have contact with their family and friends
You can contact the safeguarding team to discuss the procedures or get copies of the policies.
All investigations into child protection incidents are carried out by Leeds City Council.
Arrival and first night
Every young person who comes to Wetherby is searched for things they are not allowed, such as tobacco or mobile phones.
They will be able to contact a family members by phone - usually the person on record as their 'next of kin'. This could be quite late in the evening, depending on the time they arrive.
The young person will be given:
clothes (including shoes, socks and underwear)
a toothbrush and toothpaste
shower gel and shampoo
bedding
a cup, bowl and plate
They'll get to speak to a 'first night officer' who'll ask them:
how they are feeling
how they are coping with being in custody
if there is anything the Wetherby should know about, such as medication they need or any worries they have
The young person will be given a personal officer and a secondary personal officer.
The personal officer will be the young person's main point of contact for questions and problems. They can also ask other members of staff if they need anything.
Induction
Each young person who arrives at Wetherby gets an induction that lasts about a week. They will meet professionals who will help them with:
health and wellbeing, including mental and sexual health
any substance misuse issues, including drugs and alcohol
personal development in custody and on release, including skills, education and training
other support (sometimes called 'interventions'), such as managing difficult emotions
Everyone also finds out about the rules, fire safety, and how things like calls and visits work.
Each young person is given a caseworker who will help them make the most of opportunities in custody, so that their experience is positive. The caseworker will be in touch with the young person's youth offending team (YOT) worker and family during their time in custody
Accommodation
Around 300 young people live at Wetherby and everyone gets their own room.
There are 8 units:
Benbow - where young people spend their first night and induction period
Collingwood - where most young people on the 'Gold' behaviour level live
Anson
Drake
Exmouth
Frobisher
Keppel
Napier
Once the induction is complete, the young person's progress will be assessed and they will move into one of the residential units.
Behaviour
Every week the young person's progress is assessed. This includes how they have treated others and whether they have attended education.
The 3 levels of behaviour are:
Young people at Gold level can earn extra rewards and privileges, including more money and extra free time.
Free time
Free time is called 'association' and takes place between 6.30pm and 8pm, Monday to Friday. There is extra association time at the weekend.
The young person can use this time to:
socialise
shower
play games like table tennis
make phone calls
Young people get at least 30 minutes outside every day (depending on the weather or any exceptional circumstances). This is normally around 4:30pm to 6pm on weekdays and a little earlier at the weekend.
Faith services
A large number of volunteers work with the chaplaincy at Wetherby to give young people access to a range of religious services and faith rooms.
Education
Every young person gets 30 hours of education a week. This is provided by an organisation called Novus.
Courses are offered to help young people gain qualifications. They include GCSEs, A levels, construction, hospitality and catering, business enterprise, creative media, music and art.
All courses include help with English, maths and personal development.
The Novus team works with each young person to help them get college places or apprenticeships when they are released. They might also be able to work in the community during their sentence.
Earning money
Young people in Wetherby can earn up to £2.50 a week by taking part in education.
Spending money
The amount someone has available to spend each week is printed on their canteen sheet. They can order things like extra food, phone credit and stamps using this sheet.
Certain items, such as stereos, can be bought through an Argos catalogue in their unit.
Organisations Wetherby works with
Wetherby works closely with children's charity Barnardo's and with In2Out who help young people aged 15 to 21 reach their potential when leaving custody.
Support for family and friends
Find out about advice and helplines for family and friends.
Problems and complaints
If you have a problem Contact Wetherby.
HM Prison and Probation Service publishes action plans for Wetherby in response to independent inspections.
Contact Wetherby
Governor: Peter Gormley
General enquiries: 01937 544 200
Monday to Friday, 9am to 5pm
Out of hours (ask for the duty governor): 01937 544 211 (24 hours)
Email: comms.wetherby@justice.gov.uk
Fax: 01937 544 201
Find out about call charges
Address
HMYOI Wetherby
York Road
Wetherby
West Yorkshire
LS22 5ED

Safeguarding team
If you have concerns about the safety or wellbeing of a young person at Wetherby, call the safeguarding messaging service to leave a voicemail. The team will listen to your message and follow up on any concerns you raise.
Safeguarding team (24 hours, Freephone number): 0800 496 1003
Use the general contact numbers if you have an urgent concern.
Published 23 May 2019
Last updated 1 April 2022
+ show all updates
Updated visiting guidance based on 1 April COVID rule changes

Added link to new safer custody information under Security and safeguarding.

Updated visiting information: Testing for visitors aged 12 and over.

Updated physical contact guidance

Added link to information about testing for physical contact at visits.

Updated visiting information in line with coronavirus restrictions

Updated visiting information

Updated visiting information in line with new local restriction tiers.

Updated visiting information in line with new local restriction tiers.

Updated visiting information in line with new national restrictions in England.

Updated: HMP Wetherby visiting times visits information.

Updated information to include confirmation of secure video calls being available at this prison.

Prison visits update.

Added action plan and link to latest inspection report for Wetherby and Keppel YOI.

Added professional visiting times.

First published.