Guidance
Safeguarding against Sexual Exploitation and Abuse and Sexual Harassment (SEAH) in the aid sector
DFID's standards, guidance for partners and information on how to report a concern
Safeguarding broadly means avoiding harm to people or the environment. Since early 2018, DFID has been focused on safeguarding against Sexual Exploitation and Abuse and Sexual Harassment (SEAH) in the international aid sector.
Our goal is to ensure all those involved in poverty reduction take all reasonable steps to prevent harm, particularly SEAH, from occurring; listen to those who are affected; respond sensitively but robustly when harm or allegations of harm occur; and learn from every case.
DFID's work on SEAH looks at both DFID and the partners we fund with Official Development Assistance (ODA) to deliver development and humanitarian programmes around the world, often with vulnerable people.
This site provides an overview of DFID's work and points to guidance for those working in the aid sector on how to safeguard their people and programmes.
At DFID we use the UN definitions for SEAH:
Sexual Exploitation: Any actual or attempted abuse of a position of vulnerability, differential power, or trust for sexual purposes. Includes profiting momentarily, socially, or politically from sexual exploitation of another. Under UN regulations it includes transactional sex, solicitation of transactional sex and exploitative relationship.

Sexual Abuse: The actual or threatened physical intrusion of a sexual nature, whether by force or under unequal or coercive conditions. It should cover sexual assault (attempted rape, kissing / touching, forcing someone to perform oral sex / touching) as well as rape. Under UN regulations, all sexual activity with someone under the age of 18 is considered to be sexual abuse.

Sexual Harassment: A continuum of unacceptable and unwelcome behaviours and practices of a sexual nature that may include, but are not limited to, sexual suggestions or demands, requests for sexual favours and sexual, verbal or physical conduct or gestures, that are or might reasonably be perceived as offensive or humiliating.
Sources:
DFID's Safeguarding Standards
DFID expects all partners we work with to take all reasonable steps to safeguard the people they come into contact with (including staff and the communities in which programmes are delivered) from SEAH. DFID holds ourselves to at least the same high standards we expect of our partners.
Along with other OECD DAC donors, we adhere to 2 sets of international minimum standards on tackling SEAH:
For partners under an accountable grant or MoU, these standards are reflected in our Enhanced Due Diligence on Safeguarding guidance. All DFID partners delivering a programme via an accountable grant or MoU must have an enhanced due diligence assessment in place before funding is dispersed to assess risks and the organisation's adherence to these standards (there are some exceptions in humanitarian crisis response where the due diligence can be conducted at a later date to enable quick dispersal of funds to reach those in urgent need).
For partners under a contract, the standards are reflected in our Supply Partner Code of Conduct and Terms and Conditions. The Supply Partner Code of Conduct will also apply to partners with whom DFID has an accountable grant from late 2019.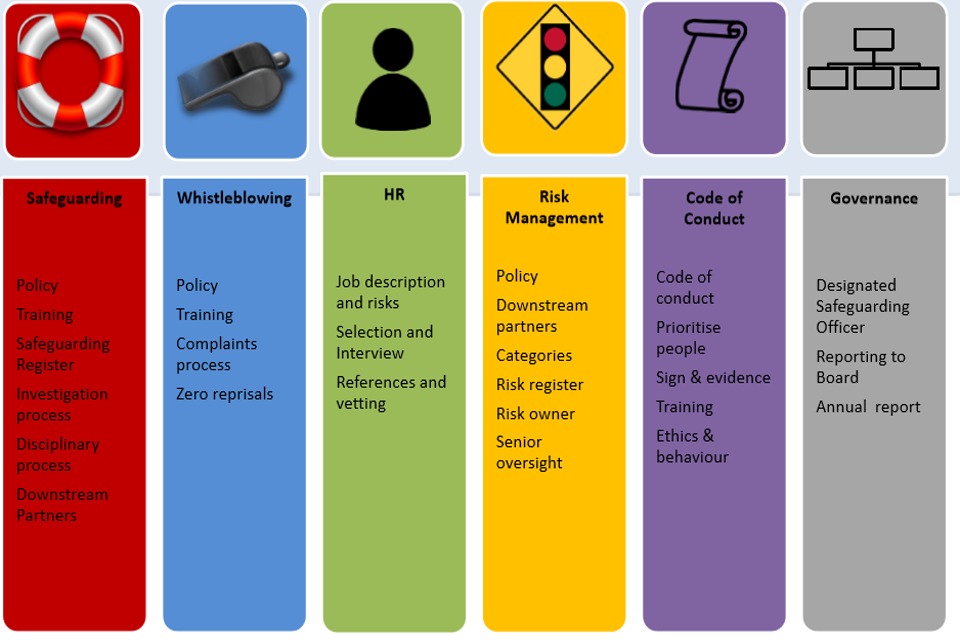 The safeguarding principles that will underpin all our due diligence are as follows:
everyone has responsibility for safeguarding
do no harm
organisations have a safeguarding duty of care to beneficiaries, staff and volunteers, including where down-stream partners are part of delivery. This includes children and vulnerable adults in the community who are not direct beneficiaries but may be vulnerable to abuse
act with integrity, be transparent and accountable
all activity is done in the best interests of the child/vulnerable person
a child is defined as someone under the age of 18 regardless of the age of majority/consent in country
all children shall be treated equally, irrespective of race, gender, religion/or none, sexual orientation or disability
organisations that work with children and vulnerable adults should apply a safeguarding lens to their promotional communications and fundraising activities
How to report a safeguarding concern to DFID
If you are in immediate danger, call the police if safe to do so or your relevant security team.
Any concerns about sexual exploitation and abuse and sexual harassment (SEAH) relating to DFID staff or programmes should be reported to DFID's dedicated Safeguarding Investigations Team via:
telephone +44 1355 843747.
If you are unsure whether to report a concern, then please contact us via the email address above for advice.
It is possible to report concerns anonymously and DFID will treat all reported concerns in confidence. We will consider whether onward referral in appropriate. In some cases this could be to the National Crime Agency (NCA), Charity Commission, police or other relevant Authority.
DFID expects its programme partners to provide their own mechanisms for preventing and responding sensitively but robustly to all allegations of harm, including complaints, reporting mechanisms and support services. Wherever concerns relate to a DFID programme, we also expect that our partners report to us.
DFID's commitments on safeguarding
DFID is holding ourselves to at least the same high standards we expect of our partners on safeguarding against SEAH.
Donor commitments from the Safeguarding Summit
Twenty-two donors, including all UK Government Departments who spend Official Development Assistance, signed up to commitments at the 18 October Safeguarding Summit. Donors agreed to report back on progress – you can read the report here.
Cross-sector progress report
DFID has also worked with the other 8 key groups who made commitments at the 18 October 2018 Safeguarding Summit – including donors, UN, IFIs, UK NGOs, UK private sector, UK research funders, CDC and Gavi and the Global Fund – to drive sector change. A one-year-on progress report has been published.
DFID progress report
DFID has published a report in addition to the 2 above with further detail on the action that has been taken within the department to take forward the commitments made at the Safeguarding Summit.
DAC Recommendation on Ending Sexual Exploitation, Abuse and Harassment in Development Co-operation and Humanitarian Assistance
In July 2019, The Development Assistance Committee (DAC) Recommendation on Ending Sexual Exploitation, Abuse and Harassment in Development Co-operation and Humanitarian Assistance was adopted. It provides a coherent framework for aid agencies and their implementing partners to prevent sexual exploitation and abuse and sexual harassment (SEAH) and respond better if it does occur.
The Recommendation is a strong signal that SEAH in the aid sector will not be tolerated. The Recommendation was developed by a small team co-chaired by the UK's Department for International Development, Ireland and Austria and working with the DAC Secretariat. It has been endorsed by all 30 DAC members and will be monitored through the DAC peer review mechanism.
International Development Committee's inquiry into sexual exploitation and abuse in the aid sector
The International Committee conducted an inquiry into sexual exploitation and abuse in the aid sector in 2018. Their report was published was published in July 2018 and you can read DFID's response here.
DFID's Annual report
DFID reports to Parliament annually, including on safeguarding. You can read the latest report from July 2019.
Tidewater Statement and Whistler Declaration
DFID has also signed up to the Tidewater Joint Statement on Combating Sexual Exploitation and Abuse in the Development and Humanitarian Settings made at the 50th Tidewater meeting of members of the OECD's Development Assistance Committee and the Whistler Declaration on protection from sexual exploitation and abuse in international assistance made by the G7.
DFID Safeguarding News
Safeguarding Resources
DFID Enhanced Due Diligence: Safeguarding for external partners
Guidance for partners on DFID's safeguarding standards and how they will be used in enhanced due diligence assessments (DDAs) to assess an organisation's ability to protect children, young people and vulnerable adults they work with, as well as their own staff and volunteers, from sexual exploitation and abuse and sexual harassment.
Scoping Study of Safeguarding Training options for the UK international aid sector
Results from a desk-based survey of existing safeguarding training – both face-to-face and online – available to the UK market.
Sexual Exploitation, Abuse and Harassment in the Aid Sector: victims and survivor voices listening exercise
Findings from a DFID listening exercise with a diverse range of both southern and international representatives of victims and survivors of sexual exploitation and abuse and sexual harassment.
Safeguarding Summit 2018: Are you listening?
This audio-visual presentation contains anonymised accounts by victims and survivors of SEAH by aid workers. The quotes are drawn from existing published sources and the voices in the recording are those of volunteers (mainly DFID staff) whose identities are not disclosed. We did not interview or record victims / survivors directly in order to avoid retraumatizing individuals and ensure all accounts are anonymous. The voices do not necessarily match the characteristics of the victim / survivor.
Watch the introductory video: Are you listening?
Charity Commission: Safeguarding
Guidance on safeguarding from the charity regulator for England and Wales.
Safeguarding Resource and Support Hub
DFID is awarding a contract to Options to be the lead supplier in a consortium of organisations to deliver the Resource and Support Hub, a signature DFID-funded programme announced at the October 2018 London Safeguarding Summit. Options lead a diverse consortium consisting of Social Development Direct, Terres des hommes, Sightsavers and GCPS Consulting.
The Hub will support smaller, under resourced organisations in developing countries who deliver international aid to strengthen their safeguarding policy and practice against SEAH. It will be a primarily online interface, with a secretariat consisting of a small team of multidisciplinary SEAH experts. The online platform will go live in Spring 2020.
The programme value is £3-4m for an initial 2 year phase, which could increase to up to £9.9m over the 5 years subject to satisfactory performance.
External Guidance
The National Council for Voluntary Organisations (NCVO)
The NCVO have safeguarding guidance for those working overseas on their website.
Bond: Safeguarding guidance resources and tools
Guidance on safeguarding from Bond, the UK network for organisations working in international development.
Bond: report-handling toolkit
DFID-funded toolkit providing principles and core elements of a safeguarding report-handling mechanism. Includes:
Scottish Alliance: Safeguarding Resources
Guidance on safeguarding from the Scottish Alliance, the network for international development organisations based or represented in Scotland
Core Humanitarian Standard on Quality and Accountability
Inter-Agency Standing Committee Minimum Operating Standards on Protection from Sexual Exploitation and Abuse
One of 2 sets of minimum standards adhered to by members of the OECD DAC. IASC have also published a related Best Practice Guide on Inter-Agency Community-Based Complaints Mechanisms.
UN: Preventing Sexual Exploitation and Abuse
Website outlining UN action and guidance on progress against the UN Secretary General's 2003 Special Measures Report on protection from sexual exploitation and sexual abuse. Includes Fact sheets on UN initiatives and quarterly reports on allegations in UN Field Missions and System-wide.
Safeguarding Summit 2018
On 18 October 2018, the UK government hosted an international summit in London - Putting People First: Tackling Sexual Exploitation, Abuse and Harassment in the Aid Sector - to drive collective action to better prevent and respond to SEAH.
Representatives from across the sector attended and 8 sets of commitment documents were presented from different groups of organisations (donors, UN, IFIs, UK NGOs, UK private sector, UK research funders, CDC and Gavi and the Global Fund).
Watch the live recording of the event.
Read the speech made at the summit by the then International Development Secretary
DFID chairs a Cross-Sector Safeguarding Steering Group with representatives of those that made commitments at the summit. You can read updates of progress that has been made one-year-on from the summit.
UK NGO Safeguarding Summit March 2018
The 18 October 2018 international summit was preceded by a summit for UK NGOs held on 5 March 2018. Read the joint statement from that summit.
Employment Cycle Initiatives
DFID is supporting 3 initiatives focused on the employment cycle which aim to prevent perpetrators moving around the aid sector undetected and improve information sharing between organisations and with law enforcement.
Project Soteria
Project Soteria focuses on the criminal aspects of SEAH prevention and response management via more and better criminal records checks on staff. It is a joint initiative between DFID, the International Criminal Police Organization INTERPOL and the UK's ACRO Criminal Records Office which signals a new level of co-operation between law enforcement agencies and organisations operating overseas.
The project has 3 main components:
an online platform to improve background checks on staff and improve information sharing between law enforcement agencies about individuals of interest
a team of 7 to 9 specialists and investigators who will operate out of 2 of INTERPOL's regional bureaus (Africa and Asia) to provide support to national criminal bureaus in high risk countries to strengthen their criminal records systems and information sharing capabilities
analytical and operational support for investigations on cases of SEAH in high priority countries and strengthen the evidence base on criminal SEAH across the aid sector
Misconduct Disclosure Scheme
The Inter-Agency Scheme for the Disclosure of Safeguarding-related Misconduct in Recruitment Process within the Humanitarian and Development Sector provides a framework for organisations working in the aid sector to share information about someone's sexual misconduct during employment via a disclosure form. Signatories to the scheme are able to do this while respecting relevant legal and regulatory requirements. The sharing of this information has the potential to prevent perpetrators of SEAH from moving around the aid sector.
Aid Worker Passport
The aim of the Aid Worker Passport is to close the loop on individuals who work in the sector but abuse others, whilst equipping those who conduct themselves appropriately with a trusted source of evidence that details their positive work history. We are hoping to pilot the scheme in 2020 and will publish further information about how organisations can get involved in due course.
Published 17 October 2019