Building Digital UK (BDUK), part of the Department for Digital, Culture, Media & and Sport (DCMS) is delivering broadband networks to the nation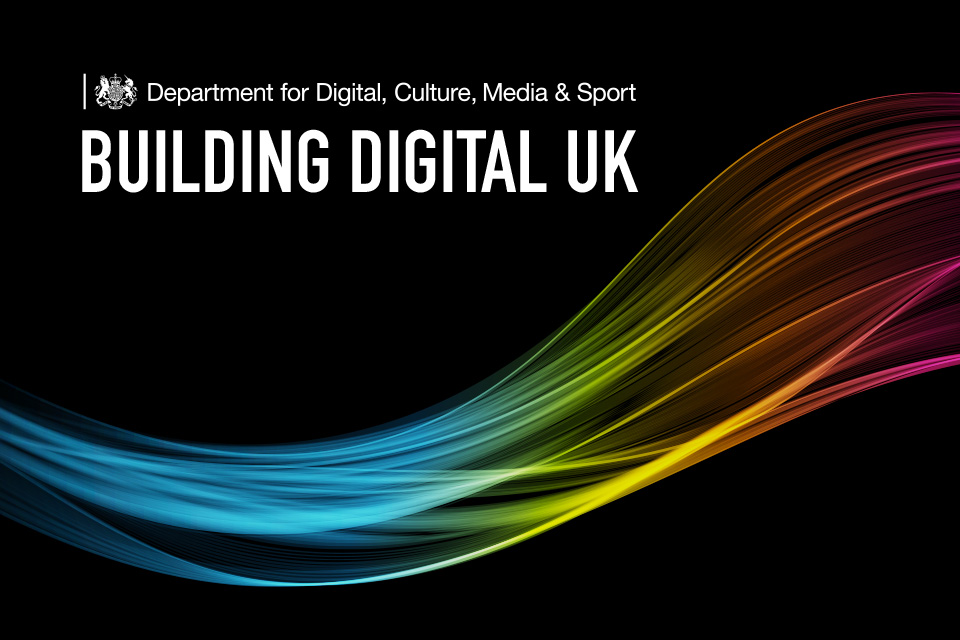 Building Digital UK (BDUK), part of the Department for Digital, Culture, Media & Sport (DCMS) is responsible for ensuring that every UK home and business can access fast and reliable digital connectivity.
The government is investing £5 billion to ensure that everyone will have the same access to gigabit-capable broadband.
Latest news
19 March 2021
Government launches new £5bn 'Project Gigabit'
More than one million hard to reach homes and businesses will have next generation gigabit broadband built to them in the first phase of a £5 billion government infrastructure project.
The Future Telecoms Infrastructure Review - setting the UK's broadband targets
In July 2018 the Government published The Future Telecoms Infrastructure Review that set clear, ambitious targets for the availability of full fibre and 5G networks.
What does gigabit-capable mean?
A gigabit is the fastest and most reliable available broadband speed and is the same as 1,000 megabits per second (Mbps) - so it's a big leap forward in connection speeds that will benefit you into the future, whether at home or work. Gigabit-capable means that the connection can handle speeds of 1,000 Mbps but users only sign up to speeds they can afford. As demand increases, users can choose the option to pay for more speed as required.
An 'outside-in' approach was proposed in the review to ensure that gigabit-capable broadband to premises in the final 10% can be delivered along with the rest of the UK. Since the report was published, the scope of this scheme for the hardest to reach premises has increased from the final 10% to 20%.
In May 2019, the Chancellor announced a £5 billion commitment to fund gigabit-capable broadband for the hardest to reach 20% of homes and businesses and in the Spending Review in November 2020 the budgetary phasing of the programme was confirmed.
In December 2020, BDUK launched the 'Planning for Gigabit in 2021' consultation with communications network providers and local authorities followed by the Project Gigabit Phase One Delivery Plan in March 2021.
The latest update on the procurement pipeline is available in the Project Gigabit Autumn Update.
UK Gigabit Programme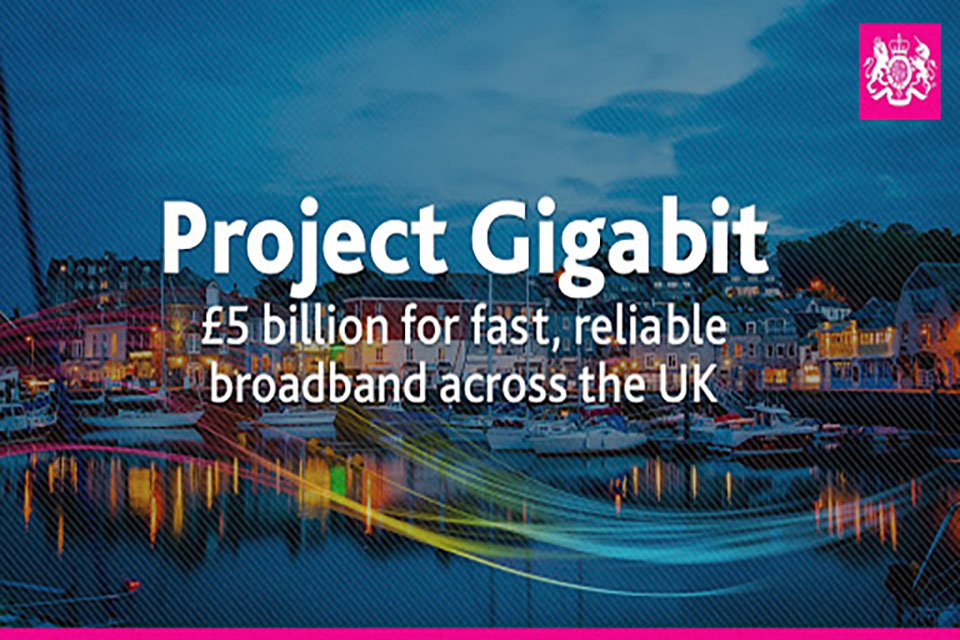 The UK Gigabit Programme or 'Project Gigabit' is a £5 billion government infrastructure project that brings together everything the government is doing to enable and deliver fast and reliable digital connectivity for the entire country. Through one of the fastest rollouts in Europe, 60% of households will have access to gigabit speeds by the end of 2021 - a huge leap from 2019 when it was just one in ten.
As part of this programme BDUK is launching phased contracts to those hard to reach parts of the UK that will need government support towards the cost of gigabit-capable broadband.
To complement this work and to support pace of delivery, there are three other elements to Project Gigabit:
Gigabit Broadband Voucher Scheme
There is up to £210 million to give people in eligible rural areas immediate financial help to get gigabit-capable speeds. The scheme is accessible through broadband service providers that have registered to provide connections through the scheme.
Vouchers worth up to £1,500 for homes and £3,500 for businesses help to cover the costs of installing gigabit broadband to people's doorsteps.
You can check if you're eligible for a voucher at your address on the Gigabit Broadband Voucher Scheme website.
Gigabit Hubs
There is up to £110 million available to connect public sector buildings - such as GP surgeries, libraries and schools - in hard to reach parts of the UK.
For more information, see GigaHubs: key information.
Superfast Programme
Now largely gigabit-capable, Superfast will reach half of the remaining premises that have broadband speeds of less than 30 megabits per second (Mbps). In late 2020, the government approved a further £490 million of new contracts signed at the end of last year to provide mainly gigabit-capable coverage to a further 172,000 premises. Information and take-up data on all procurements on the Superfast Broadband Programme can be found in the table of local broadband projects spreadsheet. The spreadsheet also contains links to gainshare consultations published by local broadband projects.
Barrier Busting
In order to support pace of delivery for network providers, the government has also published an update on the work of its Barrier Busting Taskforce.
Very Hard to Reach Premises
The UK has some very remote places for which the cost of a gigabit-capable network may be too expensive, even with substantial public subsidy and a call for evidence is currently underway to explore the barriers to improving their broadband and how innovative new technologies might help change this.
Public reviews
Building Digital UK will be seeking views from the public and other stakeholders with regard to existing or planned commercial gigabit capable broadband in areas open for public review. All areas currently open for public review can be found on the UK Gigabit Programme: public reviews page. Each public review will take place over a specified time period and will be replicated on the corresponding county council's broadband web pages.
Current mobile infrastructure projects
Shared Rural Network
The Shared Rural Network (SRN) is part of the UK Mobile Programme and will see the government and the four mobile network operators (Vodafone, O2, Three and EE) jointly invest over £1 billion to increase 4G mobile coverage throughout the UK to 95% by the end of programme, underpinned by legally binding coverage commitments.
The £532 million investment by mobile network operators is supported with more than £500 million of government funding to significantly reduce 'total not-spots': hard-to-reach areas where there is currently no coverage from any operator. This will provide new digital infrastructure in total not spot areas not commercially viable for the operators.
Furthermore, it will also level up the country by improving mobile coverage for an extra 280,000 premises and 16,000km of roads – giving the UK the world-class digital infrastructure it deserves.
The programme will lead to increases in coverage across all four nations, with the biggest coverage improvements in rural parts of Scotland, Northern Ireland and Wales.
The four mobile operators have already commenced work on the first element of the SRN programme which is funded by the industry, and are on track to eliminate the majority of partial not-spots - areas where there is coverage from at least one but not all operators - by mid-2024.
Now that funding has been released for the total not-spot element of the programme the government and the operators remain confident that combined coverage will be delivered to 95% of UK geography by the end of 2025, with areas around the UK starting to see improvements to 4G coverage long before completion.
DCMS has published a transparency notice in compliance with the UK's subsidy obligations under the UK–EU Trade and Co-operation Agreement (TCA). The notice sets out how the programme meets the TCA's subsidy control principles. You can read more in the transparency commitment publication.
For more information go to the Shared Rural Network website.
Programmes closed to new applicants
Rural Gigabit Connectivity Programme: 2019-2021
The Rural Gigabit Connectivity (RGC) programme was a pilot to test ways in which the government could stimulate the market and provide targeted investment in hard to reach areas of the UK.
Eligible public sector buildings that met qualifying criteria set by BDUK received gigabit-capable connectivity thereby enhancing a public service and improving commercial viability for the surrounding area. It also featured a rural voucher, where communities could pool funding together to fund the cost of building gigabit-capable broadband to their area.
Local Full Fibre Networks Programme: 2017–2021
The Local Full Fibre Networks (LFFN) programme was designed to stimulate commercial investment in full fibre networks in both rural and urban locations across the whole of the UK and was funded by the National Productivity Investment Fund.
Since 2017, LFFN has initiated three waves of a capital grant programme - called the Challenge Fund - funding public connectivity projects in gigabit-capable connections. Concurrently the programme set up the Gigabit Broadband Voucher Scheme and a project on rail connectivity run jointly with the 5G.
The BDUK team continues to provide support and guidance to the local bodies leading the Wave 2 and Wave 3 projects to ensure successful delivery by 2021 but the fund concluded on 31st March 2021.
TransPennine Initiative: 2017–2020
The Trans-Pennine Initiative (TPI) was a pilot initiative to deliver gigabit-capable infrastructure along the existing rail route between Manchester and York.
The initiative tested the viability of using the rail corridor to deploy high capacity, cost effective fibre, aiming to stimulate commercial extension of the fibre footprint to line-side businesses and communities along the route.
For more information about the initiative, please visit Network Rail.
700MHz Clearance Programme: 2014–2020
The 700MHz spectrum clearance programme was a government-funded programme to clear airwaves used by Digital Terrestrial Television (DTT) and PMSE (Programme Makers and Special Events) services in order to meet the growing demand for 5G mobile data.
The last phase of the clearance was completed in August 2020. During the course of the programme, 154 grants for TV infrastructure works were awarded at a value of approximately £270m. Work for the programme was finished under budget and on schedule.
Job opportunities in BDUK
Join BDUK to be a part of the connected future of the UK in any of the new roles that we'll be featuring on our job opportunities page over the next few months.
Evaluation and analysis information: BDUK Research Portal
Detailed evaluation and analysis of BDUK interventions can be found in reports published on the BDUK Research Portal.
Further information
Government subsidy rules
Under the United Kingdom/European Union Withdrawal Agreement of October 2019, all awards made prior to the end of the Transition Period (31 December 2020) continue to fall under the State aid regime for a period of four years and need to be managed in accordance with the rules in that period.
We are developing the UK Gigabit Programme within the UK Subsidy Control Regime and have published detailed guidance on the approach. See Project Gigabit: UK subsidy advice.
Guidance for local authorities and network providers
The Digital Connectivity Portal provides guidance for local authorities and network providers on improving connectivity in local areas.
Published 27 February 2013
Last updated 7 December 2021
+ show all updates
BDUK move to Executive Agency announced.

Added news story: 1,000 schools connected to top-of-the-class full fibre broadband.

Added news story.

Added news story.

Added UK subsidy advice page link to Further guidance.

Page update

Added new story.

Added SRN transparency commitment notice update.

Added news story

Added Public Review section.

Added news item.

Added news story: Next steps in Government's £5 billion gigabit broadband plan.

Added 700 MHz Clearance Programme video.

Updated 700MHz Clearance Programme section

Updated 700MHz Clearance Programme section

News feed update.

An update to the Superfast section on the pilot survey to be conducted with households by Ipsos Mori.

News update

News added to news feed

Newsfeed update

Changed: Update: The 700MHz Clearance programme has been paused. We'll restart the clearance event programme as soon as it is operationally viable to do so. to: Update: The 700MHz Clearance programme was paused in March due to the coronavirus (COVID-19) risk. As of 16 July 2020, work will now resume and the last two clearance events will take place on 12th and 19th August 2020.

Added 'Shared Rural Network' section to 'Current mobile infrastructure projects'. Updated news feed.

Updated narrative regarding the 700MHz clearance programme

Reorganised page to reflect current programme priorities.

Narrative changed to reflect Chancellor's recent rural funding announcement.

New section added in for TPI

Users can click the link to go to the Key Information document and Hub Site Submission sheet.

RGC details added to reflect the programme launch.

Change of Broadband Delivery to Building Digital

Additional link to Wales GBVS

Addition of paragraph on Welsh vouchers

Better Broadband Scheme info added

Announcing the deadline to apply for LFFN Challenge Fund Wave 3.

Change in Gigabit Voucher amount available.

Updated to include details and link to guidance for next wave of the Challenge Fund

Link to newly published Evaluation of the Economic Impact and Public Value of the Superfast Broadband Programme added.

Updated information regarding the Local Full Fibre Networks Gigabit Broadband Voucher Scheme.

Added an update on the next wave of the LFFN Challenge Fund

Updated information on the LFFN Gigabit Broadband Voucher Scheme.

New information regarding announcement of Gigabit Broadband Voucher Scheme.

New information about the LFFN Challenge Fund

Updated information on Superfast Broadband and LFFN

Updated information on the Local Full Fibre Networks Programme.

Updated to include information on the 700MHz Clearance Programme.

Link added for Gigabit Voucher Scheme Local Body Information.

Adding information about the Local Full Fibre Networks Challenge Fund Workshops.

Local Full Fibre Networks programme has now launched the Challenge Fund.

The Local Full Fibre Networks Gigabit Voucher Scheme Supplier & Package Registration Request site is now live.

The Mobile Infrastructure Project Impact and Benefits report has been published.

Update to include information on Local Full Fibre Networks

Updated link

Update to reflect changes following the end of the SuperConnected Cities Programme and closure of the Broadband Connection Voucher scheme.

Updated project information for the Broadband Delivery UK (BDUK) portfolio.

Removed 'Rural Community Broadband Fund Toolkit' as it is now redundant.

Added updated version of State aid guidance technology guidelines.

state aid documents added

First published.