AI and data science: defence science and technology capability
Dstl provides the UK with world-class capability in applying artificial intelligence, data science and machine learning to defence and security challenges.
One of Dstl's missions is to de-mystify the area of artificial intelligence (AI). We help MOD understand how it can responsibly and ethically adopt AI in order to deter and de-escalate conflict, save lives and reduce harm.
From putting AI on-board Royal Navy ships, to using machine learning for bio-imaging, Dstl is at the heart of innovations in AI, data science and machine learning for the defence and security of the UK.
We work in partnership with specialists from academia, industry and allied nations to understand and develop a broad spectrum of techniques for performing tasks and discovering insights from data using automatic processes.
The vast array of potential applications include supporting military decision making, autonomous platforms, computer network defence, sensing, defence logistics, policing and security, and streamlining back-office functions. AI is critical to the UK's future as a science and technology superpower.
We will be recognised as a Science and Tech Superpower, remaining at least third in the world in relevant performance measures for scientific research and innovation, and having established a leading edge in critical areas such as artificial intelligence.
The Prime Minister's vision for the UK in 2030, from the Integrated Review of Security, Defence, Development and Foreign Policy (2021)
Working with partners: a formidable demonstration of AI at sea
Our cutting edge work covers everything from very early research looking at how machines interact with humans, to applying data science to real-world challenges and operational requirements.
Whenever possible, Dstl works with external suppliers in academia and industry to meet the needs of the UK's defence and security.
Royal Navy crews taking part in a 2021 NATO exercise in UK waters were able to take advantage of AI on-board ship for the first time, when Dstl and our industry partners brought the latest technology into the command spaces of a Type 45 destroyer and a Type 23 frigate.
Tested against a supersonic missile threat, our AI-based applications were designed to help detect threats earlier and provide a rapid hazard assessment to recommend options the crew can take to counter the threat.
This exciting real-world test was the culmination of almost 10 years of research and collaboration with industry suppliers.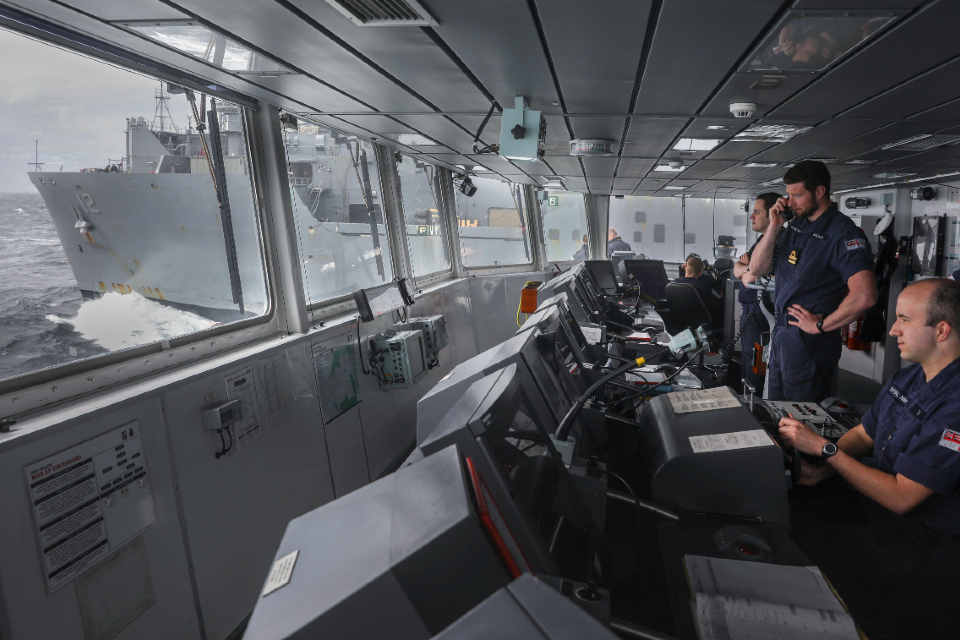 Exploiting AI in the field
We work alongside the armed forces to develop and test new technologies in the field to get them into operational use as quickly as possible.
During Exercise Spring Storm, soldiers from the 20th Armoured Infantry Brigade used an AI engine developed by Dstl and the Army Headquarters Directorate of Information in collaboration with industry, including IBM, ESRI and Janes.
This prototype was specifically designed for the way the Army is trained to operate. During the exercise Dstl staff analysed how the AI engine was used in practice, to understand the critical human factors including how we build trust in the AI.
The AI engine uses automation and smart analytics along with supervised learning algorithms to save time and effort and help military personnel operate much more effectively. By instantly exploiting information on the surrounding environment and terrain, the AI makes it much quicker to plan and analyse different courses of action. This is one of the first steps towards achieving machine-speed command and control.
The deployment was a first of its kind for the Army. It built on close collaboration between the MOD and industry partners that developed AI specifically designed for the way the Army is trained to operate
The Army's Director of Information, Major General Jonathan Cole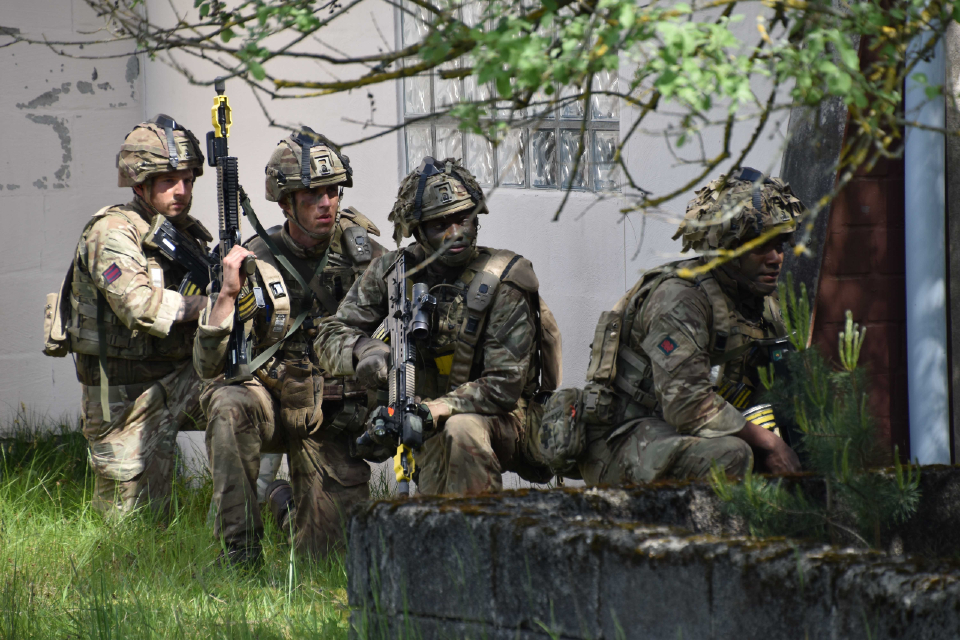 Academic achievements
We frequently collaborate with universities and other academic institutions, often accelerating the research they have been doing and applying it to solve problems for UK defence and security. It's a fantastic opportunity for organisations to get to work on leading edge projects that can have a real impact on the defence and security of the country.
For example, Dstl and DASA supported a study by the Alan Turing Institute into identifying hazardous chemical and biological contamination on surfaces. Working with industry and academic partners, we explored how machine learning and data science could be used to detect substances like anthrax and nerve agents, alongside the development of innovative sensor technologies. This could be safer and more efficient than current methods.
Dstl is also a strategic partner in the defence and security research programme run by the Alan Turing Institute who conduct world leading research in a wide number of areas related to our needs. And Dstl is an active supporter and sponsor of their international AI conference, AI UK.
We are also building links with other academic bodies such as the UKRI Trustworthy Autonomous Systems Hub.
The future of the UK's defence and security
AI and data science underpin and enable all the UK's defence and security science and technology capabilities. They have the potential to change everything.
Future conflicts may be won or lost on the speed and efficacy of the AI solutions employed.
Defence in a competitive age, Defence Command Plan (2021)
Our flagship AI Lab links up all AI-related work across Dstl's varied programmes. Through the Lab we have built a strong internal community of practice, sharing and building on our expertise and helping the MOD understand the opportunities and threats presented by AI and machine learning, and how the UK can responsibly and safely adopt these technologies to strengthen defence and security. We work together to partner with academic institutions and build relationships with suppliers.
We are now working alongside Defence Digital and MOD on the establishment of a defence AI Centre to boost research and accelerate the adoption of this technology, as announced in the Integrated Review.
And in late 2021 we are creating a brand new AI and data science unit based at the National Innovation Centre for Data in Newcastle, opening up new local opportunities for individuals and institutions to work with us.
AI for all
We want to make it easier for more people to work with us, whether that's government customers commissioning our services or attracting talent from outside the defence industry to work with us.
Every year we run AI Fest to bring together the AI community across government, industry, academia and international partners. At these events, world-leading experts share their experiences including the challenges of military adoption of AI, and we discuss how to build an effective AI capability.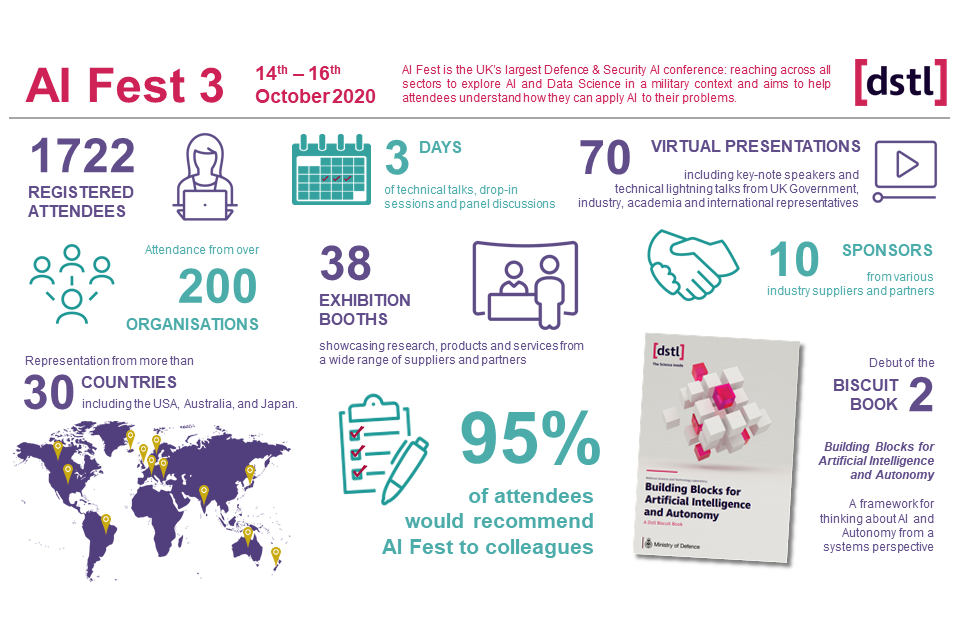 AI Fest 4: 'Trustworthy AI' ran from 12 to 13 October 2021.
If you're not sure where to start, our series of Biscuit Books provide simple introductions to some of the complex concepts related to AI, data science and machine learning.
Capability areas
Our staff, industry and academic partners work across a range of scientific and technology capabilities including:
AI and Machine Learning Algorithms
Data Science
Data Engineering
Signal Processing
AI Hardware
Human Machine Teaming
Test, Evaluation, Verification and Validation
Data and AI regulation and ethics
Applied AI and Data Systems
Work with us
Job opportunities
We are always looking for talented individuals to join us.
You will work on real-world problems, with the chance to see your science and technology expertise put into practice, including hugely exciting opportunities for overseas travel and working with the UK's allies.
Experience in defence is not necessary, and roles vary from apprenticeships to visiting fellowships (for example, we have a Visiting research scheme with the Alan Turing Institute). While we have a high intake of graduates, you can also be mid-career, looking to re-skill and re-train.
Opportunities for suppliers
There are several routes to working with us. We particularly welcome companies who have not worked with defence before, and small and medium-sized enterprises (SMEs).
We advertise contracts in multiple places - see our full guide to selling direct to Dstl.
You can also be part of our supply chain through our procurement frameworks. AI opportunities are found across many of our areas of work but the key Dstl procurement frameworks for AI are:
Requirements are also listed on the Crown Commercial Services frameworks for Digital Outcomes and Specialists and AI, and we occasionally promote funding opportunities through DASA.
Sign up for our industry newsletter by emailing ai_lab@dstl.gov.uk for regular updates and news of opportunities to work with us.
Partnerships and projects
We work closely with international partners and a range of academic bodies. Talk to us about potential future partnerships and projects by emailing ai_lab@dstl.gov.uk