Sensing: defence science and technology capability
Dstl ensures the UK can develop and exploit new sensor technologies for our defence and security, to find and assess potential threats and give information to decision-makers.
By providing data to help build a picture of the environment in which we are operating, sensors are essential to both military capability and security operations. They're used everywhere from space to underwater, and help ensure the UK has an information advantage.
Sensor technology underpins all areas of Dstl's work, from supporting intelligence, surveillance and reconnaissance, to enhancing platform survivability and targeting within advanced weapon systems.
Our remit ranges from carrying out underpinning and novel research, such as the work of the University Defence Research Collaboration in Signal Processing, to providing operational support. We also work with our partners on high profile projects developing the latest technology, such as the future combat aircraft (Team Tempest).
Our challenges include ensuring we can operate in high-threat environments, as well as the increasingly congested electromagnetic spectrum, and making sure we're exploiting the latest advances such as autonomy and quantum technology.
World-leading innovations in sensing
Dstl and our strategic partners in academia and industry are at the cutting edge of novel sensing technology, working alongside military and security professionals.
Our developments range from enhanced infra-red cameras that use processing to keep track of dozens of potential points of interest, using machine learning to understand the threat posed by a newly-encountered radar system and inform response, and rapidly deployable, distributed and disposable radar systems that can be scattered across the battlefield.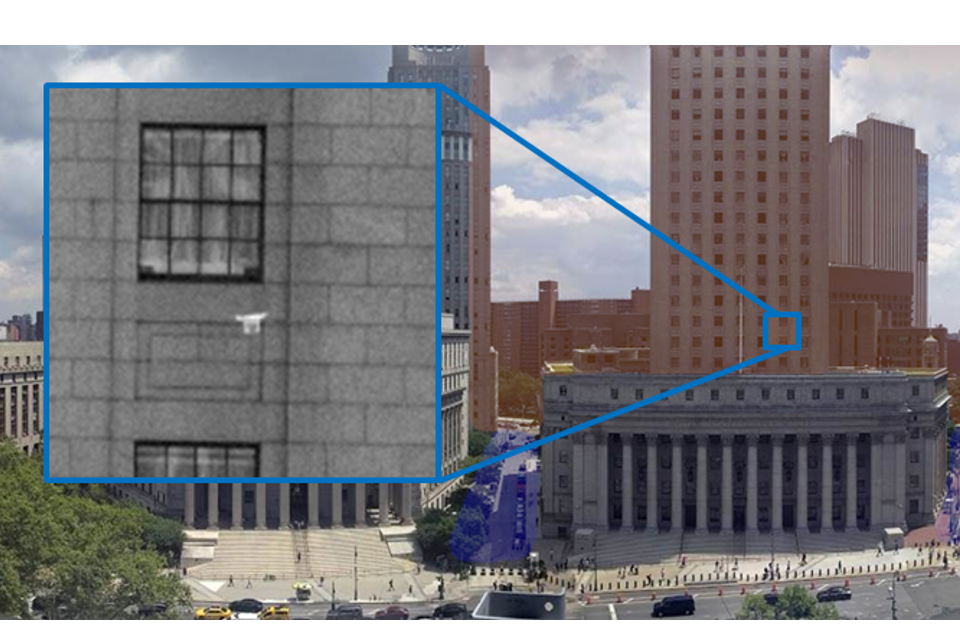 For example we have worked with Cubica Technology to use commercial, off-the-shelf imagers as the basis to develop HEIMDALL, an electro-optic camera that can detect very small uncrewed aircraft systems (UAS).
Detecting threats in complex urban environments can be particularly challenging, so we trial systems like our disposable radar systems and HEIMDALL in live environments such as the Contested Urban Environment 2021 (CUE2021) exercise.
We have also developed single photon counting sensors that can image through thick smoke or over distances of many kilometres. Along with Heriot-Watt University, Dstl has carried out trials using single photon counting light detection and ranging (LiDAR) to obtain video-rate 3D imagery for long-range target identification in the air, on land and at sea.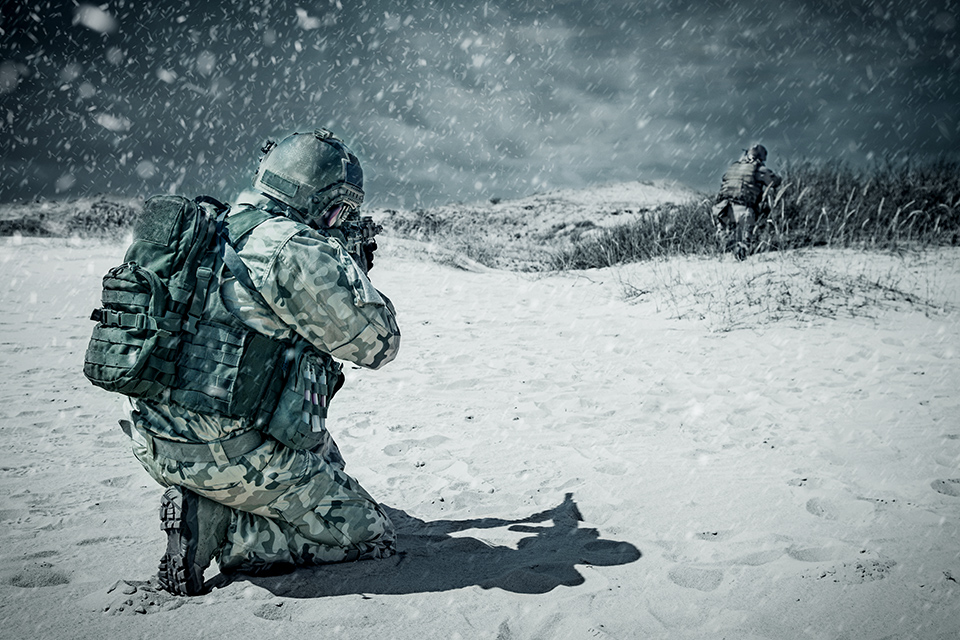 Similarly, we've been working with the Swedish Defence Research agency FOI to test innovative technologies that will increase the performance of active electro-optic sensors that act like torches to see through snowstorms and clouds over long ranges.
To develop generation-after-next sensing capabilities much of our work is high technical risk. In collaboration with international partners under The Technical Cooperation Program (TTCP), we are researching the idea of a cognitive radar system. Using machine learning it 'thinks' for itself and adapts radar modes according to changes in the environment or in the behaviour of an adversary. And we're working with eminent mathematicians at The Isaac Newton Institute to push the fundamental limits of sensing – like radar imaging through walls and optimal collection strategies for particular sensor types.
We regularly register new intellectual property (IP) submissions and obtain patents for our unique ideas. Our innovations in electro-optics led to the founding of Sentinel Photonics, a spin-out company that was awarded funding from the UK Government to provide novel laser detection and protection products for the military.
Sensor fusion through open-working and collaboration
Dstl has a leading role in multi-national collaboration initiatives to enable sensor fusion. The ability to coordinate tasking and integrate data from multiple sensors helps our armed forces get a more precise, rapid and efficient understanding of their surroundings (enhanced situational awareness). It is critical to detecting and tracking objects in complex and contested environments and improves our ability to share sensing information with our allies.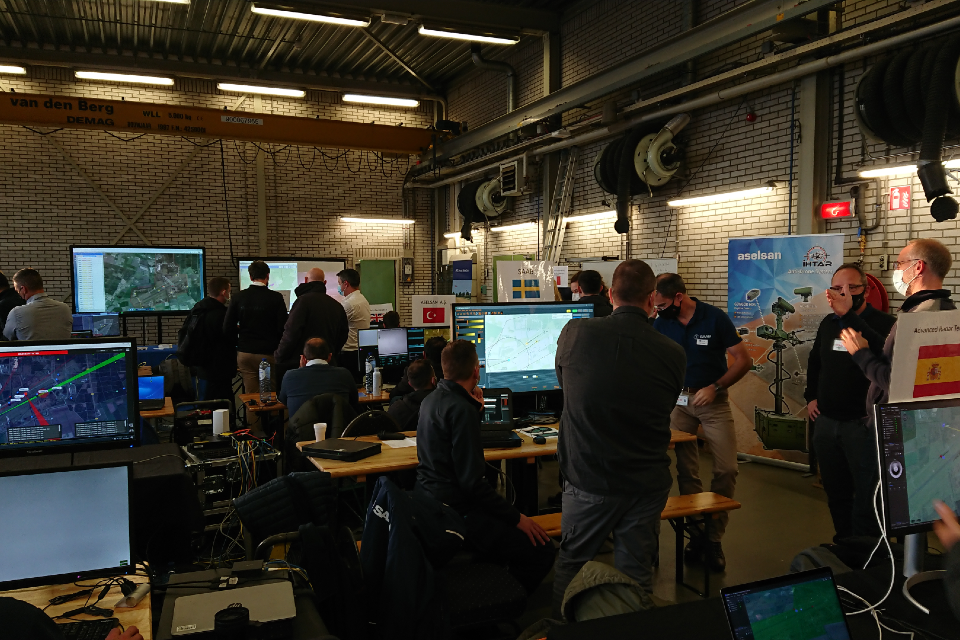 We have developed Sensing for Asset Protection with Integrated Electronic Networked Technology (SAPIENT), which uses autonomy to reduce the workload of people operating multi-sensor systems. It specifies standards and protocols that allow modern AI algorithms to work in concert across a suite of sensors. SAPIENT has been adopted by the Ministry of Defence (MOD) as the standard for counter-UAS technology, has been evaluated by NATO at the technical interoperability exercise (TIE21) in The Netherlands, and was a key enabler for the multinational TTCP CUE2021 exercise.
UE 2021 Urban Environment Training
Another example is Stone Soup, an open-source software framework designed by Dstl and Defence Research and Development Canada and adopted internationally to help improve tracking technology.
We also lead the development of standards that allow us to share and collaboratively develop electronic surveillance techniques with our international partners that help protect our deployed systems and personnel.
Quantum sensing technology
With its industry and academic partners, Dstl is developing novel quantum sensing technologies, which have the potential to be more cost-effective, portable, sensitive and efficient than traditional sensors. Sensing technology that used to need a whole roomful of equipment now fits in a shoe box; for example we are developing gravity sensors that are small and light enough to be installed in a small UAS.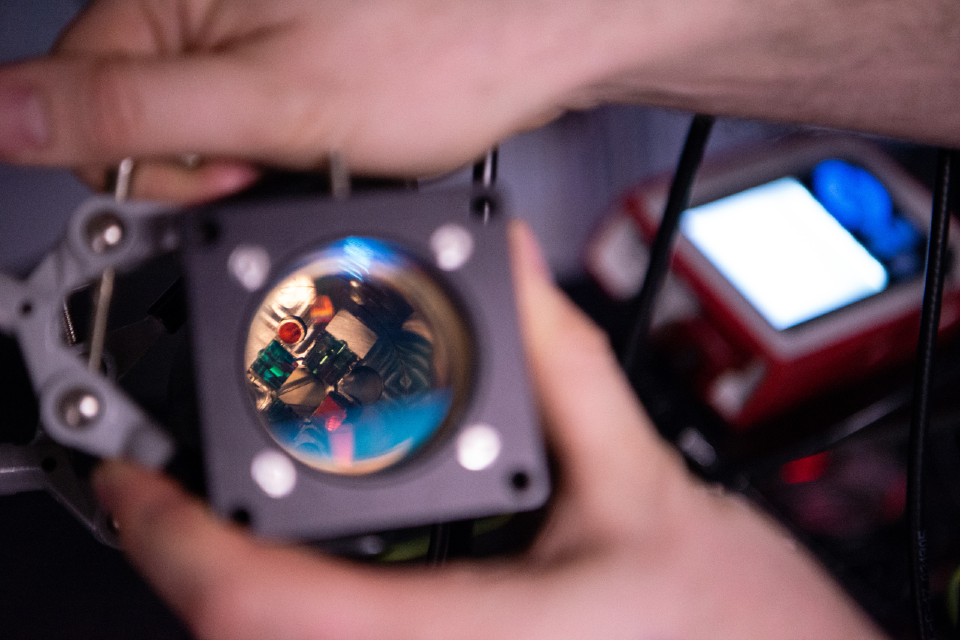 We recently generated laser-cooled rubidium atoms in our lab, a key enabling tool for a variety of sensing and timing applications, such as novel underground sensing and gravity map matching.
And working jointly with the University of Birmingham, we have developed a quantum gravity gradiometer that achieved a world-first in detecting an underground tunnel outside.
Dstl also funded the National Physical Laboratory to develop a miniature atomic clock (MINAC), which is now being commercialised by the Industrial Strategy Challenge Fund (ISCF) Wave 2 Pioneer atomic clock project KAIROS, led by Teledyne-e2v. This portable device will bring accurate timing to many new applications, potentially even being used as an alternative to the conventional Global Navigation Satellite System (GNSS). It's part of our cross-government work to explore new ways of delivering satellite navigation (sat nav) and protect access to GPS, including making receivers more resilient.
We encourage and support the growth of quantum sensing capability within the UK. As part of the UK Quantum Technology Sensors and Timing Hub and UK Quantum Technology Hub in Quantum Enhanced Imaging (QuantIC) we collaborate closely with the National Quantum Technologies Programme, a partnership supporting national expertise in this cutting edge technology. This includes funding a large number of PhDs with UK institutions.
Other areas of quantum sensing work include magnetometry, quantum illumination and radio frequency sensing.
For an easily-digested guide to quantum physics, read 'It takes two to entangle', part of Dstl's series of Biscuit Books.
Capability areas
Sensing encompasses a broad range of sensing approaches to:
detect, track, recognise and identify threats
quantify threat materiel
support situational awareness
provide information to tactical and strategic decision-makers
Our capability areas include:
sensor hardware
sensor processing
autonomous sensor management, interoperability and architectures
novel sensor technology and system concepts
position, navigation and timing (PNT)
discreet imaging, and tagging, tracking and locating (TTL)
quantum sensing
acoustics sensing
We also run open access trials and trials for suppliers to test equipment against threats directed against it.
Work with us
Job opportunities
We are always looking for talented individuals to join us, with skills ranging from radiofrequency (RF) engineering to position, navigation and timing, whether you're mid-career or just starting out.
You'll have a unique opportunity to work with leading experts in sensing science and technology as well as defence and security staff, and get access to the latest military technology. As well as participating in trials with the end users of our research, you might even get the chance to provide deployed support on operations.
We fund PhDs at leading UK universities and have an outstanding induction programme for our graduates, post-docs and other new starters: 'Sensing School' enables you to experience all the areas of our sensing work and how we work together. We also invest heavily in our people's ongoing learning and development.
Opportunities for suppliers
There are several routes to working with us. We particularly welcome suppliers who have not worked with defence or defence sensors before, in areas as wide-ranging as medical imaging, the automotive industry, information processing and mathematics. We also encourage interest from small and medium-sized enterprises (SMEs).
Contact us
We nurture innovation and grow the UK's overall sensing capability by working closely with international partners, collaborating with suppliers from a broad range of industries and through our relationships with academic institutions. We foster cooperation and knowledge-sharing through active participation in communities of practice, symposia, conference and international forums such as the Electro-magnetic Systems Interest Group (EMSIG) and the National Quantum Technologies Showcase.
Published 31 March 2022