#WeProtect Children Online Global Summit: Prime Minister's speech
The PM spoke about new measures to eradicate online child abuse including blocking search results, identifying images and law enforcement.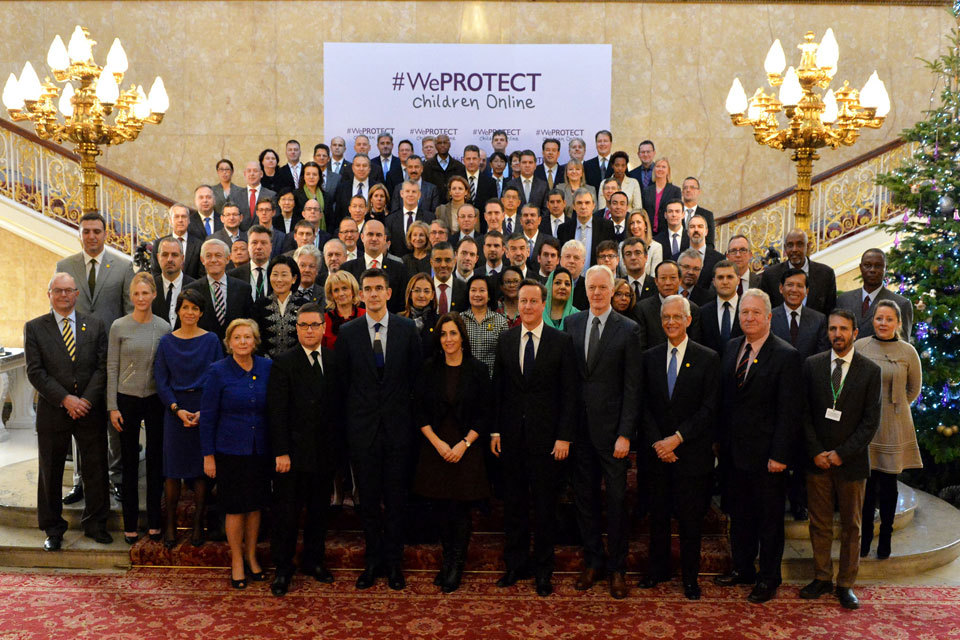 Thank you very much Ernie and thank you for all the work that you've done over so many years to keep children safe. You're absolutely right; I approach this issue as a politician, as a prime minister, but I also approach it as a dad. I've got a 10 year old, an 8 year old and a 4 year old, and I want them to grow up with safe streets, but I want them to grow up with a safe internet, too. And that is what today is all about.
Global summit
And frankly, a global gathering like this is long overdue. We have international summits to stamp out drug dealing, to beat modern day slavery, and this is another major international crime of our age. The online exploitation of children is happening on an almost industrial scale. There are networks spanning the world, children abused to order. One criminal gang in the Philippines was arranging the sexual abuse of children, filming it, and then live‑streaming it to paying customers across the world, making thousands of pounds out of these disgusting crimes.
Now, that gang was cracked. The trail started when a police officer here in the UK searched a sex offender's computer and found some footage. From there, we launched a global investigation named Operation Endeavour involving our own national crime agency, US immigration and customs enforcement, the Australian federal police, and the Philippines' national police force. That operation arrested 29 people worldwide and most important of all, 15 children in the Philippines, as young as 6 years old, were rescued from what was a living nightmare.
This episode shows just how dark, how devious, and how widespread this crime is. But it also shows what we can achieve if we act together. This is a global crime, so it needs global action. We need to throw the net so wide that there is nowhere for these paedophiles to hide. And that is why this summit is I think such an important moment. More than 50 countries, 26 leading technology companies, 10 Non Governmental Organisations (NGOs), all coming together to agree an unprecedented package of measures.
Landmark agreement against online child abuse
This landmark agreement we're signing amounts to nothing less than a global war against online child abuse. And this is a war we can only win if we fight it together. And we're fighting on 3 main fronts. First, blocking search results that lead to child abuse. Second, identifying the illegal images and taking them down. And third chasing down the perpetrators and enforcing the law. Today I want to set out the great progress that we've made and will continue to make on each front.
Blocking search results
First, blocking search results. Until recently, it was incredibly easy for people to search the internet for child abuse and get results. And even sometimes have their search terms automatically completed for them. It was appalling. And yet, when we talked about changing it, a lot of people said, 'Can't be done. You can't police the internet. You can't infringe internet freedoms in any way.' But we said you can't have the freedom to search for vile material trumping a child's freedom to have an innocent childhood. So I made very clear the industry would have to find a way to block these search results and if they didn't then we would look at legislation.
And I'm glad to say it hasn't come to that. In fact, internet companies have gone above and beyond what we asked of them. 95% of online searches are processed by Google and Microsoft, and these companies have led the way. They stopped the autocomplete technology from finishing the search terms of those looking for child abuse. They then came up with new algorithms to block illegal images and videos. And Google now apply this to searches made in 40 different languages, so automatically checking against millions of search terms every single day.
Microsoft are increasing the size of their blacklist to 10's of 1,000's of terms, none of which will return any child abuse results at all. When people do search for this, they're confronted with pages warning them off, telling them they're breaking the law. And because it's getting harder to look for this material, Google have seen a fivefold reduction in these searches over the last year. So I think these are big steps forward. They're proving that the internet doesn't have to be a place that is beyond the pale or beyond the law. And I want to thank the internet companies for making this happen.
Identifying illegal images
Now the second front we're fighting on is identifying the illegal images so we can take them down. You need organisations people can report these images to. You need databases to help them tagging and sharing information and you need to be proactive in actually rooting these images out. Here in the UK, we've made real progress on all fronts. We've got an excellent reporting organisation in the Internet Watch Foundation (IWF), which has doubled the number of images that it's taken down in the past 12 months from 13,000 images in 2013 to 27,000 this year.
Thanks to funding from internet companies, the IWF, the Internet Watch Foundation, is now not just taking reports of child abuse images, but proactively getting out there and looking for them. We've got a new, single national database of images where police forces can share this information and thanks to Microsoft's photo DNA technology, we're now able to take down the unique digital fingerprint of each picture and use that information to search for and delete those images wherever they are. Like I say, real progress. But the landmark agreement today puts rocket boosters under it, worldwide. Forty‑one countries have agreed that hotlines like the one run by Internet Watch Foundation are essential, which means millions more people will be able to report any images that they stumble across.
And when it comes to storing that information, 41 nations have agreed that they will set up national databases of their own or contribute to an international system such as the one run by Interpol. Just think what this means: we're going to have a global database of illegal images allowing us to join up the dots across borders. We're going to be able to identify and take down many more images and that will totally accelerate our fight against this appalling and evil trade.
And there is more. As well as the digital fingerprinting of photos, Google confirmed today that they're introducing video hashing technology, with Yahoo piloting this immediately. So just as we can identify these sickening photos, so we'll be able to do the same for videos. And with that information we can scour the internet for all this material and have it taken down forever. Information truly is power.
And when it comes to taking all this known child abuse material off the internet, there is another great breakthrough in this agreement. Three major companies, Microsoft, Google and Mozilla, have agreed to work together to look at how they can block these images at the browser level. This means that Internet Explorer, Google Chrome and Mozilla Firefox would have built‑in restrictions to block access to known child abuse material. And like so much else we're agreeing today, this would be a game‑changer.
Law enforcement
Now the third and crucial front we're fighting on is law enforcement. When it comes to the exploitation of children online, indeed any crime online, there has sometimes been a sense that these aren't like real‑life crimes. But that is completely wrong. What is illegal offline is illegal online. And every single one of these images that people look at, every single one of these images is a crime scene. That's why we've got to enforce the laws across every medium. Whether it's peer‑to‑peer networks, the so‑called 'dark net', or the open internet.
Here in the UK, the National Crime Agency (NCA) does brilliant work to pursue and destroy paedophile networks. Operation Notarise continues to be a success with over 700 people arrested so far. But this success, frankly, it also demonstrates just how great the challenge is. So I can announce today we're committing an additional £10 million next year to create further specialist teams in our National Crime Agency. And these teams will focus on the worst offenders sharing this horrific material.
New joint National Crime Agency and GCHQ team
When it comes to the so‑called 'dark net', the National Security Council that I chair has already made this a security priority and I can announce today that we've created a new joint team between the National Crime Agency and Government Communications Headquarters (GCHQ), using all the techniques and expertise we use to track down terrorists, using all those techniques, to track down paedophiles as well. This builds on some excellent joint work that's already been done.
In one investigation, GCHQ and the Child Exploitation and Online Protection Centre (CEOP), now part of NCA, became aware of an individual in the UK who was sharing child abuse images. He ran chat services in the Far East and in Eastern Europe. He was offering advice to other paedophiles on how to hide their behaviour. And he was doing it all under the cloak on online anonymity. Analysis by GCHQ and CEOP successfully led to his identification and arrest and he was sent to prison for his crimes.
And on the open internet, we're being just as robust. We're legislating to criminalise the possession of sickening so‑called 'paedophile training manuals'. These are circulated in criminal networks. They instruct paedophiles on how to conduct their crimes, and with this government, simply owning one of these manuals will be a crime. We're also boosting the powers that organisations like the National Crime Agency have to locate paedophiles. This will ensure that whether they're accessing child abuse images on their phone or on their computer, the NCA is able to pinpoint, find and arrest them.
Changing the law
And today I can announce we're taking another, important step. We've seen an increasing and alarming phenomenon of paedophiles contacting children online over the internet or on their mobile phone. And there can be no grey areas here. If you ask a child to take their clothes off and send you a picture, you are as guilty as if you did that in person. So we're going to change the law. Just as it is illegal to produce and possess images of child abuse, now we're making it illegal for an adult to send a sexual communication to a child. This law will make it clear this is a crime and you will be arrested and prosecuted if you take part in it.
Global law enforcement
And here today, by signing this agreement, we're seeing big changes in law enforcement on the global level too. A range of countries have committed to create dedicated law enforcement response to child abuse images. From Europe to America to Asia to Africa, the same message is going out: there is nowhere to hide. Child exploitation online is a real crime, for which there is real punishment.
Child protection fund
Now of course, there are real victims too. Three‑quarters of them are thought to be under 10 years old. And their lives are absolutely shattered by these appalling crimes. That's why an important part of this global agreement is a commitment to identify and protect more victims. A new global child protection fund will play a vital role in this work and I want to thank UNICEF for leading its development.
But of course, action always speaks louder than words, so I can confirm today that the UK will be the first and the most major donor to the fund with a pledge of £50 million over the next 5 years. This is money that will help put those lives back together again and I'm proud that Britain is pledging it and once again leading the way. So I want you to – thank you.
So I want you to leave this summit later today proud about what has been achieved. Together we've said, 'The internet is not like some weather system that is beyond human control. It is in our own hands to make it safer and to protect children around the world.' Because that's what we must remember at events like this. In our meetings, in our groups, in our discussions. We must remember there are children out there, vulnerable children, who are counting on us to get this right. Every single child is precious. Every child deserves a childhood. To have that window of innocence and to be protected from harm.
So for their sake, as long as I'm Prime Minister, I will make sure the United Kingdom is at the forefront of this fight. Together we must pledge to see this through, to clean up the internet, to keep those children safe. So thank you for coming to London. Thank you for all the work you've done so far. I'm absolutely convinced if we stick together we can continue this work. Together we can beat this appalling scourge. Thank you.
Thank you very much.
Question
Thank you very much. Good morning. Right honourable Prime Minister first of all I would like to congratulate you for taking a lead and such a powerful strength that you are pushing behind it is indeed very – you need to be congratulated for that. And I wish to extend my support in your initiative.
Prime Minister
Thank you.
Question
Protecting our children on line from exploitation on internet indeed is something that we want to all work on and Pakistan extends its support in your initiative. And you will find us all there in cooperating and collaborating and making it a really successful initiative from our side.
We are a population of 180 million and our youth are less than – are about 60% who are age – who are under 25. And about 80 million children waiting for our support on this issue. It is indeed welcoming to find government and security agencies, NGOs and particularly the technology companies coming forward and taking a proactive initiative on that. Supporting the cause is not just, for me as a Foreign Minister, but also as a mother of 3 is very important.
I wish to highlight here that whilst we are taking a multi‑stakeholder approach, there are technology ministries and their respective regulators who also play a vital role in regulating content online. But I do find this aspect missing from our conversations and meetings here. So is there a proposal to consider the technology ministries and their respective regulators to be brought into the fold? And secondly is there a consideration to remove the images altogether from the internet, rather than just blocking the images? Because when you block the images in 1 place it remains visible on another.
Prime Minister
Yes. Thank you. Well thank you very much for your words and thank you for your participation and everything Pakistan is doing. And I know that you're taking some specific steps in terms of law and practice which is very worthwhile. On your 2 questions, first of all, how do we make sure we involve technology ministries and regulators as well as law enforcement agencies? I think this is absolutely vital. We only made progress in Britain when we stopped just thinking of this as a sort of interior ministry legal approach. We only really made progress when we involve technology ministries, when we involve the companies themselves, when we got everyone round the table and said, 'Look, we've all got the same goal here. How do we protect children? How do we get rid of these images? How do we stop child abuse online? Obviously, we don't want to reach immediately for big legislative solutions. Tell us what is possible technically.' And it was that I think that led to the breakthrough of the internet companies saying, 'Look, I see what you want now. You want to stop the use of disgusting search terms returning a result. We'll help you do that.' Because if you have the technology companies working with you, you can actually protect many more people by taking that action without having the sort of blunderbuss of legislation. So I think it's absolutely vital. In every country you need to involve regulators, internet companies and all of that.
Your second question, how do we remove the images? Well my understanding and this is very difficult technical stuff. Where we've got to now in the UK but potentially internationally, is our Internet Watch Foundation is now no longer just receiving images from people who are concerned. They are actually going out and looking for them and because we have the cooperation of the technology companies and the internet companies, we are now physically taking those pictures down. And what I said in my speech about these unique digital fingerprints of each photograph and each video it means that once you take it down it goes from everywhere rather than having to take down every image individually. So again, it comes to this thing of politicians, regulators, internet companies working together to deliver the greatest possible impact for our children.
Question
As a parent of young children do you think that the internet is the biggest threat to their safety? And what steps do you take at home to protect children? And isn't there a limit to what the government can do? Shouldn't parents do more?
Prime Minister
Look, I think children growing up in our world today, there are lots of threats they face and the difficulty of being a parent today is the threats are evolving. You know, I'm only 48 so I don't want to sound too much like a fuddy duddy but obviously when I grew up the question was, you know, 'Could you help Dad to work the Betamax video recorder?' And after a while aged 10 or something you mastered that art. Now you've got tablets, iPads, iPhones, DSs. You've got so many different devices in the house and so you've got a whole set of new things you have to do to try and make sure our children are safe.
What we've done, like many families, is try to apply these new filters that are available, which, you know, they are working. This – the last time we had one of these conferences we were addressing this whole issue of how to have controls that automatically switched on that you had to disable. That is now happening so that is making a big difference. But in the end there is no substitute. You know the government must play its part. We've got to help parents do what they want to do but at the end of the day, parents and children have to talk to each other about internet use and staying safe online.
But that is difficult for parents because we're still learning a lot about the internet ourselves. And so I think there is a huge role for schools and there are some excellent organisations here today that are helping explain in school about how to stay safe. And that's information that needs to be given to parents as well as to children. So we're all finding our way. The government is trying to help. I would argue that in the last few years we've made some really big leaps forward in helping parents to keep their children safe online but there's certainly more work to be done.
More points or questions?
Question
Could I first of all thank you for your personal support over the last 18 months for my organisation which has made a huge difference? As you've said the contribution made by industry has been crucial in moving us forward on all of this and you've described how we have moved forward. A very simple question for you, would you support the idea of another conference like this in say 18 months in order for us to be held to account for the pledges that we make here today?
Prime Minister
Yes I would. Look, there are lots of international conferences that take place in the world and sometimes you feel that there's an international conference for the sake of having an international conference. I think this is not the case because I think what we've seen here is we've got a new crime as it were, or relatively new crime, exploiting children online which has grown in its scale and complexity. And what I think we've demonstrated here is that if governments and industry work together there's a massive amount you can do to block it, stop it and set it back. And I think that's only happened because of getting countries and governments and internet companies together so it makes very good sense to have subsequent conferences to check up on the progress we've made. But also to recognise that everything we do will be followed by a response by the perpetrators who will find new parts of the internet to exploit.
So I think the purpose of another conference and as I understand it the United Arab Emirates are keen to host a conference, and I'm very grateful to them for that. The purpose of the conference, we need to check up on action, accountability but also to work out what more technological sophistication we need to beat paedophiles at their horrendous efforts. And that's where I think involving organisations like Government Communications Headquarters (GCHQ) I think is going to be absolutely key to the sophistication.
Question
We have seen reports in the States of senior British politicians, shall we say conflating the issue of the sharing of child safety – child sexual abuse images with the exchanges of terrorists on social media sites. Could you reassure us that the work of this summit and beyond will not stray into this very different area of terrorist communications? Or for that matter, legal but potentially harmful content such as adult pornography?
Prime Minister
Well first of all what I'd say is, look, let's stand back a bit and think what are we trying to achieve here? We're trying to make sure that when something is a crime it is prosecuted and convicted wherever it takes place. And my view is that that should happen whether it's online or offline so we should try and apply the same rules across whether you're visiting a shop in the high street or whether you're visiting a store on the internet. That's the principle and that is where I think we've made some huge steps forward. So this is not about changing the rules on, you know, adult pornography. That's not what we're discussing today. I feel that it's very important. In Britain we have rules about how you can buy pornography in a shop and I think we should try and make sure that you apply those rules when you try and buy pornography online. You have the same rules. So you protect young people. So that's the principle we're trying to apply.
Now I think there is a big challenge of tackling child abuse online which we're talking about today. There is also a big challenge of tackling terrorism online. Some of the same techniques will be necessary. They will have to involve working together, internet companies, governments, law enforcement agencies. But they are different subjects. But sometimes the same techniques will apply. Just as the internet companies have said they will not now return search items for disgusting child abuse terms so I think there is a role for internet companies to try and work out when people are obviously plotting terrorism online of making sure that is blocked and having – feeling a social responsibility to report.
If someone is online or offline, if someone is sitting in your pub plotting a bomb attack I think, you know, the publican would feel some moral obligation I would hope to tell someone to prevent the loss of life. And that – I know it's more complicated, running an online chat room than running a pub, but there's the principle we should apply – try and apply principles of common sense and decency and moral responsibility to the internet as we do to real life.
So there are some similarities, but to be clear, today we're here talking about child abuse online. There's separate work we're doing with internet companies on terrorism and combating extremism, some of the same techniques will apply, but they are 2 different conversations, if that gives you any reassurance.
Question
I want to start by thanking you for your leadership in this area, and also earlier in the year on child marriage and female genital mutilation and cutting; a specific question to the legislation which we learned about overnight on the solicitation of images from children and a question I have, in part because I have a teenage daughter –
Prime Minister
Right.
Question
What are we doing when children lie about their age and, from them, who say they are adult, images are solicited, what does the legislation say about that? Thank you.
Prime Minister
Well, the legislation we haven't passed yet – what we've announced today is the intention to legislate, but the intention is simple, which is trying to make sure the law stays up to date with the abuses that are taking place. So the abuse that's taking place at the moment, and we read a lot about it, and there's clearly a lot of it happening, which is adults online persuading children to take off their clothes and send pictures, and we've come to the conclusion that it's necessary to make that an offence, because otherwise people might be able to slip through the net – although there are other crimes they'd be committing when they do that online, it seems to me a new offence is necessary.
How do we do more to try and stop people lying about their age? Well, there's a very good exhibition I've just been shown outside, which is – there is actually some technological solutions we can apply online, for when you've got, say a 50 year old man pretending to be a 14 year old boy, of trying to have a piece of technology that can identify that, either by matching the IP address or the way that they are addressing a particular issue to warn the child in question.
So I suspect, as I've been saying before, what we need here, if we stand back again and think right what are we trying to achieve to keep people safe, in the end it's going to be, the law can't solve everything, it's going to be a combination of legal changes where necessary, technological advance where possible, and everywhere a change in culture, and this is where whether we're acting as parents or politicians or NGOs or organisations, we need a culture change about what is unacceptable behaviour, and that's a very important part of getting this right. Last question.
Question
Yes, in some countries, in remote areas I mean, there is no access to the internet, but there is in increase in sexual abuses. Is this a part of our job as well? That's my question.
Prime Minister
Yes. Very good point. Because today we're focusing on online child abuse, this doesn't mean we should forget about the child abuse that's taking place in communities right across the world that is far removed from the internet. So that work needs to continue, international cooperation needs to continue.
I think why this summit is so important is that the internet has enabled child abuse to take place on the other side of the world, sometimes in countries where, for whatever reason, there's a less developed criminal justice and law enforcement, to take place in that country, and then for those criminals to use the internet to make some sick, appalling but regrettably large financial return on what they're doing.
And so 1 of the reasons why this conference is necessary is the internet has just enabled this sick activity to become an international trade, rather than something that just happens within nation states.
We should continue to go after both, but I fear if we didn't do the things we're doing here, if we didn't have more cooperation between law enforcement, more work by internet companies, more use, frankly, of some of the very sophisticated intelligence and communications agencies that we have like GCHQ, if we didn't do that, what we'd see is a growth of this crime area driven by the fact that the internet makes it possible for a crime to take place in 1 country, for it to be viewed in another country and for payment to be transferred between the 2. That new development, or relatively new development, has made this all the more urgent, which is why we're discussing this today.
Can I thank everyone again for coming, for the very good work that's been done, Believe me, after 4 and a half years of being Prime Minister I've been to lots of summits, lots of conferences, lots of action plans, but I think here, when you look at where we were a year ago or 2 years ago on what people could search for online that's no longer possible, about how many pictures were available on the internet that have been taken down, and now we start to look at, actually at the browser level, stopping – making it impossible for people to find these images through the browsers that are used on the internet. These, I think, on anyone's book are really big breakthroughs.
The truth is though, while you've got the dark net that we have to further police, investigate and prosecute people on, and while you've got some countries that aren't signed up to these rules, we'll never fully crack it, so those are the next 2 things we've got to really get to grips with, and to encourage every single country in the world to take the steps that all of you have signed up to today.
So thank you very much for coming, I think it's been a really great summit and conference, huge progress has been made, and that's because of the hard work of people here in the United Kingdom, and right across the world, and I want to thank you from the bottom of my heart; what you're doing will keep many more children safe, will stop so many victims of this sick trade of being made in the first place, and that is, I think, a very good 2 days work. Thank you very much.
Published 11 December 2014