Speech
Hugo Swire's address to the Human Rights Council in Geneva
Foreign Office Minister of State, Hugo Swire, represented the UK at the UN Human Rights Council in Geneva.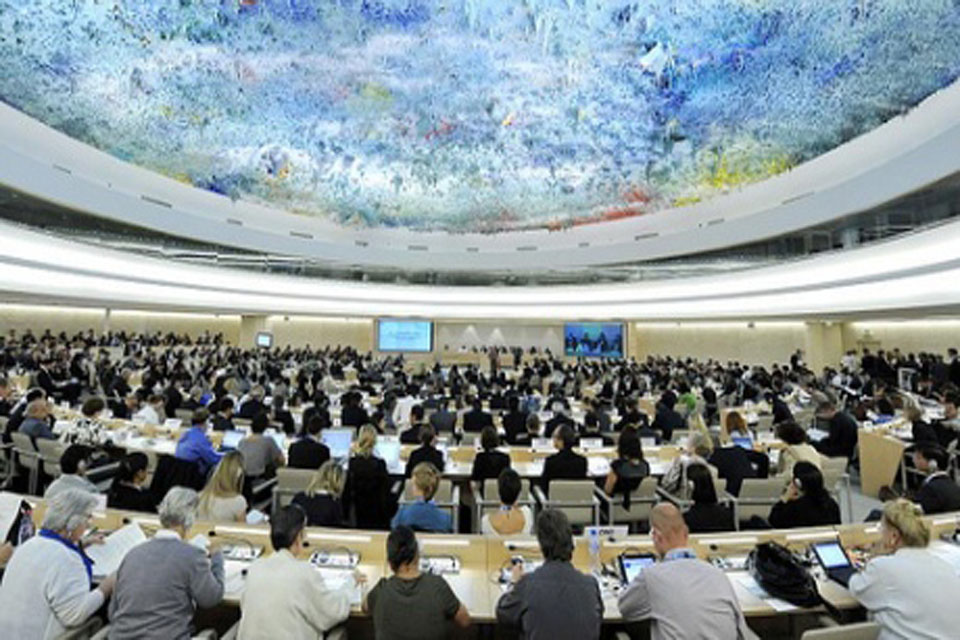 Mr President, High Commissioner, Excellencies.

It is an honour to address the Human Rights Council once again.
Few other international meetings come with such responsibility:
responsibility to hold to account those responsible for the worst violations and abuses; 

responsibility to speak out for victims;
responsibility to support those states determined to make the transition towards a better tomorrow - where rights, values and the rule of law are upheld.
Of course, uppermost in all our minds is Syria. The refugee crisis shows what happens:

when universal human rights are eroded;

when violence against civilians causes over four million to flee their homeland, in addition to the 7.5 million who have fled their homes within Syria; 

when the regime continues to ignore its responsibilities by dropping barrel bombs on innocent people. 

It is imperative that this Council condemns such actions.
As our Prime Minister, David Cameron, said last week: "Britain will act with our head and our heart, providing refuge for those in need while working on long term solutions to this crisis." It is in this spirit the UK has granted humanitarian protection to almost 5,000 Syrians through our normal asylum procedures since 2011. And last week, we committed to resettling a further 20,000 Syrians from the region over the next 5 years.
The UK is already the second largest bilateral donor to this appalling humanitarian crisis. Last week we announced an additional £100 million, bringing the total UK contribution to £1 billion – not counting our 15% contribution towards the EU aid budget. Our aid will be used to provide food, water, health care, education and shelter to people in Syria as well as in neighbouring countries, helping them to meet their basic needs where they are, rather than taking the desperate decision to risk their lives by attempting to get to Europe.
And today my Prime Minister is in one of those neighbouring countries, Lebanon - a country which provides sanctuary to 1.1 million Syrian refugees, or over a quarter of Lebanon's population - to see first hand how our aid is helping the vulnerable who have been driven from their homes.
But with the world on the move, this is not a regional crisis. Or a European one. It is a global challenge and requires a global response. 

So, it requires a national, regional and international approach - based on our rules based international order.
From crisis response to conflict resolution, we must take a comprehensive approach to the root causes of each conflict. In Syria, this means re-doubling our efforts to resolve the crisis politically. The unprecedented challenge we face demands an unprecedented and urgent response.

We must also tackle the smuggling networks who offer false promises at high prices to desperate refugees and economic migrants alike. We must ruthlessly pursue those who trade in and profit from human misery.

The UK is resolute in our determination to support the most vulnerable refugees as part of a comprehensive approach - ensuring that today's policies provide not simply a quick fix, but also stand up to scrutiny tomorrow.

Neither must we forget the plight of all those held in modern slavery, whether trafficked for exploitation - often sexual exploitation - or whether held in forced labour slavery or servitude. 

For its part, earlier this year, the United Kingdom passed the Modern Slavery Act - and established an independent Anti-Slavery Commissioner. And we again urge the international community to join us in ending the despicable scourge of slavery once and for all.
Elsewhere: in the Democratic People's Republic of Korea, last year's Commission of Inquiry on human rights documented truly appalling human rights violations. 
 I welcome the opening of the OHCHR field office in Seoul earlier this year to document violations – but the DPRK still shows no signs of responding constructively to the concerns of the international community. 

So, we must maintain pressure through the United Nations – and make clear that the world has not forgotten the suffering of victims there. Nor will we forget the behaviour of the government in Pyongyang.

In Burma, over the last twelve months democratic space has shrunk; instances of sexual violence in conflict continue; and the government has introduced potentially discriminatory legislation.

Most troubling of all, as I saw for myself just a few weeks ago, is the situation in Rakhine State and the treatment of the Rohingya.
November's elections are a crucial test of Burma's commitment to reform. The international community will be watching closely. It is vital that elections are credible, inclusive, and held in an environment of tolerance and free speech.
In the Maldives, we have real concerns about the conduct of former President Nasheed's trial – which was neither carried out in a transparent and impartial manner, nor held in accordance with due legal process. 

Furthermore, intimidation of human rights defenders, NGOs and journalists - and rapid constitutional amendments - all indicate an erosion of democracy.
So, we welcome the High Commissioner's engagement. And we urge the government to reverse this decline; strengthen the rule of law; release all political prisoners – not least former President Nasheed; and engage in a genuine political dialogue with all parties.
We and other members of the international community are concerned too about due process in Venezuela during trials such as that of Leopoldo Lopez. It is vitally important that laws are applied equally to all. Transparent trial processes are key to ensuring confidence in the Venezuelan justice system. This will help build a culture of promoting dialogue.
But, to end on a more positive note - in Sri Lanka, we commend the newly elected government for beginning to address post-conflict accountability and reconciliation. 

I listened closely to Foreign Minister Samaraweera's address to this session earlier today and I am encouraged by Sri Lanka's willingness to engage with the international community, as it seeks to deliver lasting peace. 

We hope and expect it will take forward the recommendations made in the High Commissioner's report; and deliver the credible processes and mechanisms it has promised. The United Kingdom stands reads to help them in any way possible.
To conclude, Mr President: none of the situations I have outlined today will improve overnight.

They require the continued hard work of this Council - together with governments and partners - and the international community. 

Ultimately we will be judged by our actions not our words.
Published 14 September 2015