Policy paper
International Climate Fund
Updated 31 January 2017
© Crown copyright 2017
This publication is licensed under the terms of the Open Government Licence v3.0 except where otherwise stated. To view this licence, visit nationalarchives.gov.uk/doc/open-government-licence/version/3 or write to the Information Policy Team, The National Archives, Kew, London TW9 4DU, or email: psi@nationalarchives.gsi.gov.uk.
Where we have identified any third party copyright information you will need to obtain permission from the copyright holders concerned.
This publication is available at https://www.gov.uk/government/publications/international-climate-fund/international-climate-fund
The International Climate Fund (ICF) is the UK government's commitment to developing countries to help them address the challenges presented by climate change and benefit from the opportunities.
1.

News
1.1

October 2015

Solar boost to release Africa's untapped energy potential - 22 October 2015

Energy Africa, a new campaign to unlock the potential of solar energy in Africa, was launched by Minister of State Grant Shapps at an event at Facebook in London. The event brought together African leaders, investors and solar experts, including Kofi Annan, and the Vice President of Nigeria. Delegates heard about the transformative power of off-grid solar energy.
1.2

September 2015

The Prime Minister announces the future of UK climate finance - 27 September 2015

The Prime Minister has said that the UK government will provide £5.8 billion from the existing 0.7% official development assistance (ODA) budget to the International Climate Fund between April 2016 and March 2021, including at least £1.76 billion in 2020.

This is in addition to the support for the current phase of the ICF - £3.86 billion between April 2011 and March 2016.
2.

Our results

Between 2011/12 and 2016/17, ICF programmes have:
Supported 34 million people to cope with the effects of climate change;
Provided 12 million people with improved access to clean energy;
Reduced or avoided 9.2 million tonnes of greenhouse gas (GHG) emissions (tCO2e);
Installed more than 400 MW of clean energy capacity; and
Mobilised £2.2 billion public and £500 million private finance for climate change purposes in developing countries.
Monitoring and evaluation systems for the ICF use a set of high-level Key Performance Indicators to measure impact and value for money.
UK support is helping to ensure that the most vulnerable people are better able to withstand more frequent weather extremes as well as slow onset events. We have recently published the latest reported results achieved by ICF programmes.
3.

Our portfolio across the world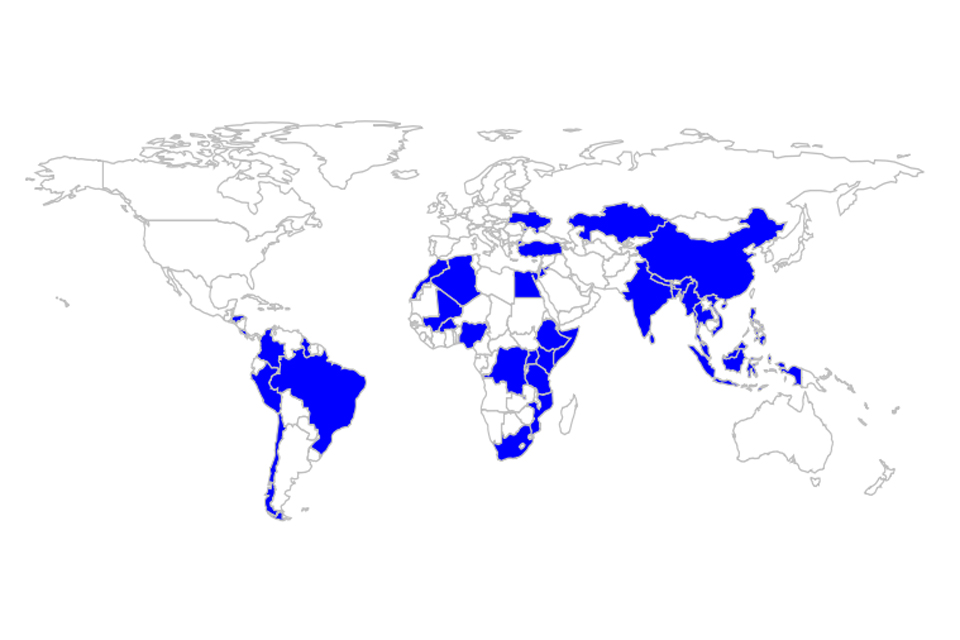 The ICF invests in a broad range of activities across the globe to support sustainable economic growth, build resilience to the impacts of climate change and help sustainably manage natural resources such as forests.
See a selection of ICF case studies – we'll add more of them as they become available.
4.

Transparency

Once approved, all DFID Business Cases and related documents (including ICF programmes) are published on DFID's Development Tracker website. We are also in the process of adding BEIS and Defra ICF documents.
5.

Assessment of the International Climate Fund

Are we achieving what we set out to achieve? The Independent Commission for Aid Impact (ICAI), the independent body responsible for scrutinising UK aid, published a report on the UK's ICF in December 2014. The aim of the ICAI review was to understand the catalytic impacts of the ICF at global and national levels. The ICAI report gave the ICF an overall 'green-amber' assessment, demonstrating the UK's commitment to tackling climate change.

See what they had to say, and how UK government responded.
6.

Engagement with the private sector

Engaging with the private sector is a key part of our strategy for the International Climate Fund to help increase private finance to tackle climate change.

A range of programmes financed through the ICF are involved in working with the private sector. These include the World Bank's Carbon Initiative for Development (Ci-Dev) and the Results Based Financing Facility (for energy access) being delivered through the Energising Development (EnDev) programme. The NAMA Facility also allocates funding on a competitive basis through an annual project call.

If you are a business looking for new funding opportunities, events and research surrounding renewable energy, resource efficiency and low carbon development, please take a look at DFID's regular Sustainable Energy Newsletter.

All DFID direct supplier contracts are made public on the DFID Supplier Portal. There are links on this portal if you want to register for future contract opportunities.
7.

Our mission

Tackling climate change and poverty reduction are two sides of the same coin – one cannot be effectively addressed without tackling the other.

The UK's climate finance helps make some of the poorest and most vulnerable communities more resilient to climate change, for example, supporting the distribution of flood resilient crops and improving early warning systems. It is also helping create a reliable source of energy for communities which improves health, education, and enables businesses to grow, creating jobs and improving incomes and standards of living for the poorest communities. It seeks to prevent emissions now or in years to come through demonstrating how countries can shift to cleaner, low carbon approaches and technology. Our investment in the International Climate Fund is enhancing Britain's place in the world and creating a safer and more prosperous future for us all.

Through the International Climate Fund the UK is seeking to promote sustainable economic growth and poverty reduction in three key areas:
Supporting sustainable and inclusive economic growth
Building resilience to manage risks
Improving stewardship of natural resources
8.

Background information

Science tells us that climate change is inevitable and affects all of us. However, the poorest people in the world will be hit first and hardest. Eradicating poverty and addressing climate change are interlinked: we cannot address one without the other. At the same time, tackling climate change presents an opportunity to promote sustainable economic growth in many developing countries through new technologies, helping reduce poverty and create jobs, particularly for women.

The International Climate Fund is the UK government's commitment to developing countries to help them address these challenges and benefit from the opportunities presented by climate change.

As Official Development Assistance, the ICF must comply with the eligibility criteria determined by the Development Assistance Committee of the Organisation for Economic Co-operation and Development.
9.

Contact details

The ICF Secretariat can be contacted through the DFID public enquiry point at enquiry@dfid.gov.uk or via DFID country offices or UK Embassies/High Commissions overseas. Any applications for finance are done so in partnership with a DFID country office or UK government department. We do not accept speculative applications.
10.

Links to further information

A selection of additional material is linked below:

The Intergovernmental Panel on Climate Change

The New Climate Economy Report

BEIS International Climate Fund (ICF) case studies

BEIS, DFID and Defra are signatories of the International Aid Transparency Initiative (IATI) and regularly update and publish the data on projects the ICF supports.

ICAI reported on the ICF to the UK Parliament's International Development Committee (IDC). Click here for the transcript of the IDC hearing.