Guidance
Bathing water information and signage rules for local councils
Find out what information must be displayed at designated bathing waters.
Designated bathing waters are areas that are:
officially identified (designated) by the Secretary of State because a large number of people bathe there
water quality tested every year by the Environment Agency (EA)
covered by the Bathing Water Regulations
Display information
Local councils must provide information at designated bathing waters during the bathing season – from 15 May to 30 September.
You're legally required to add the following information to your sign:
the current classification symbol
a general description of the bathing water
information about pollution incidents
a website with more information about water quality, such as the EA's database
Create a bathing water sign
Use the EA's create a bathing water sign tool to find templates and automatically generate a template for your sign.
You don't have to use one of these templates if your council prefers a different design, but you must display all the legally required information.
You can also use the sign template from the EA's database. Select a bathing water and go to 'bathing water details', then 'create a site sign for this bathing water'.
You can adapt the text to fit the sign as long as you give the same information that is shown on the template.
Display information about pollution incidents
If pollution could affect people swimming or paddling, you must display information on both:
the nature of the problem
how long it's expected to last
You must display information about any 'abnormal situations' that affect designated bathing waters. An abnormal situation is defined as:
An event or combination of events impacting on bathing water quality at the location concerned – not expected to occur, on average, more than once every 4 years.
The EA will tell you if a pollution incident has been categorised as an abnormal situation. It will also give you information about the nature of the problem and how long it's expected to last.
You must display information about how many days the EA advised against bathing during the previous bathing season.
Display classification symbols
Bathing waters can be classified as:
excellent
good
sufficient
poor
Each classification has a symbol that you must put on your signs. The classifications are based on sampling data taken over 4 years.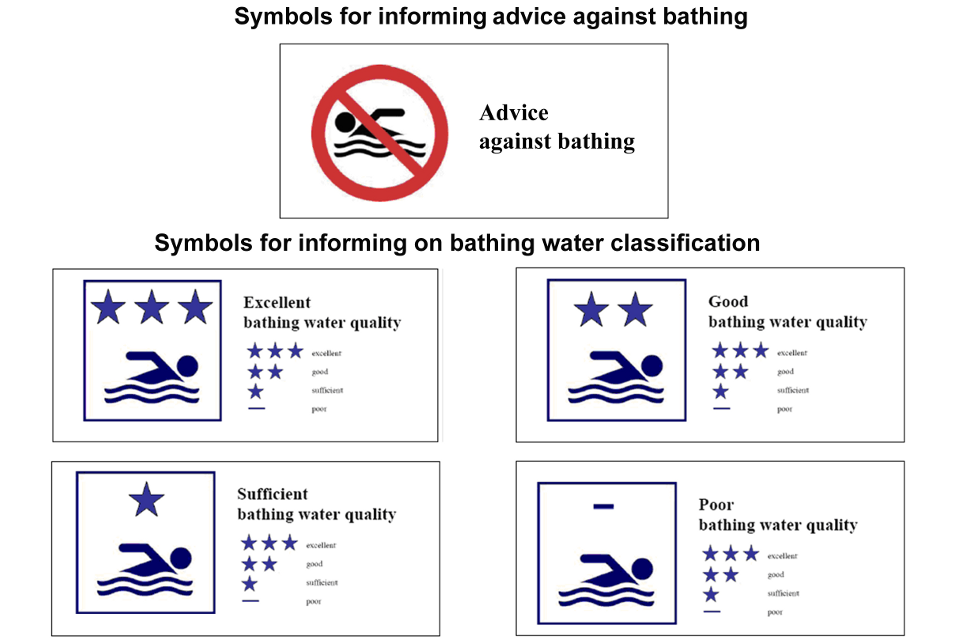 Use the bathing water quality widget designer tool to show up-to-date bathing water quality information on your website.
Display advice against bathing
If a bathing water is classified as 'poor' you must display the 'advice against bathing' symbol.
You must also display information on the causes of pollution and what action is being taken to clean it up. This information will be shown on the sign template.
Contact
Environment Agency
PO Box 544


Rotherham
Yorkshire
S60 1BY
Defra Helpline
Seacole Building
2 Marsham Street
London
SW1P 4DF
The quickest way to get a response is to call our Helpline which is open Monday to Friday 8:30am to 5pm (find out about call charges at www.gov.uk/call-charges). Alternatively you can email us, or write to us at the postal address given above. We aim to reply to emails or letters within fifteen working days.