Women on Boards 2014: 3 years on
Lord Davies of Abersoch has today (26 March 2014) published the third annual progress report into Women on Boards.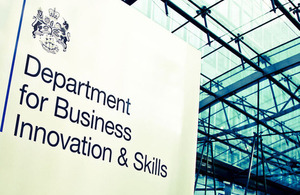 Lord Davies of Abersoch has today (26 March 2014) published the third annual progress report into Women on Boards. Three years on from the ground-breaking review in 2011, Lord Davies and his steering group report a growing number of women in decision-making roles.
The latest figures today (26 March 2014), published at the same time as the Cranfield University School of Management's Female FTSE Board report, show that women now account for 20.7% of board positions in the FTSE100 – up from 12.5% in 2011 and 17.3% in April 2013. Lord Davies originally set a target in 2011 of achieving 25% in 2015.
There continues to be real progress made with more women than ever before in the boardroom of the UK's top companies and a growing recognition of the benefits gained by business, the economy and wider society.
Lord Davies, speaking ahead his speech at Barclays, sponsors of the Cranfield report, on 26 March, said:
The rate of change that we have seen at the heart of our biggest companies over the last 3 years has been impressive. The voluntary approach is working and companies have got the message that better balanced boards bring real business benefits. We are finally seeing a culture change taking place at the heart of British business.

However, the eyes of the world are on us as we enter the home straight. They are judging us as to whether the voluntary approach, rather than regulation, will work – we need to now prove we can do this on our own.
Business Secretary Vince Cable said:
These latest figures show that businesses are getting the right mix of talent around their boardroom table and understand the importance of this. Ninety eight of the FTSE100 boards are now made up of at least 1 woman and we need fewer than 50 new women appointments to FTSE100 boards to reach our target of 25% of women on all FTSE100 boards in the next year. This is a huge improvement from where we started just 3 years ago.

But we will only achieve this if there is a renewed, concentrated effort by Chairs and CEOs to continue to change the make up of management at their top table.

More needs to done to improve the number of women in executive positions. These will be the CEOs of tomorrow and businesses still aren't tapping into the vast talent pool available to them.
Minister for Women and Equalities Maria Miller said:
It makes clear economic sense for women to be able to rise to the top. Good progress is being made in Britain through a cultural shift that promotes on merit, not through the mandatory quotas advocated by others.

The workplace was designed by men for men. Women don't need special treatment they just need a modernised workplace that gives them a level playing field. Supporting women to fulfil their full potential should be a core business issue; not just so we can reach our target of 25% of female appointments to FTSE100 boards by next year (2015), but for the long term sustainability of our economy.
As of 3 March 2014, in the FTSE100:
women now account for 20.7% of overall board directorships, up from 17.3% in April 2013
of this, women account for 25.5% of non-executive directorships and 6.9% of executive dirctorships
women account for 231 of the 1,117 FTSE100 board positions
women account for 28% of all board appointments in 2013/14
there remain 2 all-male boards – Glencore Xstrata and Antofagasta
fewer than 50 new women appointments need to be made to reach the 25% target
In the FTSE 250 the figures show:
women now account for 15.6% of overall board directorships, up from 13.2% in 2013
of this, women account for 19.6% of non-executive directorships and 5.3% of executive directorships
women account for 33% of all board appointments in 2013/14
there remain 48 all-male boards
The latest report shows that more and more FTSE Chairs are convinced of the value of women in boardroom. Twelve companies in the FTSE100 have 4 or more women in the boardroom, with 27 having more than 2. The report also shows that companies are setting themselves challenging targets while the pipeline continues to be strengthened.
Antony Jenkins, Group Chief Executive of Barclays, said:
At Barclays, we recognise that encouraging greater diversity within an organisation is an essential driver of long-term, sustainable success. While the reports from Lord Davies and Cranfield show that women in the UK are continuing to step into bigger leadership roles within their organisations, they also highlight that we have more work to do. In 2014, I want to see more female leaders have the opportunity to bring their ideas, vision, and expertise to boardrooms across Britain and, indeed, the world.
Notes to editors:
A copy of Lord Davies's Review of Women on Boards annual report can be found at https://www.gov.uk/government/collections/women-on-boards-reports

In February 2011 Lord Davies of Abersoch published his report Women on Boards which set out a strategy aimed at ensuring that more women were appointed to boardroom positions. He asked all FTSE 350 companies to set targets for the number of women they expected to have on their boards and executive committees in 2015. Lord Davies recommended that FTSE 100 boards should aim for a minimum 25% female representation on their boards by 2015.

The Cranfield Female FTSE Board report will also be published on Wednesday 26 March 2014. More information can be found here www.cranfield.ac.uk/som/news

In March (2014), an independent report into the transparency of the executive search agencies' Code of Conduct by Charlotte Sweeney was published. More details on this can be found at 'Headhunter reforms to boost female board appointments

Other notable developments include:
two new FTSE100 female Chief Executives – Liv Garfield at Severn Trent and Moya Greene at Royal Mail Group. The current number stands at 4
Fiona Woolf appointed as only the second ever female Lord Mayor of the City of London
Lloyd's of London appointing their first female Chief Executive – Inga Beale
Old Mutual appointing two female directors, with 4 out of the 12 director positions held by women
Lloyds Banking Group pledging that 40% of its top 5,000 jobs will be occupied by women within 6 years
ministers holding a number of sector roundtables with representatives of the FTSE350 over the past 9 months
finally, an event for Chairs of the FTSE350 to network with potential non-executive director candidates will be held in April 2014
6.The government's economic policy objective is to achieve 'strong, sustainable and balanced growth that is more evenly shared across the country and between industries'. It set 4 ambitions in the 'Plan for Growth', published at Budget 2011:
to create the most competitive tax system in the G20
to make the UK the best place in Europe to start, finance and grow a business
to encourage investment and exports as a route to a more balanced economy
to create a more educated workforce that is the most flexible in Europe
Work is underway across government to achieve these ambitions, including progress on more than 250 measures as part of the Growth Review. Developing an Industrial Strategy gives new impetus to this work by providing businesses, investors and the public with more clarity about the long-term direction in which the government wants the economy to travel.
Published 26 March 2014