Press release
Headhunter reforms to boost female board appointments
Ways to improve the transparency of the headhunting process for board appointments have been put to government today (4 March 2014)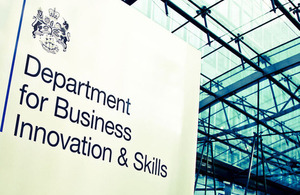 Ways to improve the transparency of the headhunting process for board appointments have been put to government today (4 March 2014) as part of an independent review to increase the number of women on British boards.
Charlotte Sweeney, asked by Business Secretary Vince Cable to review the executive search firms' Voluntary Code of Conduct in September 2013, has published her report today (4 March 2014). The Code lays out steps for search firms to follow across the search process, from accepting a brief through to final induction. She was asked to look at the Code's effectiveness since it was introduced in 2011, and to make recommendations to strengthen it further.
This comes as the FTSE100 nears the target, set by Lord Davies in his Women on Boards review of 2011, of achieving 25% of women in boardroom positions by 2015. The current figure for the FTSE100 stands at 20.4%.
Her review made 10 recommendations, of which the main ones were that:
headhunters should commit to putting forward at least 1 strongly recommended woman on the shortlist submitted to Chairs for all board positions
the Equalities and Human Rights Commission should create guidance for the headhunting industry on the legality of women only shortlists
search firms should look to go beyond the minimum standards set out in the Code and should share their statistics on the male/female candidate ratio during the various recruitment stages with government. This will enable government to assess how successfully the firms are in delivering on the commitments of the Code of Conduct
a database of 'board ready' women should be created, led by Lord Davies' steering group, and shared with other stakeholders such as companies, investor groups and the 30% Club
the firms, government and Financial Reporting Council should all raise awareness about the existence of the Code. Companies should also challenge search firms to include in their contract that they will comply with the Code
Business Secretary Vince Cable said:
The headhunting community is a crucial catalyst to introduce more capable women in the boardroom. However, they can often be 1 of the first hurdles that talented, board-ready women face when trying to reach the top, so I welcome any efforts to improve the transparency of the industry.
Charlotte Sweeney said:
Throughout my review there was a clear, articulated commitment from the majority of search firms to support the creation of more diverse and balanced boards. However, examples where the commitment was transferring into consistent and sustainable action were mixed. Further transparency across the industry will help identify where any further barriers are and inform where focused action is required.
Chief Executive of the Women on Boards review, Denise Wilson, said:
Many search firms have already stepped up to the plate and are visibly supporting Chairman and board ready women in the journey to achieve gender parity in British boardrooms. However, many are well placed to "up their game' and we need to see more consistent action from all 70 search firms signed up to the Code. Better balanced boards bring real business benefits.
Chief Executive of the Recruitment and Employment Confederation, Kevin Green, said:
The best search firms know it's their responsibility to challenge and probe employers' assumptions so they ensure businesses are not missing out on top female talent.

We propose that executive search firms publish the proportion of women on the long and shortlists for board and senior management positions, as well as data about positions that are filled by women. This openness and transparency will highlight the positive role of headhunters in helping companies secure the talent they need to improve performance.
Charlotte Sweeney was previously International Head of Diversity and Inclusion for Nomura International PLC. During the course of her review she interviewed and challenged key stakeholders including chairs, board consultants, female directors, investors, HR directors, company secretaries and other interested parties to get a better picture of the compliance of the Code.
Lord Davies will publish his annual report on Women on Boards later in the month. The latest figures for the FTSE100 show that women account for 20.4% of all board positions - up from 12.5% in February 2011.
Notes to editors:
1.The review by Charlotte Sweeney into the Code of Conduct can be found at Women on boards: voluntary code for executive search firms
2.More detail on the Code can be found here: https://www.gov.uk/government/uploads/system/uploads/attachment_data/file/208464/voluntary-code-of-conduct-for-executive-search-firms.pdf
3.Latest statistics of Women on Boards can be found at http://www.boardsforum.co.uk/boardwatch.html
4.The Recruitment and Employment Confederation have published their report this week, 'Room at the top: women leaders and the role of executive search' and can be downloaded for free from the REC website.
5.The Recruitment & Employment Confederation (REC) is the professional body for the recruitment industry. The REC represents 3,506 corporate members who have branches across all regions of the UK. In addition, the REC represents 4,744 individual members within the Institute of Recruitment Professionals (IRP). All members must abide by a code of professional practice. Above all, the REC is committed to raising standards and highlighting excellence throughout the industry.
6.Biography of Charlotte Sweeney
Charlotte has over 20 years experience of equality, diversity, inclusion, health & wellbeing, change management, employee engagement and corporate culture shift at a global and local level, with a clear link to business performance.
From 2009 to 2012 she was the International Head of Diversity and Inclusion for Nomura International PLC. Within that time she developed and implemented Nomura's first Diversity & Inclusion Strategy.
Before Nomura, she joined HBOS plc as Head of Diversity in 2005 to 2009 and developed the first group wide diversity strategy, including regular diversity reporting within business planning and developing the Diversity Steering Group chaired by the CEO.
Prior to this role she was the diversity manager at Barclays PLC from 2000 to2005 specialising in diversity, culture change, change leadership and executive coaching. She won a number of awards including the Personnel Today DWP Age Positive at Work Award.
Charlotte is a NED for a number of not for profit organisations including President of the London Chapter of European Professional Women's Network, and sits on a number of Executive Steering Groups. She is a NED for the Mid Yorkshire NHS Trust and for a number of not for profit organisations including WoB UK, The Equality & Diversity Forum and Employers for Carers. She works closely with the Commission for Equality and Human Rights. She is also an external Equalities Advisory Board Member for BIS.
She was awarded the 2010 Global Diversity Leadership Award at Harvard.
She has more recently moved from a role of 'internal' consultant to create a business that supports companies with their cultural and change management agenda.
7.The government's economic policy objective is to achieve 'strong, sustainable and balanced growth that is more evenly shared across the country and between industries'. It set 4 ambitions in the 'Plan for Growth', published at Budget 2011:
to create the most competitive tax system in the G20
to make the UK the best place in Europe to start, finance and grow a business
to encourage investment and exports as a route to a more balanced economy
to create a more educated workforce that is the most flexible in Europe
Work is underway across government to achieve these ambitions, including progress on more than 250 measures as part of the Growth Review. Developing an Industrial Strategy gives new impetus to this work by providing businesses, investors and the public with more clarity about the long-term direction in which the government wants the economy to travel.
Published 4 March 2014