Press release
UK to use G8 to target global effort on dementia
The UK will use its Presidency of the G8 to identify and agree a new international approach on dementia research.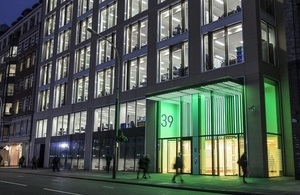 The UK will use its Presidency of the G8 to identify and agree a new international approach on dementia research in recognition that the condition is fast becoming the biggest pressure on care systems around the world, Prime Minister David Cameron announced today.
Current estimates indicate 35.6 million people worldwide are living with dementia but with the world's populations ageing, the World Health Organization estimates that number will nearly double every 20 years, to an estimated 65.7 million in 2030, and 115.4 million in 2050.
G8 dementia summit
A specific G8 dementia summit will be held in London in September, bringing together health and science ministers alongside world-leading experts, senior industry figures and the Organisation for Economic Co-operation and Development (OECD). The event will look to secure more coordination and collaboration on dementia globally.
As part of the UK Presidency, the UK and US are exploring opportunities to advance thinking on dementia research and identify opportunities for more international collaboration. This joint leadership will help to tackle key issues such as facilitating the discovery and development of drugs and to advance thinking on future treatments and therapies.
The Prime Minister will use his visit to the US to meet with CEOs and senior figures from leading pharmaceutical companies, including Johnson & Johnson, Baxter, Covance and Pfizer. The meeting will focus on the UK's life sciences sector and initiatives such a genomics and dementia research. The coalition government is determined to secure and expand the UK's position as an international hub for innovation, medical science and research and in the last 12 months has generated more than £1 billion industry and private sector investment.
Dementia funding
The UK annual funding on dementia research will increase to around £66 million by 2015, while President Obama has committed the US to spending around £360million ($550m) in dementia research each year. At the same time, the pharmaceutical industry is investing billions.
Prime Minister David Cameron said:
Dementia is a devastating disease - not just for sufferers but for their families and friends too. And as more people live longer, it is fast becoming one of the biggest social and healthcare challenges we face.

Families, communities, health systems and their budgets will increasingly be strained as the number affected increases and so we need to do all we can to improve how we research, diagnose and treat the disease.

That's why we're using our G8 to bring together health ministers, clinical researchers and healthcare companies. If the brightest minds are working together on this then we've got a greater chance of improving treatments and finding scientific breakthroughs.

I've said before that we need an all-out fight-back against dementia that cuts across society. Now we need to cut across borders and spearhead an international approach that could really make a difference.
Dementia may well become the largest reason for spending on care of the elderly.
The total estimated worldwide costs are around £400billion (US$ 604bn) in 2010 - around 1% of the world's gross domestic product - and £23bn in the UK. This is likely to increase as the number of people with dementia rises year on year.
Dementia Challenge
The UK launched a broad-ranging dementia plan on research, care and awareness a year ago under the Prime Minister's Dementia Challenge, and most G8 countries have similar targeted plans. However, much of the work and research investment has been led at a national level and experts believe a greater international approach could see significant advances and more scientific breakthroughs if countries and pharmaceutical companies collaborate more effectively and share information, research and expertise.
For example, there is a wealth of research and data relevant to dementia collected daily throughout the world ranging from clinical and cognitive assessments, to brain images and biological samples. At the same time, there is real opportunity to engage pharmaceutical companies. Bringing together the different players and work available could dramatically speed up and improve how diagnosis and therapy is approached, and how research is conducted.
Read the latest report: Prime Minister's Challenge on Dementia: Delivering major improvements in dementia care and research by 2015: Annual report of progress
Dementia diagnosis
The Prime Minister also announced that the NHS will significantly improve diagnosis rates of dementia in England in a drive that could see tens of thousands of sufferers identified and treated each year. The plans will aim to see two-thirds of people with dementia identified and given appropriate support by 2015, an increase from 37% in 2010 and the current average of around 45%.
There are currently 670,000 people with dementia in England but 350,000 of those people remain undiagnosed and without access to support.
The announcement comes as the Prime Minister's Dementia Challenge reaches the one year mark, with the Government, NHS, research, science and charitable sectors working together to transform how the country deals with dementia. During the last year, the Dementia Challenge has delivered:
Research
By 2015 annual funding of dementia research will be increased to around £66 million.
Awareness
A campaign reached over 37 million people to encourage them to visit the doctor if they are worried about dementia, and launch a scheme to recruit one million 'dementia friends' to help support those with the disease.
Diagnosis
£1 million made available for innovative NHS projects to increase diagnosis rates through the Innovation Challenge Prize for Dementia and a new toolkit to help every GP.
Better services
£50 million of funding to adapt wards and care homes for people with dementia and helping to fund a £300 million programme to build or renovate housing for people with long-term conditions, including dementia.
Published 15 May 2013