News story
UK stands with Africa in renewed global boost to fight illegal wildlife trade
Defra Minister Lord de Mauley leads the UK delegation to the Second Illegal Wildlife Trade Conference in Botswana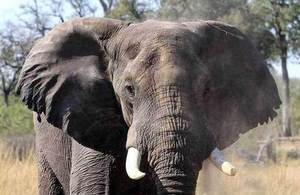 Defra Minister Lord de Mauley today (25 March) led the UK delegation to the Second Illegal Wildlife Trade Conference in Kasane, Botswana.
Following last year's successful conference in London, this high-level meeting once again shone the international spotlight on wildlife crime. The poaching of elephant and rhinos poaching remains at crisis levels in Africa while it also affects a huge range of wildlife species around the world.
32 countries took part in the conference, signing up to the Kasane Statement which pledged new action combatting the illegal wildlife trade. This includes a commitment to change legislation relating to financial crimes associated with wildlife crime – including money laundering – to ensure tougher penalties.
These countries also promised to take action on sustainable livelihoods, giving communities the opportunity to benefit from their local resources in a way that recognises their needs while also protecting the ecosystems around them.
The Kasane Statement signatories also pledged to reduce demand through co-operation with the transport industry and private sector more broadly.
Environment Minister Lord de Mauley said:
The Kasane conference brings together leaders from across the world with one aim in mind: ending wildlife crime once and for all.

I am proud of the role the UK is playing, first in holding the initial conference in London last year, and then in supporting initiatives that protect endangered species. With that in mind I am pleased that we are adding £3 million to our Challenge Fund, bring total funding up to £13 million over 4 years. I hope we see the same level of success with projects in this second round as we did in the first round in 2014.

This is a fight we can win, but it is not going to be easy and it is not going to be instant. We are up against ruthless and professional poachers, who will stop at nothing to get their prize.

But in coming together today we have shown our commitment to urgent change. None of us want to see the extinction of elephants, rhinos or any other species, and we are determined to maintain the pressure until the illegal wildlife trade is a thing of the past.

With that in mind, I am delighted that Vietnam has offered to host a further conference in 2016, a strong signal that global action will continue.
Before the conference, Development Secretary Justine Greening announced new funding for a second round of the successful IWT Challenge Fund, with an additional £3 million. With existing projects in Vietnam, Thailand, Malawi, Tanzania and Kyrgyzstan amongst others, the fund has already helped governments and NGOs train rangers, support local communities, educate consumers about the illegal trade, and tighten law enforcement to lead to more prosecutions.
International Development Secretary Justine Greening said:
Poaching threatens endangered animals such as the white rhino, African elephant and snow leopard. It also feeds corruption, undermines global security and costs governments billions in lost revenues every year.

We cannot and will not look the other way while this continues.

This new funding will improve law enforcement, reduce demand for illegal wildlife products and, importantly, help communities find new sources of income and free themselves from this horrific trade.
This new funding complements work that has been taking place throughout the year, including the establishment of an international taskforce on the transportation industry, chaired by William Hague. The taskforce is looking at the role of all transport in taking illegally traded products from source to destination, with the aim of tightening controls to prevent them getting through to their intended customers.
Image Credit: Tusk Trust
Published 25 March 2015