UK on track to cut antibiotic use in animals as total sales drop 9%
New report shows sales of antibiotics for use in animals dropped to 56mg/kg in 2015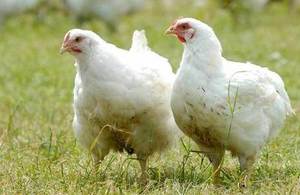 Sales of antibiotics for use in animals in the UK are at a four-year low, putting the UK on track to meet ambitious targets to tackle antibiotic resistance, according to a Defra report released today.
Antibiotic resistance is a growing threat to human health - experts believe if we do not take action it could be responsible for ten million deaths per year and cost the global economy $100 trillion by 2050. In September, the Government announced plans to tackle it, including a commitment to significantly reduce antibiotic use in animals.
Today's report shows overall sales by weight dropped by 9% from 2014 to 2015, while sales for use in food-producing animals dropped 10% from 62 milligrams per kilogram (mg/kg) to 56mg/kg. This continues a ten-year downward trend and puts the UK on track to reach its 50mg/kg target by 2018.
As well as the overall reduction, the report shows a drop in sales of the highest priority antibiotics that are critically important for humans. Sales of these made up just over 1% of all antibiotics sold for use in animals in 2015.
Defra Minister for Rural Affairs and Biosecurity, Lord Gardiner, welcomed the report's findings, saying:
Antibiotic resistance is the biggest threat to modern medicine and we must act now to help keep antibiotics effective for future generations. This report shows the hard work of our vets and farmers is already making a real impact.

Our farmers and vets are setting an excellent example for others around the world to follow, upholding the UK's position at the forefront of international efforts to tackle AMR.
AMR is on the global agenda after 193 countries universally endorsed a declaration agreeing to combat antimicrobial resistance at the 71st United Nations General Assembly - only the fourth ever UN Declaration on a health issue.
In September, Defra committed to set long-term sector-specific reduction targets by 2017 to bring sustainable change across the agricultural industry, from farm to fork. Important steps have already been taken to cut antibiotic use: the meat poultry industry almost halved its use of critically important antibiotics from 2012 to 2015 by improving training, stewardship, stockmanship and disease control. The UK pig industry has launched a successful online system to record, benchmark and control antibiotic use, which already contains data for millions of pigs.
The UK's Chief Veterinary Officer, Nigel Gibbens, said:
The UK is making good progress in the fight against AMR and it is particularly encouraging to see how engaged and committed the industry is to this cause.

Those who work with animals have a key role to play in the global fight against antibiotic resistance to monitor use and reduce it wherever we can. Clearly, we must not ease up in our efforts, but it is great to see that we are on track.
Use of antibiotics for non-medicinal purposes, such as in animal feed, has been banned in the EU since 2006. A number of additional measures ensure food does not contain antibiotics when it reaches the table. Those using antibiotics in livestock for medicinal purposes must observe a safe withdrawal period before an animal can go to slaughter or its products be sold to consumers, which is set by the Veterinary Medicines Directorate (VMD) and European Medicines Agency. Stringent rules are also in place for meat and dairy products imported into the EU from the rest of the world.
Commitments to reduce antibiotic use in animals are part of the UK's wider 'One Health' approach to tackling AMR in people, animals and the environment. Plans announced in response to a major review into the global threat of antibiotic resistance in people and animals also include commitments from the Department of Health to halve the inappropriate prescription of antibiotics in humans by 2020 and halve the number of healthcare associated bloodstream infections that pose the biggest risk by 2020.
The UK's Chief Medical Officer, Professor Dame Sally Davies, said:
Drug resistant infections are a global problem and the potential for human, animal and economic damage is devastating.

We need everyone to take action to prevent the spread of drug resistant infections. Inappropriate antibiotic use in the farming sector is known to contribute to the development of drug resistant infections. Countries or areas that use more antibiotics often have higher rates of resistant bacteria that are harder to treat.

I welcome the progress being made by farmers and vets in the UK. This action, combined with the efforts of health professionals to reduce inappropriate prescribing in human health demonstrates the truly 'One Health' approach the UK is taking to save modern medicine.

It is critical we work together to get this right. We must take a 'One Health' approach and work together locally, nationally and internationally to get the best outcomes for humans, animals and the environment.
NOTES TO EDITORS
The UK Veterinary Antibiotic Resistance and Sales Surveillance (VARSS) report is published annually by the Veterinary Medicines Directorate, the Government policy lead on antibiotic resistance in animals. The report provides the previous year's data on the quantity of authorised veterinary antibiotics sold throughout the UK, and results from surveillance programmes looking at antibiotic resistance in animals. View the VARSS reports for 2015 and previous years by searching 'VARSS' from the Defra homepage.

The Government's response to the Review on Antimicrobial Resistance can be read here.

Overall sales of antibiotics for food-producing animals, including horses, fell from 62mg/kg in 2014 to 56mg/kg in 2015.
Published 17 November 2016