News story
UK negotiates closer global collaboration on drugs
Ministers encourage countries to adopt a modern, balanced and evidence-based approach to tackling the use and supply of illegal drugs.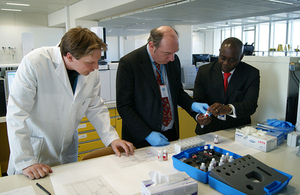 Home Office ministers have been part of successful negotiations at the United Nations to move more than 50 countries towards a modern, balanced and evidence-based approach to tackling the use and supply of illegal drugs.
Through a series of meetings at the UN Commission on Narcotic Drugs in Vienna, Norman Baker and Karen Bradley met their counterparts from countries including the United States, China, India and Colombia.
Information sharing
They discussed the importance of information sharing between nations, law enforcement agencies working together to combat the drugs trade, more publicity about the risks of taking drugs and strengthening of controls.
A statement issued by the UN following high-level negotiations agreed the need for member states to meet new challenges on drugs through greater information sharing and cross-border collaboration.
Tough action
It also recognised the need for more work to balance tough action against drug trafficking with renewed efforts on public health.
Crime Prevention Minister Norman Baker said:
The control of drugs and especially so called 'legal highs' is one of the major challenges of the 21st century.

I am pleased that we have managed to forge a way ahead towards a global consensus on the need for a modern, balanced and evidence-based approach to drugs policy.

The UK's approach aims to help individuals who have become dependent on drugs, recognising this is a health issue while at the same time ensuring law enforcement protects society by tackling the organised crime that is associated with the drugs trade.
Britain has made significant progress in implementing its Drug Strategy since 2010.
Drug use has fallen to its lowest level since records began and people going into treatment today are far more likely to free themselves from dependency than ever before.
The Minister for Modern Slavery and Organised Crime, Karen Bradley, and Norman Baker also used the commission to discuss the threat of organised crime and drug trafficking as well as action on so-called "legal highs".
Published 18 March 2014