Press release
UK and China agree £14 billion of trade and investment deals
Details of the trade and investment deals announced during the UK-China summit.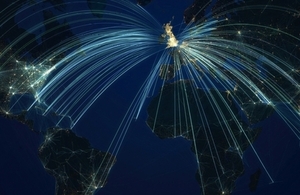 £14 billion of trade and investment deals have been signed between UK and Chinese firms as the Chinese Premier Li Keqiang meets Prime Minister David Cameron during a visit to the UK.
The annual UK-China summit takes place just 6 months after the Prime Minister's visit to China and with bilateral trade at record levels – up by 8% overall in 2013. UK exports to China have more than doubled since 2009, and are growing faster than our French and German competitors. Last year UK exports to China averaged more than £1 billion each month.
The UK is the most popular European destination for Chinese investment, benefitting from over £8 billion in 2013/14 alone, creating or safeguarding over 6,000 jobs in the UK.
Trade and investment deals announced
Trade and investment deals announced during the UK-China summit include:
BP and the China National Offshore Oil Company (CNOOC) signed an agreement worth £12 billion on the supply of liquefied natural gas. The deal will see BP supply CNOOC with 1.5 million tonnes of gas per year over the next 20 years, starting in 2019.

China Minsheng Investment Corporation (CMI), China's largest private sector investment group – with capital of $8 billion - announced today that it will open its European HQ in London with an investment of around £1.5 billion. Investments will cover a range of sectors including financial services, advanced technology, offshore engineering, new energy, and environmental protection.

MAP Environmental Ltd and Z N Shine Solar entered into a joint venture to purchase, develop, construct and manage £400 million of UK solar PV assets. The project will involve a 3 year construction programme in conjunction with some of the UK's largest engineering, procurement and construction contractors and the on-going maintenance will run for up to a further 20 years. The project will generate up to 50 new UK jobs in design, administration and operation roles with a further 500 new UK jobs in construction and maintenance created over the period of the contract.

China Merchant Securities (CMS), China's third largest securities firm in terms of net capital, opened its first London office which has been authorised by the Financial Conduct Authority today, creating at least 40 new UK jobs in its initial stage. CMS will increase the volume of commodity trading in London and play a significant part in the internationalisation of the Chinese currency Renminbi (RMB), reinforcing London's position as the second largest offshore RMB trading centre.
Speaking at the press conference for the UK-China summit today, Prime Minister David Cameron said:
This government is committed to implementing our long-term economic plan and to turning our country around. We are starting to see that plan bear fruit. I've always said that a key part of that plan is linking this country up to the fastest growing economies on the planet and China is central to that.

In the last few years we have made a huge difference and built a much stronger bilateral trading relationship between our countries. The figures tell the story - bilateral trade at record levels, our exports to China up 15% in 2013, they have more than doubled in the last 5 years and at £1 billion a month, they are growing faster than France or Germany.

These figures prove once again that Britain is the most open economy in the EU, the most welcoming to Chinese investment including in our nuclear industry and our infrastructure and I'm determined to keep it that way. The UK will continue to stand for opening up trade in the EU, for progress towards an EU-China trade deal, and for free trade within the G20 and the WTO.

Today we have signed deals worth more than £14 billion, securing jobs and long term economic growth for the British and Chinese people. Ours is truly a partnership for growth, reform and innovation.
Business Secretary Vince Cable said:
There has been more investment into the UK from China in the last 18 months than in the previous 30 years. Our country's brand is recognised around the world and the Chinese have an appetite for high quality British goods and services.

I led a business delegation of ambitious UK companies to China just a few weeks ago, opening doors for British business and helping to lay the groundwork for deals to be signed today.
Trade Minister Lord Livingston said:
UK exports to China are growing faster than our French and German competitors with exports almost doubling since 2009 - reaching more than £1 billion per month.

The UK is also the most popular European destination for Chinese investment. Inward investment is running at record levels, creating thousands of jobs for British workers.

Today's announcements show the huge potential to increase business with China and I encourage any company that wants to export to contact UK Trade & Investment.
Further deals signed
Some of the other deals signed today include:
A UK business consortium led by Dynasty Biotechnology has agreed to collaborate with Chinese businesses in the life sciences sector on research projects that will generate an estimated £528 million to the UK economy. The initial projects will focus on drug development programmes including treatments for cancer, asthma, strokes and eye conditions common in Asia. Funding will be provided by Chinese government and investor sources, reliant on Dynasty's relationships in China.

Nord Engine, a Chinese financial services group will open its first overseas operation in the UK and invest up to £150 million in UK and European small and medium sized enterprises. It will target small and medium sized enterprises in the tech industries, with strong commercial R&D capabilities and work to help them access the Chinese market. This will be the first Chinese institutional support for small and medium sized enterprises in the UK.

Shell has signed a Global Strategic Alliance Agreement with China National Offshore Oil Corporation (CNOOC) which reconfirms the existing strategic partnership between the 2 companies in China and around the world. The agreement commits the companies to exploring potential cooperation opportunities in upstream, midstream and downstream.

Lloyds Banking Group has signed a Memorandum of Understanding with the China Development Bank Corporation that will help secure inward investment from China into the UK, in particular into UK infrastructure and energy projects. The agreement will also establish further support for UK companies seeking to do business with China, helping them to fulfill their growth aspirations.

A collaboration between Shenzhen Xingcheng Holdings, BRE and Nottingham University is aiming to develop professional qualifications, accreditation, and executive education and training for professionals in China, and create a new training and research centre in Shenzhen. The collaboration will explore wider opportunities for research and consultancy in green architecture, design and urban sustainability for new buildings and developments in Shenzhen. This follows the MoU signed during the Business Secretary Vince Cable's trade trip to China last month.

China Merchant's Group (CMG) and the Victoria and Albert Museum (V&A) signed a collaboration agreement to support CMG's ambitious plan to develop the first major museum of design in China. The pioneering partnership aims to promote Chinese design to an international audience as well as present the best international design in China. The new museum is planned to open at the end of 2016 in the Shekou district of Shenzhen, the city designated by UNESCO as the city of design and creative industries.

High-level discussions on the development of the Chinese Free Trade Zones and EU/China Trade and Investment.
The Prime Minister's 2013 visit to China saw the announcement of £6 billion worth of business deals and established a strong and lasting energy partnership between the 2 countries, including the signing of a Civil Nuclear MoU. Businesses that joined the Prime Minister on his visit in December have also seen success:
Buckinghamshire-based Pinewood Studios has signed an agreement with Wanda to advise on the design and construction of a new film and television studio complex in Qingdao. Once completed, it will be one of China's largest film and TV studio facilities.

London-based Silvergate Media has signed a deal with CCTV to broadcast its children's TV programmes 'Octonauts' and 'Peter Rabbit' in China

Nottingham-based Duresta Upholstery is opening 3 new stores in China this year, with over 20 planned for 2015.

London software company TestPlant has opened its first office in China and signed a distribution deal with Chinese technology service provider HiRain Technologies. As a result of this deal and wider opportunities, TestPlant expects its Chinese revenues to increase from several hundred thousand to £3 million over the next 3 years.

Guildford company Modern Water has seen increased sales of its monitoring equipment as a result of the distribution agreement signed during the visit, and have since opened an office in Shanghai.

Oxfordshire-based Phynova has completed the signing of a manufacturing and licencing agreement for their leading product IminoNorm™ with a Shanghai biotech company.
Notes to editors
Bilateral trade is at record levels – up by 8% overall in 2013, with UK exports to China up by 15%.

We are the most popular European destination for Chinese investment – there has been more investment into the UK from China in the last 18 months than in the previous 30 years, with over £8 billion in 2013/14 alone creating or safeguarding over 6,000 jobs in the UK.

In the other direction, the UK is China's second largest European investor, with the total stock of UK investment in China exceeding $18 billion.

The UK's financial services industry leads the world including in offshore RMB trading, with more than 60% of offshore RMB trading outside of Hong Kong taking place in London.
Published 17 June 2014