News story
Typhoon for Oman
BAE Systems has signed a contract with the Sultanate of Oman for the supply of 12 Typhoon aircraft, associated support and 8 Hawk 128 aircraft.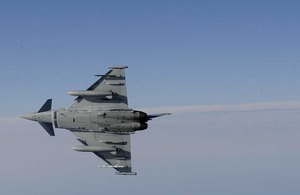 BAE Systems released a statement confirming that the deal is worth some £2.5 billion and equips the Sultan's Armed Forces with the most sophisticated aircraft on the market today.
Commenting on the deal the British Prime Minister, David Cameron, said:
This represents a further chapter in the historical and deep relationship between Oman and the United Kingdom.
Oman's choice of Typhoon recognises the capabilities of this versatile aircraft and its long term potential to stay at the forefront of military capability for many years. Oman will be a valued member of the growing Typhoon family.
This sale is an important contribution to our race for growth providing significant revenue and protecting high value jobs.
The Defence Secretary, Philip Hammond, said:
The relationship between the Sultan's Armed Forces and those of the United Kingdom is enduring. This purchase of Typhoon will serve to strengthen further the bond.
As with the existing Jaguar and Hawk aircraft I am confident that Typhoon will provide many years of first class service to the Royal Air Force of Oman and maintain its long and fruitful relationship with the Royal Air Force.
The Business Secretary Vince Cable welcomed the deal and said:
This is obviously a very good day for BAE Systems, its suppliers and the broader Eurofighter supply chain.
Published 21 December 2012