News story
This week at the Foreign Office
A look at the work of the Foreign Office and its embassies overseas this week.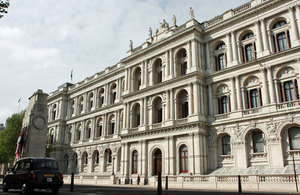 Countering terrorism overseas
Foreign Secretary William Hague spoke about countering terrorism overseas, at the Royal United Services Institute on 14 February.
The Foreign Secretary said:
"There can never be any justification for terrorism. The indiscriminate targeting of civilians is contemptible in any shape or form and our resolve to defeat it must never weaken or falter even for a day.
"But in standing up for freedom, human rights and the rule of law ourselves, we must never use methods that undermine these things.
"Achieving security, justice and advances in human rights together will not always be straightforward and despite our best efforts we may not always succeed. But it will always be our aim."
North Korea
The North Korean Ambassador was summoned to the Foreign Office following a nuclear test by DPRK on 12 February. Foreign Office Minister Hugo Swire stressed in the strongest terms the UK's condemnation of the test.
Foreign Secretary William Hague said that the UK will begin urgent consultations with Security Council partners, calling for a robust response:
"North Korea has a choice to make: it can either engage constructively with the international community, cease developing its nuclear and ballistic missile programmes and return to negotiations, or face increasing isolation and further action by the Security Council and the international community."
Mali
Foreign Secretary William Hague has updated Parliament on recent military progress and political and diplomatic developments in Mali.
The Foreign Secretary underlined the need for greater momentum on a political settlement and called for the resumption of negotiations with non-violent groups in northern Mali.
Europe
Minister for Europe David Lidington has invited contributions to the Government's review of how EU membership affects the UK.
Speaking at a meeting hosted by Centre for European Reform, David Lidington said:
"The Balance of Competences Review is an important opportunity to make sure that your views are heard as part of an extensive and objective review of how EU legislation impacts here in the UK."
Also this week:
Published 15 February 2013