News story
Foreign Office summons North Korean Ambassador
Following yesterday's nuclear test by North Korea, Foreign Office Minister Hugo Swire summoned North Korean Ambassador.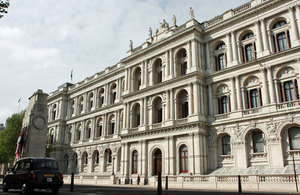 Speaking today Foreign Office Minister Hugo Swire said:
I summoned North Korea's Ambassador today to stress in the strongest terms the UK's condemnation of yesterday's nuclear test.
This is a clear violation of UN Security Council Resolutions, and the UK supports the resolve of the UN to implement more stringent measures against the regime. Yesterday all fifteen members of the UN Security Council signed up to a statement condemning the latest act of hostility and its grave implications for international security. It is essential, as ever, that the international community is united in its approach to this situation and that we speak with one voice.
I call on the North Korean regime to act in the best interests of its people and to choose the path they really want. Amid reports of widespread hardship and human rights abuses, the priority must be the health and welfare of North Korean people.
Further Information
Yesterday the Foreign Secretary condemned the North Korean nuclear test
Published 13 February 2013