News story
The Military Division of the New Years Honours list 2017
114 service personnel have been granted state honours by Her Majesty The Queen in the annual New Year Honours List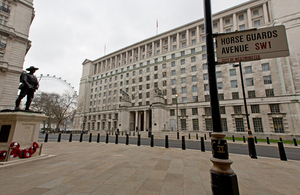 A total of 38 civilians have also been honoured either for their work in the MOD or in other aspects of Defence. The serving personnel named in the New Year Honours List for 2017 are listed below.
In honouring those who received them this year, Defence Secretary Sir Michael Fallon said:
It is right that we honour the dedication and commitment displayed by the men and woman in our Armed Forces whose service goes above and beyond. Their work will help ensure that Britain stands ready to face any threat as we continue to step up our commitments in Europe and across the world.
ROYAL NAVY AWARDS
PROMOTIONS IN AND APPOINTMENTS TO THE MILITARY DIVISION OF THE MOST HONOURABLE ORDER OF THE BATH
As Companions
Major General Martin Linn SMITH, MBE
Chaplain of the Fleet Ian James WHEATLEY, QHC
PROMOTIONS IN AND APPOINTMENTS TO THE MILITARY DIVISION OF THE MOST EXCELLENT ORDER OF THE BRITISH EMPIRE
As Commanders
Rear Admiral Christopher Reginald Summers GARDNER
Rear Admiral Graeme Angus MACKAY
Commodore Inga Jane KENNEDY, Queen Alexandra's Royal Naval Nursing Service
As Officers
Commodore Alistair John ADAMS
Commander Alastair Neil Spencer GRAHAM, MVO
Captain (now Commodore) Thomas Edward MANSON
Captain Philip Kenneth MILBURN
Captain Simon Richard PETITT
Commander Judith Helen TERRY
Commander Mark Adrian WILLIAMS
As Members
Lieutenant Commander (Acting Commander) Timothy Paul BRIGGS-MOULD
Lieutenant Commander (now Commander) Kara CHADWICK
Petty Officer (Diver) Martin DOHERTY
Warrant Officer 1 (Medical Assistant) Peter Leslie DUNCAN
Warrant Officer 2 Mark ELFVERSON
Warrant Officer 1 Philip GILBY
Warrant Officer 1 Logistics (Supply Chain) Michael HUGHES
Lieutenant Commander Alun John READ
Lieutenant Commander Nicholas REED
Warrant Officer 1 Craig RIACH
QUEEN'S VOLUNTEER RESERVE MEDAL
Lieutenant Commander Alan ROGERS
ARMY AWARDS
PROMOTIONS IN AND APPOINTMENTS TO THE MILITARY DIVISION OF THE MOST HONOURABLE ORDER OF THE BATH
As Companions
Lieutenant General Alexander James Sanson STORRIE, CBE
Major General Richard John CRIPWELL, CBE
PROMOTIONS IN AND APPOINTMENTS TO THE MILITARY DIVISION OF THE MOST EXCELLENT ORDER OF THE BRITISH EMPIRE
As Commanders
Colonel Andrew John Pooler BARR, OBE
Brigadier Jeremy Matthew James BENNETT, OBE
Brigadier Andrew Michael CLIFFE
Brigadier Ludwig Karl FORD, MBE
Brigadier Andrew Gordon HUGHES, MBE
As Officers
Colonel Graham Nicholas ADDLEY
Lieutenant Colonel Richard MacGregor CROMBIE, Royal Corps of Signals, Army Reserve,
Colonel Jason Saul ETHERINGTON
Lieutenant Colonel Andrew Stuart GARNER, MBE, The Yorkshire Regiment
Lieutenant Colonel Ingrid Elizabeth HALL, Adjutant General's Corps (Educational and Training Services Branch)
Colonel Richard Maurice HAYHURST
Lieutenant Colonel Andrew Charles Rule HEYWOOD, Royal Tank Regiment
Lieutenant Colonel Toby Alfred Warde INGRAM, MBE, The Royal Regiment of Scotland,
Lieutenant Colonel James Ryan KNIGHT, MBE, Royal Corps of Signals
Lieutenant Colonel Glyn David Cledwyn LLEWELLYN, The Royal Welsh
Lieutenant Colonel Nathan Magunda SEMPALA-NTEGE, Royal Regiment of Artillery
As Members
Warrant Officer Class 2 Lorraine ANDERSON, The Royal Logistic Corps, Army Reserve,
Major Andrew James BOURNE, The Mercian Regiment
Major Thomas Andrew Watson CAIRNCROSS, The Rifles
Major Dale Martin CLARKE, Royal Regiment of Artillery, Army Reserve
Major Vance Robert Thomas CROW, The Royal Irish Regiment
Captain Anthony Mark DALE, Corps of Royal Electrical and Mechanical Engineers, Army Reserve
Acting Lieutenant Colonel Mark Robert Sean DILLON, TD, Adjutant General's Corps, (Royal Military Police), Army Reserve
Staff Sergeant Ian James FLANNIGAN, Royal Corps of Signals
Staff Sergeant Christopher Michael FOWLER, Intelligence Corps
Major Graham James GOODEY, The Royal Anglian Regiment
Staff Sergeant Andrew HARRISON, Corps of Royal Electrical and Mechanical Engineers
Major Christopher Ashley HEAD, MC, The Royal Regiment of Fusiliers
Colour Serjeant Mark Christopher Charles HOLLOWAY, The Rifles
Warrant Officer Class 1 Barry John Michael HOOK, The Royal Logistic Corps
Sergeant Benjamin Ian HUGHES, Corps of Royal Engineers
Major Mark Stuart JONES, Corps of Royal Engineers
Major Stephen John KILLICK, The Parachute Regiment
Warrant Officer Class 2 Mark Anthony LOADER, The Parachute Regiment, 24901715
Major Karol Adam MAMOS, MM, The Parachute Regiment
Major Darren Keith McCLEERY, The Royal Irish Regiment
Captain Mark McDOUGALL, MC, The Parachute Regiment
Sergeant Alex George MENYA, Adjutant General's Corps (Staff and Personnel Support Branch)
Major Jonathan Patrick George MILLS, The Rifles
Major Martin Patrick MORRISSEY, The Royal Lancers
Acting Sergeant Emmanuel Ikemefuna OTTIH, The Royal Logistic Corps
Major Jake Simon POUNDS, The Parachute Regiment
Major Frank Stanley REEVES, The Royal Regiment of Scotland
Sergeant Jonathan Michael RIGG, Royal Corps of Signals, Army Reserve
Staff Sergeant John Joseph Patrick ROCK, The Royal Logistic Corps, Army Reserve
Major Robert Hugh Durnford O'NEIL ROE, The Rifles
Major Andrew Christopher RYAN, The Mercian Regiment
Staff Sergeant Clare RYAN, The Royal Logistic Corps
Major Steven George SMALL, The Royal Regiment of Scotland
Acting Colonel Christopher Hugh SHARWOOD-SMITH, Army Cadet Force
Acting Captain Verna Jacqueline BURRELL-TAYLOR, Combined Cadet Force
Major Edward Patrick THOMPSON, Corps of Royal Engineers
Warrant Officer Class 2 Mathew John TUCKER, Intelligence Corps
Captain David Trevor Martin WELFORD, The King's Royal Hussars
Major Simon David WHITAKER, The Duke of Lancaster's Regiment
ROYAL RED CROSS
As an Ordinary Associate of the Royal Red Cross, Second Class
Major Jennifer Anne RITCHIE, Queen Alexandra's Royal Army Nursing Corps
QUEEN'S VOLUNTEER RESERVES MEDAL
Warrant Officer Class 1 Adrian David KEEBLE, Royal Corps of Signals, Army Reserve
Warrant Officer Class 1 Christopher Elwood KLASS, Royal Corps of Signals, Army Reserve
Major Ian Christopher McAULIFFE, Royal Army Medical Corps, Army Reserve
Major Andre Lawrence PRUDENT, The Rifles, Army Reserve
Warrant Officer Class 2 Ian QUIGLEY, The Parachute Regiment, Army Reserve
ROYAL AIR FORCE AWARDS
PROMOTIONS IN AND APPOINTMENTS TO THE MILITARY DIVISION OF THE MOST EXCELLENT ORDER OF THE BRITISH EMPIRE
As a Knight Commanders
Air Marshal Richard Frank GARWOOD, CB, CBE DFC
Air Marshal Graham Edward STACEY, CB, MBE
PROMOTIONS IN AND APPOINTMENTS TO THE MILITARY DIVISION
OF THE MOST HONOURABLE ORDER OF THE BATH
As Companions
Air Vice-Marshal Susan Catherine GRAY, OBE
Air Vice-Marshal Richard John KNIGHTON
PROMOTIONS IN AND APPOINTMENTS TO THE MILITARY DIVISION OF THE MOST EXCELLENT ORDER OF THE BRITISH EMPIRE
As Commanders
Air Commodore Damian Robert ALEXANDER
Air Commodore Richard Paul BARROW, OBE
Air Commodore Keith Hugh Robert BETHELL
As Officers
Group Captain Andrew Charles GUDGEON
Group Captain Nicholas John KNIGHT
Group Captain James Grant LEGGAT, Royal Air Force Volunteer Reserve
Group Captain Clive Andrew MONTELLIER
Group Captain Daniel Jonathan STORR
Wing Commander Duncan Joseph George STUBBS
As Members
Warrant Officer Mark BAKER
Senior Aircraftman Thomas James BERRY
Flight Lieutenant Crispin Nicholas BOND
Squadron Leader Shaun David BURTON
Warrant Officer Alan David CLEMINSON
Squadron Leader Andrew Timothy CRICHTON, Royal Air Force Volunteer Reserve (Training)
Senior Aircraftman Shayne Daniel HADLAND
Squadron Leader Michael Richard LING
Squadron Leader Duncan Charles MASON,
Warrant Officer Karen Elizabeth PINNION
Sergeant Gary David ROBINSON
Warrant Officer Francis SINCLAIR
Wing Commander Benjamin Philip TRAPNELL
ROYAL RED CROSS
As an Ordinary Associate of the Royal Red Cross, Second Class
Warrant Officer Lee BOND
Published 30 December 2016