Press release
Talented graduate entrepreneurs brought to UK
Start ups kick off enterprise careers by Opening the Markets at the London Stock Exchange.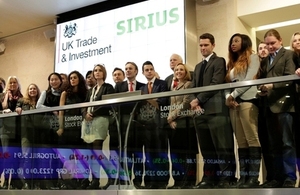 A new Government scheme – the Sirius Programme – which is bringing the world's best entrepreneurial talent to the UK has today announced the first innovative start ups to gain a place. The seven start ups, made up of 19 young entrepreneurs from 13 countries including India, China, Italy, Germany, Canada, Kenya, New Zealand, and Nigeria will now be able to establish their promising businesses in the UK, helping boost Britain's enterprise community, creating jobs, and inviting foreign investment.
More than 160 aspiring entrepreneurs from over 30 countries around the globe entered the first round of UK Trade & Investment's pioneering Sirius Programme, which enables talented graduates with innovative start-up ideas to make the UK their home. Selected by independent entrepreneurship experts as part of a rigorous judging process, the entrepreneurs successful to date come from five different continents between them and will launch businesses in sectors as diverse as sport, energy and health tech.
Their business ideas and inventions include: a one-of-a-kind way of creating green energy by converting waste coffee grounds into biofuel; a low-cost, portable, remote smartphone battery charging solution; and a fraud-reduction device that enables consumers to instantly verify whether a branded product is counterfeit via their mobile phone.
The Minister of State for Trade and Investment Lord Livingston said:
The UK is one of the best places in the world to become a successful entrepreneur and we are committed to helping talented entrepreneurs from around the globe to build their businesses here. The Sirius Programme will back the most talented teams and ensure the UK continues to lead in inspirational start ups and being the first to market with innovations. Looking at the high calibre of entries we have received for this programme, it is clear that Britain is fast becoming the country of choice for talented graduates to start and grow their businesses, which will ultimately help our economy to grow, boost productivity and create jobs, and succeed in the global race.
Tim Brown, a former professional footballer who represented New Zealand at the 2010 World Cup and is now the co-founder of ToBe, one of the start ups that will launch in the UK as part of the Sirius Programme said:
Our aim is complete market disruption – our invention will totally revolutionise the way athletes train. We want to take on the trainer market in the same way my fellow antipodean, and ex-Liverpool FC player, Craig Johnson, turned the football and rugby boot market on its head with the Adidas Predator. Our running shoes are the first in the world to be made from Fitwool – a proprietary woolen fabric – and designed for sockless wear, with no internal seams for an unparalleled level of comfort and performance.
We're delighted ToBe has been chosen as one of the first start ups to be part of the Sirius Programme. It's the perfect opportunity to help us fulfill ToBe's ambitions. Being based in the UK will enable us to start up and develop alongside like-minded entrepreneurs and gain access to world-class strategic advice and support. We can't wait to meet our Sirius Programme mentors, the accelerator team and to get started.
The teams will receive start up support from the Programme including:
a 12 month place on one of the best business accelerator programmes
mentoring
help gaining clients
financial support of £12,000 per team member
visa endorsement.
The enterprises will be 100 per cent owned by the graduate teams, and no equity is taken.
The Sirius Programme aims to attract hundreds of talented entrepreneurs into the UK in its first two years, with each of the resulting business creating new jobs, bringing in foreign investment and making a significant cumulative impact on the UK economy. Advantages of starting up in the UK include access to 500 million customers in Europe (62 million in the UK) and the fact that these consumers tend to be early adopters, keen to test and try new innovations.
The Sirius Programme is open for entries until 15 January 2014. For more information and to apply visit www.siriusprogramme.com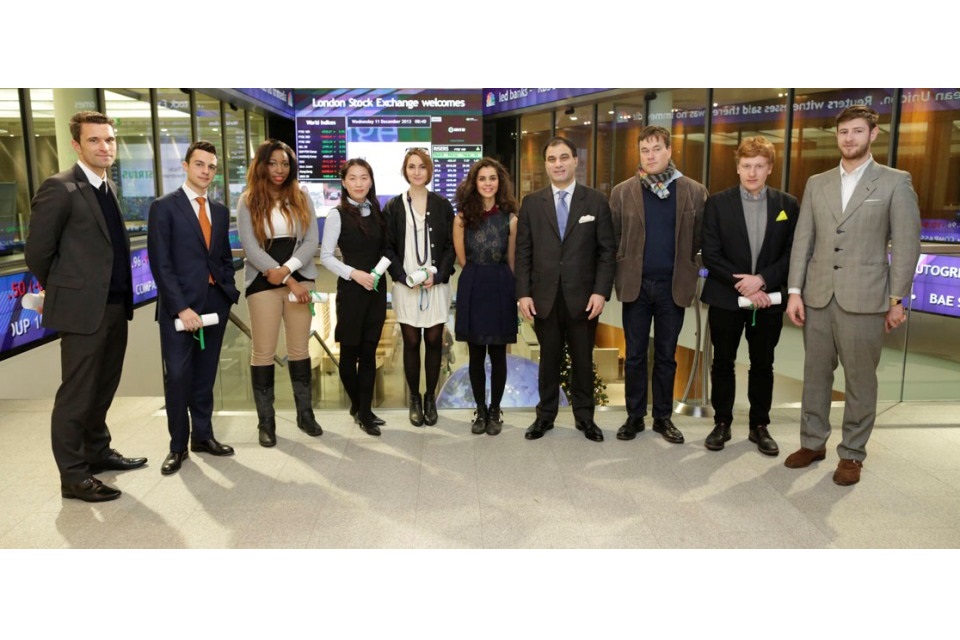 The Sirius Programme Start ups
The full list of successful start ups in the round of the Sirius Programme is:
ToBe: Ex-professional footballer from New Zealand, Tim Brown, is the inventor of Fitwool, a wool material which he will use to launch the world's first ever seamless, sock-free running shoe

Veri-tag.com: Founded by Vietnam's Duy Nguyen, India's Amit Pate and the UK's David McGee, reduces fraud by providing consumers with instant proof that a branded product they are buying is genuine via their mobile phone

Savesquared: Kenyan Edwin Openda and Italian trio, Carlo De Micheli, Stefano Caso and Andrea Gurnari, have developed a smartphone battery charging solution which enables batteries to be charged on the go at a cost of just £1 and without users having to wait nearby or lock their phone away

Sport for Food: Co-founded by Jean Eyoum from France and Canadian Richard Loat, this social enterprise is a new model for philanthropy, hosting flashmob-style sports events which people can participate in return for making a donation to a local food bank

ChiJen Brush Spa: Nigerian-born Jennifer Chizua and her British co-founder James Field identified a gap in the market for an affordable automated make up brush cleaner which will revolutionise the work of professional make up artists as well as standards of hygiene in the UK's make up bags

Rentez-vous. Fiona Disegni from France has joined forces with Greek, Myrsini Glinos, Aniss Bouraba from Algeria and China's Lesley Zhang to form the first fashion rental marketplace, allowing women to rent clothes from one another, as well as directly from designers for a fraction of the sale price

Bio-Bean: Benjamin Harriman and Arthur Kay of UK start up Bio-Bean are creating green energy by converting waste coffee grounds into biofuel, an idea not in use by any other company that came to designer Arthur whilst designing a coffee roasting plant and coffee shop
Further information
For media enquiries, interviews and images, contact Elizabeth Porter or Laura Greene 020 7010 0851/820 or sirius@kindredagency.com. For more general information, visit www.siriusprogramme.com.
Published 16 December 2013