Sphere Fluidics: biotherapeutics device attracts $7m investment
Life sciences firm supported by Innovate UK nears commercial launch of single-cell analysis system that can help transform cancer treatment.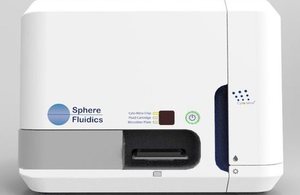 A Cambridge life sciences company that has developed a revolutionary system for single-cell analysis in the biopharmaceutical market, with support from Innovate UK, has secured private investment totalling $7 million.
Sphere Fluidics Ltd's Cyto-Mine® device promises to transform the discovery and development of biotherapeutics for treatment of cancer and inflammatory diseases and vaccine generation.
The company, based at the Babraham Research Campus in Cambridge, plans to launch a commercial version of Cyto-Mine® later this year.
The funding round was led by an Asian corporate investor but included existing angel investors and funds such as 24Haymarket, Parkwalk Advisors and London Business Angels. A number of leading biopharmaceutical companies are also helping to fund development of the device.
Sphere Fluidics benefited in 2015 from Innovate UK funding for a feasibility study and a follow-on collaborative R&D project, together totalling £310,000.
Innovate UK funding for prototype
The company has just been awarded £340,000 for a further three-year collaborative R&D project.
Chief executive officer Dr Frank Craig said:
That early funding from Innovate UK allowed us to develop a prototype system with Medimmune for the biopharmaceutical market. It gave us real momentum and was also the 'hook' that got private investors interested.
We are very pleased now to have ongoing investor support and also to extend our business activity and fund-raising success to Asia.
Cyto-Mine® can perform millions of single-cell assays daily, offering up to a 100-fold improvement over conventional techniques. It achieves all this at lower capital and operational cost.
Dr Craig added: "Our initial target market is biopharmaceuticals, but later we will also extend sales into other growing global markets, including synthetic biology, single cell therapy engineering, microbial analysis and single cancer cell diagnostics."
Published 15 February 2016