Case study
Triskel Marine: developing an innovative hybrid propulsion system
Cornwall-based company uses European funding support to develop innovative low-power propulsion system for small vessels.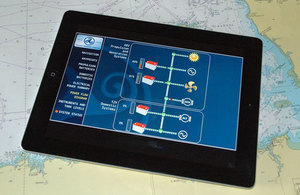 Triskel Marine has taken part in a Europe-wide programme to develop a hybrid propulsion system for small ocean-going vessels. The company was responsible for developing the monitoring and control systems for the main system components. This includes the engine, generator, batteries, propeller and renewables. Bringing all this data together has enabled the company to manage the system as a whole, rather than as individual components.
Triskel Marine has been working in the marine industry for more than 10 years. The research and development company offers specialist data collection, management and telemetry services. The company specialises in developing hardware and software for ultra-low power devices. These include ocean monitoring buoys where minimal power consumption and high reliability are vital.
An international collaboration
The company developed the hybrid propulsion system with the help of Framework Programme 7 funding. ICOMIA, the International Council of Marine Associations, led the project.
In total, there were 9 partners. They included SMEs from the UK and Sweden and a large industry partner from the Netherlands. There was also a diesel engine company from Austria and an international battery manufacturer.
UK entrepreneurs can benefit from European funding
Ken Wittamore, Triskel Marine's managing director, commented:
The benefits to small companies are enormous. EU projects give companies the opportunity to work with leading technology companies from across the EU. This enables you to gain tremendous technical profile in the markets that you want to work within.
Often, you find yourself working alongside potential customers, which also provides you with market exposure. At a technical level, the project enabled us to develop new technologies that we are now selling, that we would otherwise not have been able to develop.
A growing business
Triskel Marine has gone on to develop other new products that are now a core part of the business. Ken adds: "If companies want to 'dip their toe in the water' of EU funding, I would advise joining a consortium as a partner, rather than trying to lead the projects. In my experience, collaborative projects work well if the partners form a supply chain, as this means that they are not in competition with each other. It is important to be able to be open with the other partners in the project and comfortable in sharing knowledge."
Horizon 2020
The Framework Programme 7 funding scheme ended in 2013. Horizon 2020 is now the largest ever European funding programme for research and innovation.
Horizon 2020 aims to ensure that Europe produces world-class science. It works to remove barriers to innovation and make it easier for public and private sectors to innovate together. In most cases, applicants need to form a consortium to apply for funding.
Published 3 November 2015