Case study
Versarien: pre-revenue to £5 million in 3 years
A materials business supported by Innovate UK has moved from a garage start-up to become one of the UK's fastest-growing companies.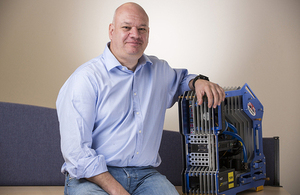 Versarien was founded at the end of 2010 to commercialise an innovative process for making metallic foams developed at the University of Liverpool.
In the very early stages it won an Innovate UK grant to help it develop its technology. Since those early days, Versarien has worked on a number of further Innovate UK supported projects.
It has resulted in rapid growth – from 2 people working out of a garage to a £5m business working on 4 sites and with a listing on the London stock exchange.
Neil Ricketts, founder and chief executive, said:
If we had not got that first grant, there is no way we would have been able to pursue that market or create jobs. It took the risk out for our shareholders and created a huge amount of validation. It said that we had something very good.
Versarien: pre-revenue to £5 million in 3 years
£6 billion market for advanced materials
The business, based in Gloucestershire, specialises in commercialising advanced materials technologies and is now working with metal foams, graphene and extruded aluminium. It is targeting £6 billion global markets and expects to continue to grow.
It works closely with a number of universities, providing support and sponsorship to university departments and students and gaining access to some of the new materials technologies that are being developed.
Neil added:
We are a company that takes great ideas and forms those into products.
Following its launch on the London Alternative Investment Market (AIM) in June 2013, the business is well-funded and has been able to acquire 2 businesses, Total Carbide Ltd and 2-D Tech Ltd.
It now employs 105 people across 4 subsidiary companies, Versarien Technologies, DV Composite Tooling and the 2 acquisitions.
'Support has driven our business'
Versarien has attracted Innovate UK funding to projects across all its businesses, including for innovations in materials for dental prostheses, work on the next generation of solar cells, and cooling systems for electric vehicles.
Its leading product, Versarien Cu, is a micro-porous copper that can improve efficiency up to 10 times when added to liquid cooling systems.
It can be used in thermal management systems in a wide range of industries including computing, automotive, telecommunications and power electronics.
Versarien is now talking to some of the biggest companies in the world about how Versarien Cu can be used in their applications.
Neil added:
We see Innovate UK as a real partner. It isn't just there at one particular time, it's there all the way through the journey.
It has really driven our business. I don't think we would be in the position we are in without the contacts, the connections and the help we have received from Innovate UK.
Versarien is a fast-growing business. We see that continuing. We are starting to explore global markets. We have opportunities in Korea, we have opportunities in the US and in other countries in the Far East. This business will continue to employ people in the UK and will continue to develop technology with the support of agencies such as Innovate UK.
Published 17 June 2015
Last updated 30 November 2015
+ show all updates
Updated to remove the link to the Business Growth Service which is now longer available to new customers.
First published.