Press release
Foreign Secretary Boris Johnson's call with Rex Tillerson, 4 January 2018
The Foreign Secretary spoke with US Secretary of State Rex Tillerson this afternoon about recent events in Iran, DPRK and the ongoing crises in Syria and Yemen.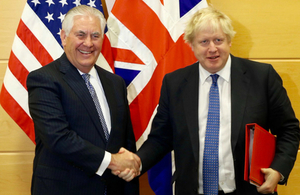 The Foreign Secretary and Secretary of State had an in-depth constructive discussion on developments in Iran and the protests there. They agreed on the importance of the right of freedom of expression. They also agreed that human rights in Iran needed to be fully respected in handling the demonstrations and undertook to monitor the situation closely. The Foreign Secretary reiterated the UK's ongoing commitment to the Iran nuclear deal and to working with our allies and partners to address Iran's destabilising activities in the region.
On the crises in the Middle East, they discussed the importance of moving forward on a process aiming at a political settlement in Yemen and the need to reinvigorate the political process on Syria.
They also agreed to maintain the pressure on North Korea to end their illegal nuclear programme.
Further information
Follow the Foreign Secretary on Twitter: @BorisJohnson and Facebook.
Follow the Foreign Office on Facebook & Twitter.
Follow the Foreign Office on Instagram, YouTube and LinkedIn
Published 4 January 2018