Press release
PM meeting with the King of Bahrain: 26 October 2016
Prime Minister Theresa May hosted a meeting with the King of Bahrain, Hamad bin Isa al Khalifa, at 10 Downing Street.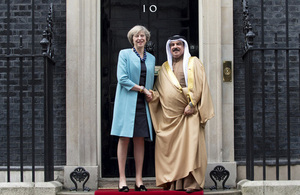 A Downing Street spokesperson said:
The Prime Minister hosted the King of Bahrain, Hamad bin Isa al Khalifa, for bilateral talks at Downing Street earlier today.

They discussed the importance of the bilateral relationship, and the deep ties that existed between our 2 countries stretching back 200 years.

The Prime Minister reiterated our firm commitment to the security of the Gulf, including through our naval base in Bahrain, HMS Juffair.

They discussed the progress that had been achieved through the King's ongoing domestic reform programme and how to build on that to bring greater inclusivity to the political and social fabric of Bahrain.

They also touched on regional security issues, including Yemen and the importance of achieving a prolonged ceasefire there, the shared fight against Daesh in Iraq and Syria, and the importance of seeing progress on the Middle East peace process.

The King formally invited the Prime Minister to the Gulf Cooperation Council Leaders' Summit in December as guest of honour, and the Prime Minister said she would be pleased to attend.
Published 26 October 2016