News story
PM meeting with PM Sellal of Algeria: December 2014
David Cameron welcomed Prime Minister Sellal of Algeria to Downing Street this morning.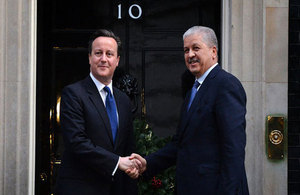 Following the meeting, a Downing Street spokesperson said:
The Prime Minister welcomed Prime Minister Abdelmalek Sellal of Algeria to Downing Street this morning. Both Prime Ministers reiterated their commitment to building a long term economic partnership and welcomed the success of yesterday's UK-Algeria investment forum, which saw the signing of 2 memoranda of understanding (MOU) between AstraZeneca and the Algerian state pharmaceutical company Saidal, including a joint venture in pharmaceutical production valued at £70 million. Prime Minister Sellal updated the Prime Minister on Algeria's plans for economic reform and his desire to expand the investment relationship into new sectors such as agriculture, defence and tourism.

They also discussed the threat of Islamic extremism and the security partnership between both countries. They agreed that our counter-terrorism co-operation had been strengthened since the In Amenas attack, but there was scope to expand this. In particular, they discussed the importance of tackling extremism online and the Prime Minister set out efforts the UK was taking domestically on this issue.

Discussing the situation in Libya, both Prime Ministers agreed it was essential for inclusive dialogue to take place, to secure an end to violence and a lasting political settlement. The Prime Minister said that the UK would work closely with Algeria in efforts to help bring stability to its neighbour. Prime Minister Sellal also updated the Prime Minister on the situation in Mali and their efforts to promote stability.

The Prime Minister raised the issue of the repatriation of foreign national offenders and both Prime Ministers agreed that their teams would work together to ensure the timely return of prisoners.
Published 11 December 2014