Press release
New push to grow UK's £17.5 billion education exports industry
Ambitious strategy to expand the UK's education exports industry, worth £17.5 billion to the economy, published.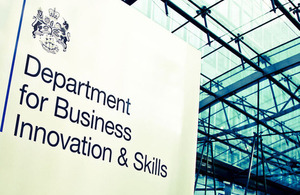 An ambitious strategy to expand the UK's education exports industry – revealed for the first time as worth £17.5 billion to the economy – has been published.
Developed in partnership with the education sector, the International Education Strategy will ensure British schools, universities, colleges and education businesses continue to stay ahead in the global education market – worth almost £3 trillion annually.
It aims to secure an extra £3 billion worth of contracts for the UK's education providers overseas, and attract almost 90,000 extra overseas university students by 2018.
The strategy will also strengthen education partnerships with other countries, particularly emerging economies, expand the Chevening Scholarship programme which sees future global leaders study in the UK, and encourage more UK students to spend time overseas.
Business Secretary Vince Cable said:
Overseas students make a huge contribution to Britain. They boost our economy, and enhance our cultural life, which is why there is no cap on the number of legitimate students who can study here.
Thanks to our world-class universities, our network of UK alumni who are now in positions of influence around the world is impressive, opening doors that would not otherwise be possible. Today's strategy will help build on this success ensuring we continue to attract international students and promote the UK's expertise in education.
Universities and Science Minister David Willetts, said:
There are few sectors of the UK economy with the capacity to grow and generate export earnings as impressive as education.
Our universities, colleges, awarding organisations and schools are recognised globally for their excellence. However, there is more that we can do to take advantage of this powerful reputation, and to seize the opportunities to stay ahead in the global race.
To capitalise on education exports, which have grown in value to the UK from £14.1 billion in 2008/2009 to £17.5 billion in 2011, the new strategy will:
launch the "Education is Great" campaign to promote UK education to students in emerging economies
grow the number of overseas students in UK universities by up to 20 per cent over the next five years – around an extra 90,000 students
appoint Emily Ashwell as the Managing Director of the new UK Trade & Investment (UKTI) Education UK Unit to help UK business take advantage of high value opportunities overseas – aiming to secure contracts worth £3 billion by 2020
set up a new initiative to encourage UK students to study overseas
appoint Sir Eric Thomas, Vice Chancellor of Bristol University, as the new UK Education Champion to promote the UK education sector overseas and maximise commercial opportunities
support UK companies using innovative education technology, such as Massive Open Online Courses (MOOCs)
double the Department for International Development's investment in higher education partnerships, which link universities in poorer countries with other successful institutions
expand the Foreign and Commonwealth Office's successful Chevening scholarships, which encourages high-fliers from around the world, some of whom have become heads of state, to study in the UK
The International Education Strategy follows the recent plans for agriculture, automotive, construction, aerospace and other key sectors to secure sustainable future growth in the economy.
Sir Eric Thomas, the new UK Education Champion, who will also co-chair the new International Education Council alongside David Willetts, said:
Education is arguably one of the UK's key exports and a highly respected brand internationally and so I am honoured to have the opportunity to contribute to its continued growth and increased profile.
John Fallon, chief executive of Pearson, said:
Training minds and teaching people how to learn and to love learning is, of course, of fundamental importance in its own right. Education is also now emerging as a great global growth industry; and improving learning outcomes is now fundamental to any country's economic growth plan. In the future, educational links will drive global growth and global relationships just as much as links in terms of trade, manufacturing and finance have done in the past.
The UK's education sector has great brands, great products and a proud history of teaching and learning. Today's education strategy is an important step forward in capitalising on this tremendous opportunity for the UK to play a valuable part in educating millions around the world and transforming their lives for the better.
Notes to editors
Sir Eric Thomas, the new UK Education Champion, is currently the Vice Chancellor of Bristol University, and currently president of Universities UK (UUK), a fixed-term role which finishes at the end of July.

Emily Ashwell, the new Managing Director of the UKTI Education UK Unit, is currently a director at Canaccord Genuity (formerly Hawkpoint Partners) focussing on education and media. She will begin her new role in mid-August.

The new Education UK Unit has already supported TQ Education, a Pearson business, to win a five year £300m contract for three vocational colleges in Saudi Arabia, providing skills and qualifications for over 8,000 Saudi students. Also in Saudi Arabia, the unit supported a consortium of three UK colleges led by North East Surrey College of Technology (NESCOT) to secure a £75 million contract to run a women-only vocational training institute.

Education exports were worth £17.5 billion to the UK economy in 2011. This figure includes income from international students in the higher education, further education, English language and school sectors as well as from education products and services.

Globally enrolments in primary and secondary education have risen from 400 million and 184 million in 1970 to 691 million and 544 million in 2010. Over the same period, the number of students in tertiary education rose from 33 million to 178 million.

As part of the strategy the Technology Strategy Board (TSB) and other partners will develop a more targeted support programme for educational technology innovation and its commercialisation. This will include a call for innovators to come forward with their designs to exploit modern educational technology and a new Small Business Research Initiative competition.

The government's economic policy objective is to achieve 'strong, sustainable and balanced growth that is more evenly shared across the country and between industries'. It set four ambitions in the 'Plan for Growth', published at Budget 2011:

to create the most competitive tax system in the G20
to make the UK the best place in Europe to start, finance and grow a business
to encourage investment and exports as a route to a more balanced economy
to create a more educated workforce that is the most flexible in Europe
Work is underway across government to achieve these ambitions, including progress on more than 250 measures as part of the Growth Review. Developing an Industrial Strategy gives new impetus to this work by providing businesses, investors and the public with more clarity about the long-term direction in which the government wants the economy to travel.
Published 29 July 2013