New measures to protect poultry against Avian Flu
The Chief Veterinary Officer has declared a Prevention Zone to help protect poultry from a strain of Avian Flu in Europe.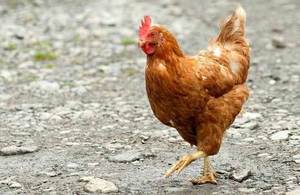 The Government Chief Vet has declared a Prevention Zone introducing enhanced biosecurity requirements for poultry and captive birds, helping protect them from a strain of avian flu circulating in mainland Europe.
The zone covers England and will remain in place for 30 days. Declarations have also been made by the Scottish Government and Welsh Government.
Keepers of poultry and other captive birds are now required to keep their birds indoors, or take appropriate steps to keep them separate from wild birds.
Outbreaks of Highly Pathogenic Avian Influenza (H5N8) have been confirmed in poultry and wild birds in several countries across Europe. No cases of H5N8 have been found in the UK and this order is a precautionary measure to help prevent potential infection from wild birds.
Public Health England (PHE) advises that the threat to human health remains very low.
Defra is continuing to monitor the situation closely and has increased its surveillance activity, while keepers are being urged to reinforce biosecurity measures on their premises.
Chief Veterinary Officer Nigel Gibbens said:
While no cases of H5N8 avian flu have been found in the UK, and PHE advises the public health threat is low, we are closely monitoring the situation across Europe and have scaled up surveillance in response to the heightened risk.

As a precaution, and to allow time for poultry and captive bird keepers to put in place appropriate biosecurity measures, we have declared a 30-day Prevention Zone to reduce the risk of infection from wild birds.

Even when birds are housed a risk of infection remains so this must be coupled with good biosecurity - for example disinfecting clothing and equipment, reducing poultry movement and minimising contact between poultry and wild birds.
Poultry keepers are advised to be vigilant for any signs of disease in their birds and any wild birds, and seek prompt advice from their vet if they have any concerns. They can help prevent avian flu by maintaining good biosecurity on their premises, including:
cleansing and disinfecting clothing, footwear, equipment and vehicles before and after contact with poultry – if practical, use disposable protective clothing
reducing the movement of people, vehicles or equipment to and from areas where poultry are kept to minimise contamination from manure, slurry and other products and using effective vermin control
thoroughly cleaning and disinfecting housing at the end of a production cycle
keeping fresh disinfectant at the right concentration at all points where people should use it, such as farm entrances and before entering poultry housing or enclosures
minimising direct and indirect contact between poultry and wild birds, including making sure all feed and water is not accessible to wild birds
Further information
Based on veterinary assessment there are currently no plans to implement a Prevention Zone in Northern Ireland.

Since 3 November, highly pathogenic avian influenza of subtype H5N8 has been found in dead wild birds in Austria, Croatia, Denmark, Finland, France, Germany, Hungary, Netherlands, Poland, Romania, Sweden, Switzerland, Ukraine and the Russian Federation. These outbreaks have affected various wild bird species, including Tufted Ducks (Aythya fuligula), Common Pochard (Aythya ferina), gull species, wild geese, wild swans and various other wild waterfowl and raptors. Read the latest outbreak assessment or sign up to our Alerts Service to keep up to date with the latest news.

Clinical signs that poultry keepers should look for in their birds include a swollen head, discolouration of neck and throat, loss of appetite, respiratory distress, diarrhoea and fewer eggs laid – although these vary between species of bird.

Where avian influenza (or Newcastle Disease) is not strongly suspected, but cannot be ruled out, poultry keepers may wish to liaise with their private veterinarian about using the Animal and Plant Health Agency (APHA) 'testing for exclusion' regime in GB. This involves submitting samples to a testing service at the APHA's National Reference Laboratory, Weybridge and can help detect a notifiable avian disease at the earliest opportunity for such cases.

Wild bird surveillance activity in Great Britain has been increased. If poultry keepers or the general public find dead wild waterfowl (swans, geese or ducks) or gulls, or five or more dead wild birds of other species in the same location, they should report them to the Defra helpline.
Defra Helpline
Seacole Building
2 Marsham Street
London
SW1P 4DF
The quickest way to get a response is to call our Helpline which is open Monday to Friday 8:30am to 5pm (find out about call charges at www.gov.uk/call-charges), alternatively you can email us.

Postal queries are unlikely to be answered until lockdown restrictions are relaxed, as the majority of our staff are working from home.

We aim to respond to queries within 20 working days, however due to the current volumes of correspondence we are receiving there could be a significant delay.
Published 6 December 2016