World news story
Mongol Rally
Essential travel advice for those taking part in the Mongol Rally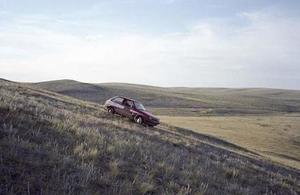 Read more about travelling to Mongolia
Entry requirements You must have a valid visa to enter Mongolia. To apply for a visa please go to Immigration of Mongolia or contact your nearest Mongolian Embassy.
You should take with you all registration documents for your vehicle, and purchase comprehensive insurance. To drive legally in Mongolia foreigners are required to hold an International Driving Permit (IDP) to drive legally in the country; IDPs can be purchased for £5.50 from the Post Office. If you possess an IDP you will still need to bring your UK driving licence with you.
Guidance on driving abroad is published on GOV.UK, the AA and the RAC have advice on driving in specific countries, including information on compulsory equipment.
If you are entering Mongolia by car you should familiarise yourself with the Mongolian Customs law.
When entering Mongolia in a private vehicle you should complete the customs declaration form and ensure you have all valid vehicle documents, including driving licence, ownership records and insurance. Customs Declaration forms can be completed upon entry at the border, as well as at the Ulaanbaatar City Customs Office situated next to the train station in Ulaanbaatar.
Please note that if you enter Mongolia in a private vehicle you must depart in the same vehicle, or otherwise pay customs tax. The amount of tax is dependent on the size of the engine and the value of your vehicle. Further details can be found on Mongolian Customs' webpage.
If your vehicle breaks down in Mongolia, you are not permitted to leave it there without paying customs tax. If your vehicle breaks down and is unfixable you must either pay for it to be transported out of Mongolia, or sell it on to a local mechanic, but you will still need to pay customs tax. You must not under any circumstance leave your vehicle unattended or abandon it.
If you are leaving your vehicle in Mongolia it must be left in a secure place, either with a mechanic or at an official Customs warehouse, for which you will need to submit a completed customs declaration form and pay a monthly fee for storage. If you leave your vehicle with a mechanic in Mongolia because it is unfixable you must provide proof (photos and a letter from a mechanic and a Police report) of this to the Customs Office. If you choose to sell your vehicle, you will need to show proof of sale.
Please note that customs tax is payable in local currency (MNT) only and must be paid directly to the Customs Office. If you wish to leave your vehicle and then return to collect it at a later date you should still pay the tax up front, which can then be reimbursed to you when you return to take your vehicle out of Mongolia. If you are not able to return in person, it is advisable to ask a third party to make the intial tax payment, and then collect the refund on your behalf.
Failure to comply with local rules may result in payment of fines, confiscation of property or unplanned delay in travel.
Money In cities ATMs are available and credit cards are widely used in hotels, shops and restaurants in Ulaanbaatar. Outside cities you should ensure that you have sufficient funds available in local currency Tugrug. You can exchange US dollars at banks.
Communications Most UK phone networks work here but the network is not widely available in remote areas. Wifi is available in many restaurants and bars and local SIM cards and mobile phones can be purchased at a reasonable price.
Driving around Travelling across the Mongolian countryside can be difficult and potentially dangerous if you are not familiar with the terrain. Mongolia does not have an extensive road network. You may need to follow tracks in the dust, mud or sand and there will not necessarily be other traffic to follow if these give out. Global Positioning Systems do not always function reliably and there are areas of the country without mobile phone coverage. We recommend that you take back-up communications like a satellite phone with you, plenty of water and provisions. Make a contingency plan and make sure someone knows your route and times of arrival and departure.
Mongolia experiences extremes of weather, from +35C in summer to -40C in winter. Even in summer, evenings can be cold because of the altitude and weather conditions can change without warning. There are very long distances between settlements. Take appropriate provisions, including warm clothing, blankets, food and water if you are travelling outside urban areas.
Don't use your mobile whilst driving. Take extra care. There is a zero tolerance policy on drink driving. If you have an accident, wait for the police. (Call 102 or +976 102 from an international phone to contact the police. Translation may be required). For more general information see Driving Abroad.
Healthcare Seek medical advice before travelling to Mongolia and ensure that all appropriate vaccinations are up-to-date. State medical facilities in Mongolia are generally poor. Private clinics and hospitals offer a better standard of care, though these do not always meet western standards and practices. If you are involved in an accident or taken ill, it is likely that you would be taken to a state hospital unless you can show that you have comprehensive medical insurance cover.
Obtain comprehensive travel and medical insurance before travelling. This should include cover for all forms of medical treatment, including Medivac. Check any exclusions and that your policy covers you for all the activities you want to undertake. For more general information see our Travel Insurance page.
DO:
Keep your original passport with you at all times for ID purposes and ensure that next of kin details are kept up to date.
Beware of petty crime, especially in crowded areas and tourist spots or when using public transport.
Drink or use only boiled or bottled water.
Be careful of your health when it comes to eating and know that the local vodka is strong.
Show appropriate respect in Buddhist monasteries. Ask permission before taking photographs, and don't touch any sacred images or objects.
DON'T:
Take photographs in the vicinity of government or military establishments.
Get involved with drugs. Penalties are severe.
Accept drinks in bars from casual acquaintances as they could be spiked.
Though many Mongolians are familiar with foreign visitors, be aware of local customs, especially if visiting remote areas or calling on a Mongolian family. Stepping on a door threshold or wearing short sleeves can cause offence.
Getting Help If things do go wrong when you are oversees then this is our When Things Go Wrong page. In case of emergency call British Embassy, Consular Section tel. + 976(11)458133 and follow the instructions.
Published 20 June 2016