Press release
Minister for Africa visits Nigeria
UK's package of support to help locate missing Nigerian school girls welcomed by President Jonathan.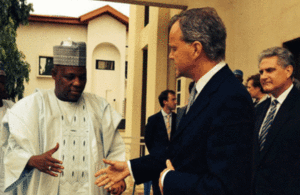 On returning from Nigeria Mark Simmonds said:
I am pleased I had the opportunity to discuss and agree with President Jonathan the UK's determination to support Nigeria's efforts to find the girls and end the threat from Boko Haram. President Jonathan welcomed the offer of further UK assistance, including a surveillance aircraft, a military team to embed with the Nigerian Army in their HQ and a team to work with the US experts to analyse information on the girls' location. We agreed on the importance of education and economic development in Northern Nigeria. The UK will contribute to the Safer Schools Initiative, spearheaded by Gordon Brown in his capacity as UN Special Envoy for Global Education. The UK will also double our investment in north eastern Nigeria conflict resolution programmes to make communities safer.

I handed to the President a personal invitation from the Foreign Secretary and UN Special Envoy for the High Commissioner for Refugees, Angelina Jolie, to attend the Global Summit to End Sexual Violence in Conflict in London in June. The abduction of the girls show why the international community must come together to tackle the scourge of sexual violence in conflict.
Further information
Follow Foreign Office Minister Mark Simmonds on twitter @MarkJSimmonds
Follow the Foreign Office on twitter @foreignoffice
Follow the Foreign Office on facebook and Google+
Published 15 May 2014