Press release
Magna Carta returns from global tour
Over 25,000 people have seen Magna Carta on its global tour. The original 1217 copy has now travelled home to Hereford Cathedral in time for Christmas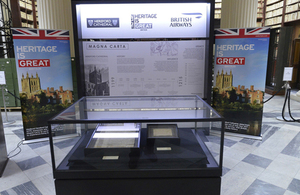 Hereford Cathedral's 1217 Magna Carta and King John's only surviving Writ from 1215 have made history by undertaking an epic global tour to three continents, covering 37,000 miles and 25 time zones.
The GREAT Britain campaign worked in partnership with Hereford Cathedral, British Airways and venues in America, Luxembourg, China including Hong Kong, Singapore, Malta and Portugal to host special exhibitions displaying these unique artefacts.
This iconic document has now safely returned to the region which has played such a substantial role in its origins and history. One of the oldest symbols of rule of law in the UK, Magna Carta is just as relevant today in the home of world-leading law schools and a legal sector worth almost £23billion to the UK economy.
Throughout the course of the global tour which started in September, over 25,000 visitors have turned out to see the historical documents and learn about their global significance. Venues including the New York Historical Society, Sotheby's Hong Kong and the National Library of Valletta in Malta reported that the Magna Carta exhibition was their most successful in recent memory.
The tour also made history as it was the first time that Magna Carta had ever been to China, including Hong Kong. Foreign Secretary Philip Hammond saw the display first hand in Lisbon and also visited it during the Commonwealth Heads of Government Meeting in Malta, along with Foreign Office Minister Hugo Swire.
Foreign Secretary Philip Hammond, whose constituency of Runnymede is where Magna Carta was sealed, said:
Magna Carta, one of the oldest surviving symbols of the rule of law, has returned to the UK following a successful 37,000 mile journey around the world. Thousands of people in three continents turned out to see it, showing how important democracy, individual freedoms and the rule of law are to people everywhere.

The cornerstone of the British legal system has contributed to the establishment of freedoms and laws right across the world.
Reverend Canon Chris Pullin, Chancellor from Hereford Cathedral, who accompanied Magna Carta on the global tour said:
It has been a tremendous experience sharing such wonderful documents with people from around the world, and it is super to be back at home, sharing our tour stories and experiences with people from the diocese and surrounding counties. We will be ringing the Cathedral Bells to celebrate their safe return home.
Further information
You can visit the Magna Carta at a display in Hereford Cathedral from Friday 18 December in the Mappa Mundi & Chained Library Exhibition, where it will stay until 2 January 2016. Visit Hereford Cathedral for details.

The tour was organised in partnership with The Chapter of Hereford Cathedral, Hereford Cathedral Perpetual Trust and the GREAT Britain Campaign, supported by British Airways who flew the document in their First cabin.

Magna Carta is a cornerstone of the British legal system which has become a powerful symbol of liberty around the world. 2015 marks the 800th anniversary of the charter being sealed at Runnymede. Magna Carta established for the first time the principle that everybody, including the king, was subject to the law. It marked the first step on the UK's journey towards parliamentary democracy and has been used as a basis for democracies around the world.

Hereford Cathedral holds the sole surviving copy of King's Writ and the best preserved of the 4 surviving manuscripts of 1217 Magna Carta. Hereford is a key location in the history of Magna Carta, as both Hereford Bishops played a role in the creation of multiple issues, and Hereford Barons were responsible for ensuring that the King complied with its terms.

More information on the tour and photos can be found here

Follow the Foreign Secretary on Twitter @PHammondMP

Follow the Foreign Office on Twitter @foreignoffice
Published 18 December 2015