News story
Lorry, bus and trailer annual test fees to fall
More than 80% of annual tests for lorries, buses and trailers will cost less from 1 October 2014.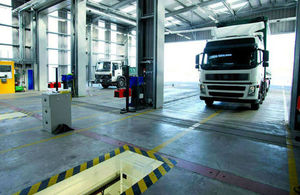 The annual test for lorries, buses and trailers is similar to the MOT test that cars take each year.
Over 80% of these tests are now done at an Authorised Testing Facility (ATF). These are usually privately owned businesses where a Driver and Vehicle Standards Agency (DVSA) examiner carries out annual tests. The remainder of tests are carried out from DVSA sites.
Reduced fees from 1 October 2014
Fees for tests taken at ATFs will fall by an average of 3.5% from 1 October 2014. This means that customers not using DVSA facilities will no longer contribute to their running costs. The change follows a public consultation.
DVSA plans to provide at least 85% of annual tests from ATFs by 31 March 2015.
ATFs that test vehicles from other companies must charge annual test fees at the rates set by DVSA. They're allowed to charge the other company an extra 'pit fee' to use their facilities. This is capped depending on the vehicle type.
More cost effective for customers
DVSA Chief Executive Alastair Peoples said:
There are now well over 400 ATFs across the country, and our strategy of providing bus and lorry testing at third party sites is already giving customers the choice of using a more convenient, local option. By realigning fees we are now making this even more cost effective for customers.

With no general fee increases since 2009, and reduced theory test fees starting in October, we're demonstrating our commitment to minimising costs for all our customers.
Fees for tests taken at DVSA sites
Fees for tests at DVSA sites will increase by an average of around 18.5%.
The cost of providing tests from DVSA sites is higher than from ATFs. In the past, these higher costs have been spread across all tests, but will now only be spread over the tests being taken at DVSA sites. This is now less than 20% of all tests.
Operator licences
DVSA is also changing fees for heavy goods vehicle (HGV) and public service vehicle (PSV) operator licences. These will rise by 1% to cover the running costs associated with the national register of licensed operators.
The register, which has been introduced as part of EU legislation, aims to create a more level playing field for international transport operations and reduce distortion of competition across the EU.
Fee changes in full
You can read all the new fees which will apply from 1 October 2014:
Set up an ATF
You must apply to DVSA if you want to set up an ATF. DVSA will carry out an assessment and probably also do a site inspection before deciding whether you can open.
Published 14 August 2014