World news story
Lord Green begins two week trade mission to South East Asia
Lord Green is visiting seven countries in Southeast Asia to boost the UK's trade links with the region.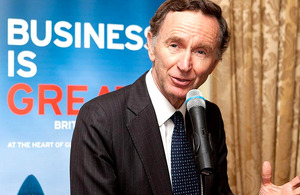 A two week visit to Southeast Asia by Trade & Investment Minister Lord Green to promote high value opportunities for British businesses in South East Asia begins today.
During his trip Lord Green will visit Jakarta, Kuala Lumpur, Singapore, Phnom Penh, Ho Chi Minh City, Hanoi, Bangkok, and Rangoon. The minister will meet leaders and business figures including Cambodian Prime Minister, Hun Sen, Vietnamese Prime Minister Nguyen Tan Dung and Burmese opposition leader Aung San Suu Kyi.
The visit will also form part of a wider effort to enhance the support available to British companies overseas, to source the help and advice they need to start trading in the region or to sustain and build on their existing activity.
Lord Green has commented on the visit:
"With so many high growth and emerging markets, Southeast Asia presents an enormous opportunity for UK goods and services. Through our global network, UKTI is able to give UK businesses intensive support to access high value opportunities, from large scale projects worth billions of pounds through to significant supply chain opportunities"
Amongst many activities during the visit, Lord Green will be attending the launch of the TM Lewin brand in Jakarta, opening the UK Innovation Forum in Singapore and officially launching a British Business Group in Burma
UK exports of goods only to ASEAN in 2012 were £8.9bn, an increase of 15% on 2011
Further information
UKTI Press release on Lord Green's trip
Twitter updates at #LdGreenSEA
Published 3 June 2013