IWT Conference 2018: Declaration commits over 50 countries to action for endangered species
Successful 2018 Illegal Wildlife Trade conference comes to a close in London.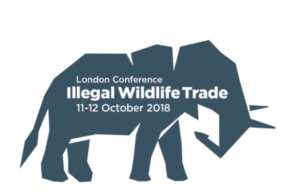 Over 50 countries have adopted the London 2018 declaration committing to action to protect endangered species around the globe, with more expected to sign today and in the coming days.
On top of the high-level international agreement, a number of countries will also pledge individual commitments to stamp out the abhorrent trade. These will be added and published over the coming weeks and months to ensure momentum continues in this crucial area.
Hosted by the UK government, the two-day event hosted delegates from more than 70 countries, with representatives from charities and conservation groups also coming together to find collective solutions to the illegal wildlife trade, one of the most lucrative serious organised crimes.
Building on our action to date, the UK government is today announcing new commitments from the conference:
£50,000 of funding to support in-country projects which complement the work of the new British military counter-poaching taskforce.

£50,000 for new WILDLABS Tech Hub which will bring together technology companies and conservation organisations to provide innovative solutions to fight the illegal wildlife trade in ODA-eligible countries.

Up to £40,000 as part of a partnership with Tale2Tail and WWF to fund education packs in multiple languages to help children understand the key issues in the illegal wildlife trade.

Plans to establish a new global consortium of demand reduction and behaviour change specialists with local area insight to inform future working.
It has also been confirmed that Peru will host the first regional conference in Latin America focused on IWT in 2019, supported by up to £50,000 of UK government funding.
Addressing the conference this morning, Environment Secretary Michael Gove said:
A record number of nations have signed up to our pledge, to the London Declaration, and I would urge all of you today to sign a pledge. To make sure a single unified voice emerges from this conference. A voice dedicated to making sure that we work together as one world, to save the wildlife that we have. That we work together as one cause, so that those most affected by crime can be protected and saved from the criminals.
The UK Government is taking a leading role in the fight against the criminals that operate in this murky world.
We are expanding funding for counter-poaching training for rangers in Africa, have committed additional new funding for projects aimed at reducing demand for products made from illegally traded wildlife, and launched a new initiative to target wildlife traffickers and criminal gangs, tackling the corruption at the heart of this vile trade. We are inviting applications from charities working on wildlife and conversation issues in the latest £20 million round of UK Aid Match.
And through the Ivory Alliance 2024, the UK has also brought together a new coalition of political leaders, conservationists and celebrities dedicated to defeating the illegal trade in ivory.
Foreign Secretary Jeremy Hunt told the conference:
The criminal gangs who smuggle horns and tusks pose one of the greatest threats to the survival of wildlife. They target some of the poorest countries in the world, spreading corruption and depriving governments of desperately needed revenues that could be used for schools and hospitals.
My aim is for Britain to do everything possible to protect wild animals for the sake of our grandchildren. If we failed to act, quite simply we would never be forgiven.
The conference has also seen major commitments from the private sector.
On the eve of conference, the Duke of Cambridge brought together global financial organisations which jointly declared they "will not knowingly facilitate or tolerate financial flows that are derived from IWT and associated corruption". The Wildlife Financial Taskforce brings together representatives from 30 global banks and financial organisations such as Standard Chartered, HSBC, RBS and City Group, and agencies and regulatory bodies including TRAFFIC and RUSI.
And one hundred travel and tourism companies have now signed up to the World Travel and Tourism Council (WTTC) Buenos Aires Declaration, working towards a common goal to educate over 1 billion travellers about the fight against the illegal wildlife trade.
The International Development Secretary, Penny Mordaunt, said:
The Illegal Wildlife Trade is having a devastating impact on both endangered wildlife and the world's poorest people.
Nobody wants to see these extraordinary species become extinct, or the communities living near their habitats struggle for jobs and livelihoods, which is why UK aid has a unique role to play in tackling the underlying causes driving these problems, from extreme poverty to deforestation.
The UK government is proud to have brought together countries from around the world this week to commit UK aid to tackling a global issue.
Background
Keep up to date with all the latest news and announcements from the conference, including the latest individual country commitments, on our dedicated Illegal Wildlife Trade Conference gov.uk page.
Among the pledges made at this week's conference were:
Laos committed to a total ban on ivory;

United States Attorney General Sessions announced the US will fund more than $90 million in counter-wildlife trafficking programs and projects in the coming year.
Published 12 October 2018