Press release
International Day of Democracy: New UK legal expertise fund and Magna Carta global tour
UK announces a global tour of Magna Carta and new funding to share British legal expertise worldwide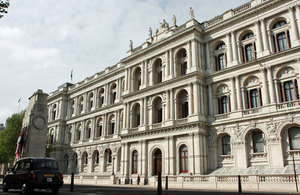 Baroness Anelay has announced a new £100,000 fund to enable other countries to benefit from the UK's world-leading legal expertise, marking the International Day of Democracy.
At an event held at Gray's Inn – at the heart of the UK's world-leading legal scene – the Minister launched the 'Magna Carta Partnerships' fund. The announcement builds on this year's commemorations of the 800th anniversary of the historic document that has played a central role in the formation of democracy around the world.
The pilot fund will facilitate sharing practical UK experience to help guide parliamentarians, judges and lawyers overseas along their own path to democracy.
Commenting on the importance of the new fund, Baroness Anelay said:
Democracy under the rule of law is the best form of governance we know - and the longer-term trend is towards countries wanting more democratic governance, not less. The UK government is committed to supporting this. The fund that I am launching today offers British legal expertise to countries around the world that want to improve the rule of law and their democratic processes.
At the same time Foreign Office Minister Hugo Swire has announced that Magna Carta will begin a global tour next week, in a partnership between Hereford Cathedral and the GREAT Britain Campaign. An original version of the document and the only surviving King's Writ from Runnymede in 1215, will pass through seven countries, across four continents, travelling a total of approximately 65,000 miles.
Thousands of people across the world will benefit from a unique opportunity to see the document - an internationally recognised symbol of the rule of law - first hand, and reflect on how the principles of Magna Carta remain more relevant than ever in today's world.
The Magna Carta has played a key role in the history of democracy around the world and still forms part of British law today. The tour will demonstrate its international resonance whilst also showcasing British influence across trade, law, international values and democracy.
Foreign Office Minister Hugo Swire welcomed the tour and said:
The Magna Carta is a hugely important part of our history and stands as a beacon for our values today. The tour is a fantastic way of enabling people from America to South East Asia to see it first hand, and to reflect on all that it stands for.
Canon Chris Pullin, Chancellor of Hereford Cathedral said:
I am delighted that our copy of Magna Carta is embarking on this global tour, which will enable more people than ever from across the world a unique and exciting opportunity to see the document close up and learn about what it represents.
Notes to editors
The 'Magna Carta Partnerships' Fund:
The pilot fund is worth £100,000 and will distributed in small grants via a bidding process
Grants will be administered by the FCO's Human Rights and Democracy Department; more information is available at Magna Carta Partnerships
The Magna Carta Global Tour:
The Hereford Cathedral Magna Carta is one of only 18 believed to be in existence. As part of the tour it will leave the United Kingdom and fly to New York, followed by Luxembourg, China (including Hong Kong), Singapore, Malta and Portugal, where it will be displayed at a number of public venues. The programme is being run in partnership with Hereford Cathedral
You can follow the progress of the #MagnaCartaTour on Twitter and Instagram. Canon Chris Pullin will Tweet throughout the Tour on @HFDMagnaCarta *More information on Magna Carta and the 800th anniversary is available on the Magna Carta Committee's website: www.magnacarta800th.com/
You can find out more about how Hereford Cathedral is celebrating Magna Carta 800 on their website: www.herefordcathedral.org
Further information
Follow Foreign Office Minister Baroness Anelay on Twitter @JoyceAnelay

Follow Foreign Office Minister Hugo Swire on Twitter @HugoSwire

Follow the Foreign Office on Twitter @foreignoffice
Published 15 September 2015