Press release
International community welcomes Afghan reform vision at London conference
59 countries reaffirm their commitment to support Afghanistan to become a secure and stable nation.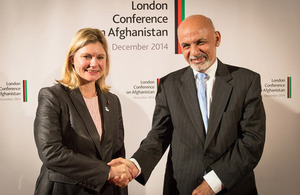 The UK and Afghanistan today co-hosted the London Conference on Afghanistan (LCA) where 59 countries reaffirmed their commitment to supporting Afghanistan to become a secure and stable nation after drawdown is completed at the end of the year.
Speakers included President Ashraf Ghani, who set out his plan to reform Afghanistan, along with Prime Minister David Cameron, Prime Minister Nawaz Sharif of Pakistan and US Secretary of State John Kerry.
In his speech, President Ghani outlined steps he has already taken to deliver on his ambitious agenda to reform Afghanistan and deliver economic security by tackling corruption, maintaining the progress made on national security and placing women's and civil rights at the heart of the country's future prosperity.
Speaking from the LCA, International Development Secretary Justine Greening said:
After 13 years of bravery and sacrifice from British and international armed forces, civilians and aid workers, and the people of Afghanistan themselves, this country now has a chance to set the course of its own future.

President Ghani has set out a clear vision for the future of Afghanistan and a commitment to the tough steps needed to make that a reality. This means tackling corruption, ensuring security and economic stability, and putting girls and women at the heart of Afghanistan's future.

This conference has put down a marker for a better, brighter Afghanistan. The international community has responded to the promises made with an unequivocal show of support. We have a shared history in Afghanistan and a common stake in helping it realise its enormous potential at this critical point.
The UK provided more detail on programmes it will be running to support Afghanistan in the next 3 years including:
boosting employment, with support and training for workers in the critical agriculture sector to help create more than 13,400 jobs, at least 3,200 of them for women;
infrastructure strengthening, to ensure that 90% of the population has access to roads and 50% of households can access grid electricity nationally by 2017, benefitting consumers and boosting business development;
support for economic growth, including a national materials laboratory and mineral promotion services to bolster Afghanistan's extractives sector, as well as technical expertise to increase tax and revenue collection;
prioritising support for the Afghanistan National Action Plan on Women, Peace and Security, as well as training for female provincial councillors and providing support and access to justice for survivors of violence;
improved access to schools and more pupils attending school, including girls;
greater access to health services, with at least 58% of births attended by skilled attendants and 86% of health facilities staffed by at least 1 female health worker by 2018; and
support for emergency health and nutrition programmes for more than 440,000 people a year, with a focus on girls and women.
See the Communiqué issued at the end of the conference.
Free-to-use pictures from the conference are available on DFID's Flickr channel.
Notes to editors
The London Conference on Afghanistan was jointly hosted by the British and Afghan governments. In total, 74 international delegations were invited, including 59 partner countries as well as multilateral organisations, NGOs and representatives of Afghan civil society.

The conference consisted of a main plenary meeting on 4 December, preceded by three associated events on 3 December looking at the role of the private sector, civil society, and the wider region in the future of Afghanistan. This included events on civil society engagement, private sector development and regional economic cooperation.

Civil society engagement event: A key objective for the London Conference on Afghanistan is for Afghan civil society – and particularly Afghan women – to have a prominent voice in setting priorities with the new Government. The British and Irish Agencies Afghanistan Group (BAAG) facilitated this opportunity for attendees to highlight their views on key reform priorities, including women's rights and the role of women and girls. Up to 200 attendees took part in the event, including UK and foreign ministers, international NGOs and development experts. Two civil society representatives, one male and one female, presented the conclusions of this event at the main plenary.

Private sector development event: President Ghani has prioritised a strong focus on the domestic private sector and on attracting foreign business by delivering reforms aimed at improving the business climate in Afghanistan. This event involved a roundtable of key Afghan and international private sector representatives and examined ways to support revenue generation and job creation and to catalyse domestic and international investment.

Regional Economic Cooperation event: Key regional leaders came together to discuss the opportunities and challenges for greater regional economic cooperation at a dinner on 3 December hosted by Foreign Secretary Phillip Hammond and attended by President Ghani and senior ministers from the region and other representatives. It was a chance to renew political commitment to this agenda and identify key areas for joint action, including on transit trade agreements, customs harmonisation and regional energy initiatives.
General media queries
Follow the DFID Media office on Twitter - @DFID_Press
Published 4 December 2014