News story
Hugo Swire welcomes UK's role in SICA
Hugo Swire has welcomed the decision to make the UK an Observer of the Central America Integration System (SICA).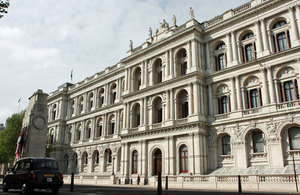 Rt Hon Hugo Swire MP, Foreign and Commonwealth Office Minister for Latin America, today commented on the decision of SICA members to welcome the UK as an Extra-Regional Observer to the organisation. He said:
"I welcome the decision by Central American countries to make the UK an Extra-Regional Observer of SICA. This will enable us to help Central America improve security for its citizens and encourage greater prosperity; two of our main policy priorities for the region. The UK fully supports the joint regional approach to security taken by Central American governments.
"The UK recognises the challenges faced by the region in tackling violence and organised crime. As a Friend of SICA, we have provided assistance in the form of training and expertise. During my visit to El Salvador in November I met with the Secretary General of SICA, Juan Daniel Alemán, who welcomed our application to become an Extra-Regional Observer. I am delighted that our application has now been agreed by all SICA members. Our strengthened commitment will enable us to work more closely with SICA, its Friends and Observers. We look forward to contributing further to the SICA agenda for security sector reform in Central America."
Further information:
The countries of the Central American Integration System (SICA) are Belize, Costa Rica, El Salvador, Guatemala, Honduras, Nicaragua and Panama. The Dominican Republic is an Associated State. Following an invitation from the Secretary-General, the UK became a Friend of SICA in September 2011, and applied to become an Extra-Regional Observer in late 2012. Being an Observer formalises a country's relationship with SICA and allows greater access to regional discussions as an official party to SICA's processes, but does not bring explicit financial or other obligations. Other Extra-Regional Observers are France, Germany, Italy, Spain, Australia, South Korea, Japan and China. The USA, Mexico and Canada are all Regional Observers.

To date our assistance has been in the form of training, expertise and limited provision of equipment. The cross-government Stabilisation Unit visited the region last year to carry out a detailed study, with recommendations which will help to ensure our future assistance is targeted as effectively as possible; following its report we are establishing a strategy for supporting improvements to citizen security in Central America.

Our new Embassy in San Salvador, which the Minister opened on 14 November 2012, focuses its work on security and prosperity. It has built strong relations with the SICA Secretariat, headquartered in that city.
Published 6 June 2013