World location news
Honduras and the UK
Lord Ahmad of Wimbledon delivered a speech to mark the 70th anniversary of the Universal Declaration of Human Rights at the Foreign Office on 10 December 2018.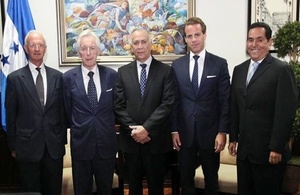 Representatives of Brennan & Partners, a British consultancy and investment firm, visited Honduras from 19 to 21 November.
Congresswoman Sara Medina is participating in the conference to discuss how to strengthen visibility, and further empower female parliamentarians to continue...
28 November 2018
Worldwide news story

8 November 2018
Worldwide news story
Our mission
We work with Honduras (but remotely from Guatemala City) to action the UK government's commitment to improve relations with Latin America. This includes supporting prosperity by helping the UK increase exports and attracting foreign investment; improving human rights; supporting the security and justice sectors; and resolving and preventing conflict. These are supported by the UK funding a range of projects and public diplomacy
Documents