Press release
Government welcomes historic EU-Canada free trade agreement
Landmark trade deal between the EU and Canada will benefit the UK economy and businesses by over £1.3 billion a year.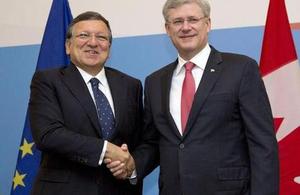 A landmark trade deal reached today between the European Union (EU) and Canada, that will benefit the UK economy and businesses by over £1.3 billion a year, has been welcomed by Prime Minister David Cameron.
The Canadian Prime Minister Stephen Harper and the European Commission confirmed the negotiations had concluded in Brussels today. Businesses in the UK stand to benefit significantly from this as the UK is Canada's second biggest trading partner in the world, behind the USA. The latest estimates suggest that UK exports to Canada would increase by 29% or £2.3 billion and Canadian exports to the UK would increase by 15%.
Prime Minister David Cameron said:
It's great news that Prime Minister Harper and President Barroso have concluded this historic trade deal and I want to thank them for their commitment throughout these negotiations.
Earlier this week, the Business Taskforce called for more free trade deals. Today the EU has delivered its largest free trade agreement ever and proved that it can be an asset for British business. The deal will inject £1.3 billion to the UK economy, boost exports by almost a third and create thousands of new jobs.
I've made it a priority to push for a US-EU trade deal. We must now seize on today's success and focus our efforts on concluding all the other trade deals on the table. Concluding those would be worth over £20 billion to the UK and help British businesses thrive in the global race.
Trade and Investment Minister Lord Green said:
The deal between the EU and Canada represents an important step in strengthening our trade and investment relations. As Canada's number one trading partner in the EU, the agreement stands to bring £1.3bn in annual benefit to UK GDP in the long term and will help support businesses and investment on both sides.
Minister of State at the Foreign and Commonwealth Office Hugh Robertson said:
Our relationship with Canada, a member of the Commonwealth, is very important to the UK. I'm delighted that this deal will help us to expand our ties with one of our closest historic friends and allies.
Industries that will especially benefit from the deal include car manufacturers, the wine and spirits sector, pharmaceutical companies, dairy and poultry farmers. It will also help those looking to win public procurement contracts.
Notes to editors
The overall expected benefit to the EU is £7.9 billion and £5.6 billion for Canada each year. Canada will also gain greater access to a single market of 500 million people. The boost to Canada's economy is C$12 billion and the equivalent to 80,000 jobs.

In 2012, UK-Canada trade flows in goods and services were £15.1 billion (UK exported £8.1 billion to Canada, and Canada exported £ 7 billion to the UK). EU-Canada trade flows were over £70 billion in goods and services in 2011.

Total EU exports to Canada will rise by 24.3% or £14 billion while Canadian bilateral exports to the EU will rise by 20.6% or £7.3 billion.

UK exports to Canada in processed foods will rocket by almost 500% in the long-run (or £1.3 billion per year). Chemicals (£260 million per year) and machinery (£160 million per year) would also see significant increases in exports.

The UK is Canada's second largest investment destination, after the US. The UK is Canada's launch pad for Europe, the Middle East and Africa. Canadian foreign direct investment in the UK was nearly £18 billion at the end of 2011, which has roughly doubled over the past 10 years.

Additional information can be found from the Canadian Government: 'Trade Negotiations and Agreements' and the European Commission: 'Assessing the Costs and Benefits of Closer EU-Canada Economic Partnership'.
7.Canadian beef and pork farmers, pharmaceutical companies, fishing industry and metals industry will benefit the most and it will also help those looking to win public procurement contracts.
8.Major Canadian investors in the UK include Bombardier, the biggest single investor in Northern Ireland, which announced this month that it will be creating another 250 jobs in Belfast. There are major investments in financial services and ICT, including in Tech City in London. Other Canadian investors include Thomson Reuters, McCain, CGI, Ontario Teachers Pension Plan, Blackberry, Mitel, Cirque du Soleil, OMERS, Nexen and MDA.
9.Case studies on UK companies exporting to Canada: Three craft breweries exporting West country beer and Reading firm wins £100,000 order in Canada
10.The government's economic policy objective is to achieve 'strong, sustainable and balanced growth that is more evenly shared across the country and between industries'. It set 4 ambitions in the 'Plan for Growth', published at Budget 2011:
to create the most competitive tax system in the G20
to make the UK the best place in Europe to start, finance and grow a business
to encourage investment and exports as a route to a more balanced economy
to create a more educated workforce that is the most flexible in Europe
Work is underway across government to achieve these ambitions, including progress on more than 250 measures as part of the Growth Review. Developing an Industrial Strategy gives new impetus to this work by providing businesses, investors and the public with more clarity about the long-term direction in which the government wants the economy to travel.
Published 18 October 2013