Press release
Government considering plans to make 7 day switching a reality across more markets
The government plans to make switching providers quicker and easier across a range of sectors.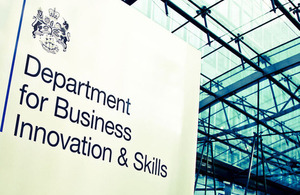 government plans to make switching providers quicker and easier across a range of sectors
an end to charges to unlock phones at the end of contracts across major mobile phone providers
consumers will be able to check broadband speeds at household level
For too long, consumers have stayed with their energy companies, phone providers and banks because they think switching would be too cumbersome and difficult. New evidence published today (25 May 2016) shows that consumers appreciate quick and reliable switching, on an agreed date.
Currently, there is no consistency between sectors on how long it takes for consumers to switch from one service provider to another that offers them a better deal.
Today (25 May 2016), the government is taking the first step towards consistently quicker switching across all major services by setting out proposals which could allow consumers to switch provider in a week or less. The government is asking consumers and industry for evidence of how these proposals could be implemented and new rules could be in place as soon as next year.
The call for evidence looks at how long it takes for people to switch providers across a number of markets, including energy, broadband, mobile phones, current accounts and mortgages, and asks what more could be done to speed the process up.
The document also seeks views on a range of other proposals to help consumers, including requiring that customers should be able to cancel contracts online if they signed up for them online. Government will meet with industry bodies in the coming months to discuss how the proposals could be taken forward.
Consumers will also be able to unlock their phone at the end of the contract for free after agreement has now been reached with major mobile providers. This means it will be easier to change providers, but keep an existing handset. Overall, handset owners spend an estimated £48 million a year unlocking their phones .
Under proposals to be brought forward in the Digital Economy Bill, the government is also taking steps to improve the experience for broadband and mobile phone customers:
customers will soon be able to check broadband and network coverage information for individual properties, finding out not only what speed they are getting but also what speed their house could get from other providers. Online property search portals will be able to display this data, making it easier to compare available broadband speeds when moving house
legislation in the forthcoming Digital Economy Bill will mean that consumers will only have to deal with their new provider in order to switch, ending the headache of having to contact the old provider to exit contracts
when things go wrong, consumers will also be automatically compensated by their telecommunications provider. This could include, for instance, when a telecoms package isn't brought online on the day it was promised, is offline for a couple of days, or if the repair-person doesn't turn up
Business Secretary Sajid Javid said:
I want to give consumers more power over switching providers for the services they rely on to make sure they are getting the best deals. The government is committed to creating a system that works for consumers and makes markets more competitive.

At the moment the time it takes to switch depends on which service you are switching. I want to hear what consumers and businesses think of making switching quicker and more consistent across all markets.
Culture Secretary John Whittingdale said:
We are more reliant on broadband and phone services than ever before. So we want it to be as easy as possible for consumers to spot the best deal for them, and switch providers quickly and easily if they want to. The measures we are introducing will help make sure consumers are better informed about the quality of these services and the switching process is much simpler. Also, in those cases when things don't go right, automatic compensation will be paid out.
Notes to editors
The responses from the call for evidence which concluded in December 2015 on switching can be found at Switching suppliers – making it easy for consumers.

Certain products already meet or better a 7 day standard (current accounts, mobile phones), or are on a clear path towards a quicker process (energy) where there is a business case to do so. Therefore this call for evidence will welcome views on how other products might be brought up to similar standards, and if there are other products not listed above that could be subject to a maximum 7 day switching process. Organisations already offering 7 day switching or faster can also reply to this call for evidence on the impact this has had on their business.

The government has also previously announced plans to introduce reliable next day energy switching.

Current switching processes vary from mortgages which typically take between 4 to 8 weeks, to current accounts which can be 7 days, down to one business day to switch mobile phone provider.

The results of a previous call for evidence on switching showed that consumers are concerned about the length of time it can take to set a switching date, and less than 60% of consumers who provided their views were able to switch as quickly as they wanted to. Data from the survey that Which? ran in parallel to the switching call for evidence varies slightly in comparison to the data from our call for evidence under this topic (switching being quick). For those who switched in energy, fixed line phone and broadband, a higher proportion were able to switch as quickly as they wanted with 75% in energy, 74% in fixed line phone and 70% in broadband. This compares to rates of 55%, 58% and 55% respectively from our call for evidence.

The proposal is that the 7 day switching period would begin when the consumer gives their consent to switch to a new provider, and the new provider accepts that customer. Different products and services can influence the time a switch takes, and the new call for evidence launched today aims to understand the specifics of switching across different sectors, including what processes are in place to ensure a secure and reliable switch, how quickly that switch can take place, and what forms of redress would be appropriate to compensate consumers if a switch goes wrong.

The call for evidence also seeks views on whether the provision of advice, advocacy and dispute resolution in the energy, communications, water and transport sectors can be made to work better for consumers.

We are asking whether there is more that can be done to make it easier for consumers to get complaints resolved, as well as whether there is an argument for requiring utilities to be more transparent on complaints.

This would make it easier for enforcement bodies and consumers to get back money they may be entitled to.

At this stage, we're asking the question – proposals, if any, would come further down the line once people have had a chance to provide evidence.
Published 25 May 2016