Government backs new scheme to improve people's health in Wolverhampton
A new app offering incentives such as vouchers for shops, gym discounts and cinema tickets for people who eat healthily and exercise more has been launched in Wolverhampton.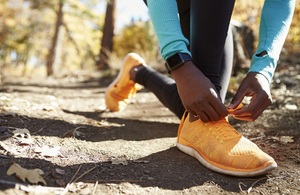 New app will offer incentives, such as supermarket vouchers and cinema tickets, to people in Wolverhampton who eat healthily and exercise more
The Better Health: Rewards app is free to download and users will earn points for taking simple actions or achieving healthy goals which they can use to get rewards
Backed by £3 million from the government, the pilot could support people to live healthier longer lives while helping us deliver one of our 5 priorities - to cut waiting lists
A new app which will offer incentives such as vouchers for shops, gym discounts and cinema tickets for people who eat healthily and exercise more has been launched in Wolverhampton today (17 February 2023).
The government-backed trial - the first of its kind in England - will see participants given free fitness trackers which will be linked to the Better Health: Rewards app.
The free app will generate personalised health goals for every participant - such as increasing their step count or eating more fruit and vegetables - in line with the Chief Medical Officer's physical activity guidelines and the Eatwell Guide for a healthy balanced diet.
Over 20 weeks, participants will collect points for each goal they complete, which they can exchange for rewards including discounts for cinema tickets, and clothes or food vouchers.
The government has made £3 million available for incentives, if users meet weekly challenges and improve their diet and physical activity behaviours. The app includes budget-friendly tips that support users to develop healthier habits, and challenges have been designed to be completed anywhere, no gym required.
National supermarkets including Sainsburys, ALDI, Morrisons, Tesco and Asda will be participating in the scheme so users can earn money off their food shop. Hundreds of other rewards are also on offer, including vouchers and merchandise from retailers including Amazon, Argos, Primark, M&S, John Lewis and Currys.
Gyms and leisure centres across Wolverhampton including PureGym, Places Leisure, Complexions and WV Active are offering vouchers and discounts, and users can also swap points for cinema tickets or family activities.
Secretary of State for Health and Social Care Steve Barclay said:
The launch of the new Better Health: Rewards app today in Wolverhampton will help us see how we can empower people to make healthy changes to their lifestyle.

The pilot is an opportunity to explore how we can further harness technology to support people to improve their physical health, prevent illnesses before they develop and help to ease pressure on the NHS.

I would encourage all adults in Wolverhampton to download the app today to improve their wellbeing and start earning exciting rewards.
Adults aged over 18 who live in Wolverhampton can sign up by downloading the Better Health: Rewards app via their app store, or they can search wolverhampton.gov.uk/rewards to find out more.
Health Minister Neil O'Brien said:
The government is investing £3 million to help people in Wolverhampton lead healthier, happier lives. The Better Health: Rewards app aims to put people in control of their own health.

It's about making it easier for people to eat better and increase physical activity. If you live in Wolverhampton, please don't hesitate to sign up.
The pilot, which is being delivered by the Office for Health Improvement and Disparities in partnership with Wolverhampton City Council, has benefited from expert advice from Sir Keith Mills, pioneer of leading reward programmes Airmiles and Nectar.
Health Incentives Adviser Sir Keith Mills said:
This scheme is a fantastic opportunity to explore how government and business can work together to deliver a new and engaging way of supporting the public to make healthier choices.

Through the pilot we will have exciting and innovative partners on board which will help motivate people to want to earn incentives, but also should help them overcome barriers to making healthy decisions in future. I'm looking forward to see how this scheme develops.
The City of Wolverhampton Council was appointed after an expression of interest and all residents over the age of 18 are eligible to sign up.
Wolverhampton is leading the way to trial innovative solutions to improve the health and wellbeing of their population, of which one-third is classed as being physically inactive, and a below-average number of adults in the city are eating their 5 a day.
These include a £1 million upgrade of equipment at the council's 3 WV Active leisure centres and the development of a free activity programme for children and young people through WV Active.
Councillor Ian Brookfield, Leader of the City of Wolverhampton Council, said:
We are working hard to improve the overall health of everyone in Wolverhampton by providing innovative solutions which can help our residents get more active.

We are already making significant progress in tackling physical inactivity, improving infrastructure and making environmental changes to enable people to be more active, and we are delighted to be working with the Department of Health and Social Care and HeadUp on this important pilot programme to see whether offering incentives can help people make positive changes to improve their health and wellbeing.

This is an incredible opportunity for the people of Wolverhampton, so please sign up today.
Addressing obesity and poor diet remains a priority for this government and alongside the Better Health: Rewards pilot we are delivering an ambitious programme of work to create a healthier environment for people.
It is estimated that obesity costs the NHS £6.5 billion annually. Tackling this serious health problem could save the NHS billions over time, ensuring vital funds are spent on key frontline services and cutting waiting lists, as well as improving the quality of life for millions of people.
In November 2022, the government announced £20 million funding to trial how best to deliver new medicines and technologies for people living with obesity, particularly in deprived communities across the UK.
Published 17 February 2023