Press release
Golden hellos for graduates teaching maths in further education
Minister Matthew Hancock announces that cash will attract brightest and best to teach post-16 students.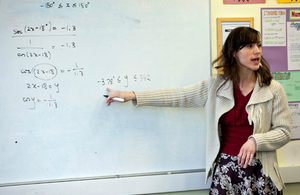 Top graduates who teach maths in colleges and training providers will receive a golden hello of up to £10,000 as part of the government's focus on putting English and maths at the heart of education, Skills and Enterprise Minister Matthew Hancock announced today.
Over the next 2 years the government is investing more than £30 million to raise the quality and quantity of English and maths teachers in further education colleges and training providers as part of its 'Further education workforce strategy' - benefiting almost 600,000 16- to 19-year-olds. Similar plans have already been announced for students attending sixth forms and sixth-form colleges through the National College for Teaching and Leadership (NCTL).
The strategy has been published on the same day as the Skills and Enterprise Minister announced that from 2017 the rigorous new GCSEs in English and maths will become the national standard qualifications for full-time 16- to 19-year-olds who enrol in colleges, training providers and school sixth forms who failed to achieve a good pass in those subjects by age 16.
The new GCSEs will mean every student can master the fundamentals required for further and higher education and a future career while providing a greater challenge for the most able students.
Skills and Enterprise Minister Matthew Hancock said:
This government is putting English and maths at the heart of the education system. They are the most important vocational subjects and are required for every job.

It is vital that all young people leave education with good literacy and numeracy. This is part of our long-term economic plan.

To support colleges and training providers to deliver this, we are investing millions of pounds through our workforce strategy and attracting the brightest and best graduates with the new golden hello scheme.
The reforms follow Professor Alison Wolf's ground-breaking review of vocational education in 2011 which found that generations of 14- to 19-year-olds had been failed by poor quality qualifications which did not prepare them for the world of work.
Commenting on today's announcements, Professor Alison Wolf said:
With more and more of the cohort in full-time education to age 18, England needs to acknowledge the importance of continued general education.

This country has been very different from the rest of the world in this respect, and not for the better.

It is therefore very good news that the government is placing maths and English at the centre of post-16 curriculum developments, and that it has recognised that GCSEs are the qualification used by employers and higher education.
The 'Further education workforce strategy' will ensure colleges and training providers are prepared for the continuing focus on English and maths. The government's £30 million investment will attract new English and maths teachers, and see existing teachers offered additional training to ensure they have the skills and knowledge they need to teach GCSE maths and English.
To allow the sector to prepare for the changes the GCSE will not become the standard qualification at Level 2 until September 2017. Funding will continue for functional skills as stepping stone qualifications for some groups of students.
The government's ambition is that by 2020, adults aged 19 and over and apprentices of all ages studying English and maths will be working towards the achievement of GCSEs. Functional skills are also valuable qualifications for some, as stepping stones on the way to GCSE achievement, and will continue to be part of apprenticeship completion requirements.
Recent figures published by the Office for National Statistics show that qualifications are crucial for employment. The study, which focused on residents aged 25 to 64, found that in 2011:
fewer than half (48.5%) of those with no qualifications were in employment compared with 8 in 10 (80.7%) of those with at least one qualification

the unemployment rate for both men (12.9%) and women (10.8%) with no qualifications was more than double the rate for those with at least 1 qualification (5.2% for men, 4.3% for women)
Despite this, the Skills for Life Survey showed a high number of young people leave education without crucial skills:
more than 3 quarters (78%) of working-age adults in the UK do not have the maths skills expected of our 16-year-olds (equivalent to GCSE A* to C)

just under half (43%) of working-age adults do not have the same grasp of English expected of our 16-year-olds
The 2013 OECD Adult Skills Survey found that not only are our young people beaten in maths and English by most of their peers abroad, they are also unique among the OECD countries in having no better literacy and numeracy than their grandparents.
Skills and Enterprise Minister Matthew Hancock added:
The research is clear, good quality qualifications are crucial for employment.

But for too long the focus has been on meaningless qualifications that left young people stranded when they sought work.

As a result other countries have jumped ahead in international league tables.

These reforms will once again allow our young people to compete in a crowded jobs market, a key part of our long term economic plan.
Simon Walker, Director General of the Institute of Directors, said:
The world is getting smaller and more competitive every day, and it simply cannot be an option to leave school without a minimum recognised standard in maths and English.

The global race is an unforgiving one, and children at school today will be competing with children from around the world for jobs that don't even exist yet.

Ensuring that our school leavers understand the importance of good maths and English will be one of the most effective ways of helping them to get out there and create the economy of the future.
Charlie Stripp, Director of the National Centre or the Excellence of Teaching in Mathematics (NCETM) said:
GCSE maths is a key qualification with real currency. GCSE maths and English are the most important school qualifications for progression in education and employment.

All students need a sound understanding of basic maths to function effectively in society, and since a grade C pass in GCSE maths is so important to employers - if you don't have it, you are hugely disadvantaged in the job market - it should be a major priority for all students.

For this reason, it is entirely appropriate that all grade D GCSE students in full-time education should continue to work towards their GCSE post-16.
The government will work with apprenticeship employers, FE colleges and training providers and others to identify how to make GCSE the qualification of choice for adults and apprentices while retaining functional skills for those who cannot achieve a GCSE.
We will launch a call for evidence, so that we can draw in advice from a wide range of stakeholders on how to reach this goal for young people, adults and apprenticeships, and how far the new GCSEs can be seen as meeting the functional skill requirements of all adults and apprentices. As part of the call for evidence, we want stakeholders to advise us on how to ensure that all parts of the sector are ready to deliver against this new ambition.
From August 2015 providers who teach English and maths GCSEs will receive a higher rate of funding through the government's Adult Skills Budget, though this will not apply to apprenticeships. Alongside this the government will cease to fund level 2 Qualification and Credit Framework (QCF) English and maths qualifications but funding will remain for functional skills qualifications at all levels and QCF English and maths qualifications below level 2.
In support of this announcement the minister has written to Ofqual to ask the exams regulator to work with awarding organisations to plan for the increase in students taking GCSE post-16. His letter and the response are published today on Ofqual's website.
Schools and colleges will be held to account for the progress students make in English and maths GCSE through a new headline 16 to 19 performance measure to be introduced in 2016 sixth form and college league tables. The government will consult on revised success measures for English and maths in apprenticeships and adult provision as part of its wider consultation on outcome based success measures to be published at the end of July alongside publication of new experimental data.
Notes to editors:
For more information on golden hellos or the workforce strategy please contact BIS press office on 020 7215 5078.

For more information on changes to English and maths post-16 please contact the DfE press office using the details at the bottom of the page.

The golden hello scheme is available to all newly qualified mathematics teachers who take up their first teaching post in FE between April 2014 and September 2015. More information on golden hellos is available on GOV.UK.

The call of evidence will be launched shortly and we will give further information in due course.

For full-time students enrolling from August 2015 it will be a condition of funding that those on 16 to 19 study programmes with a prior attainment of grade D in English and/or maths should study GCSE rather than other qualifications. Other students who achieved below grade D will still be able to take functional skills as stepping stone qualifications. This will not apply to students on traineeships.

The 16 to 19 condition of funding will be further revised in 2017 to support the new GCSE becoming the national standard qualification at level 2 for full-time students without a good pass in these subjects. Full details of the funding condition and the students to whom it will apply will be available nearer the time.

Between 2003 and 2011, there was no statistically significant change in the numbers of adults aged 16 to 65 without functional literacy (defined as level 1 or above) in England (16% (5.2 million) in 2003 and 15% (5.1 million) in 2011). The proportion without functional numeracy (defined as entry level 3 or above) worsened, from 6.8 million to 8.1 million (just under 25%). This decline in functional numeracy was most apparent among the 16 to 24 age group. Source: 2011 Skills for Life Survey, BIS Research Report 81 (2012).

There has been a significant increase from level 1 to level 2 literacy ability over this period, suggesting some progression of individuals. Adults achieving level 2 or above has risen from 44% in 2003 (14.1 million) to 57% in 2011 (19.3 million), but this improvement was not mirrored for numeracy. Those with level 2 numeracy decreased from 26% in 2003 (8.1 million) to 22% in 2011 (7.5 million). Source: 2011 Skills for Life Survey, BIS Research Report 81 (2012).

The average literacy and numeracy scores of young adults (aged 16 to 24) in England are similar to those of our older adults (aged 55 to 65). In relative terms England's 55- to 65-year-olds are amongst the top-performers across countries whilst our 16- to 24-year-olds are at the bottom of the table, alongside Spain, Italy and the US. England's 16- to 18-year-olds were ranked last in literacy and second to last in numeracy. Source: NFER (2013) The International Survey of Adult Skills: adult literacy, numeracy and problem-solving skills in England, BIS Research Paper 139.
DfE enquiries
Central newsdesk 020 7783 8300
General enquiries 0370 000 2288
Published 2 July 2014