Funding for primary school sports
The Prime Minister has set out his commitment to quality primary school sport.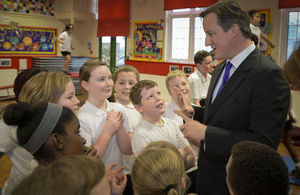 David Cameron highlighted the primary PE and Sport Premium and a fund for primary schools to improve outdoor spaces for PE and sport activities.
PE and Sport Premium
The dedicated primary PE and Sport Premium, which was announced in March 2013 and began the following September, goes directly to primary school head teachers so that they can decide how best to use it to provide sporting activities for pupils. A typical primary school with 250 primary aged pupils this year received £9,250, the equivalent of around 2 days a week of a primary teacher or a coach's time – enough to make sure every pupil in the school can do sport with a specialist.
Primary schools around England are already using the premium to:
up-skill teachers to improve the quality of sport lessons
invest in quality coaching
provide more opportunities for pupils to take part in inter-school competitions
offer more after-school clubs
purchase better equipment
introduce new and unusual sports like fencing, climbing, ultimate frisbee and Danish long-ball to encourage more children to enjoy sport
improve sport teaching for children with special educational needs
deliver holiday and weekend activities
boost Change4Life clubs, helping children build a healthier lifestyle
Outdoor space
In addition, from this month primary schools across England will be able to apply for a share of an £18 million fund to improve outdoor spaces for PE and sporting activities. The Lottery-funded scheme will be run by Sport England and will prioritise schools with limited outside space and a strong commitment to PE and sport. The schools are expected to receive an average of £30,000 each to help them vastly improve their sports provision. The funding will make sure they have better equipment and facilities - eg turning a concrete playground into a quality space for PE and sporting activities.
School Games
David Cameron announced an additional £11 million investment for the School Games to help continue to inspire more young people to take up competitive sport.
Organised by the Youth Sport Trust and supported by National Lottery and exchequer funding from Sport England, the School Games aims to enable every school and child to participate in competitive sport, including meaningful opportunities for young people with disabilities.
Designed across 4 levels, for both primary and secondary pupils, it offers opportunities for young people to compete in intra-school, inter-school and regional competitions.
Training for sports teachers
The Prime Minister also confirmed today that a new pilot programme to produce a group of primary teachers who specialise in PE has seen 61 trainees complete the course and 59 more began last month.
The total 120 specialist teachers, who will support other teachers to develop their skills and improve quality of PE teaching, will start in primary schools from September. The training schools are currently recruiting for a further 120 trainees to start training in September 2014, which will mean over 200 specialist primary PE/sport teachers in post by September 2015.
Published 6 February 2014