Funding for frontline projects in fight to end female genital mutilation
Communities Minister announces 17 projects to receive a share of £270,000 to help end FGM by creating a network of community champions.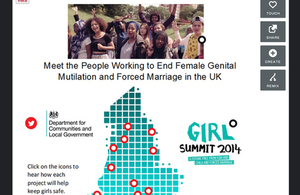 Communities Minister Stephen Williams today (5 December 2014) announced the names of 17 frontline community projects that will receive a share of £270,000 to help end female genital mutilation (FGM) and 'honour' based violence by creating a network of community champions.
Today's funding demonstrates the government's continued resolve to tackle these behaviours and practices and follows the pledge made at the recent International Day for the Elimination of Violence Against Women of a further £10 million to support women's refuges in 100 areas across the country.
Projects supported across England
The money has been awarded to projects in those areas with greatest need. This is in line with recently published data from NHS hospitals showing there to be 3 times the number of reported cases of FGM in London, compared to the rest of the country. More than 70 groups applied for funding and in addition to successful bids received from London, projects in Birmingham, Bolton, Bradford, Bristol, Essex, Leeds, Manchester, Nottingham and Rotherham will also be funded.
Communities Minister Stephen Williams said:
I first became aware of female genital mutilation when a teacher came to one of my MP surgeries and I was introduced to a group of girls who had decided to campaign against FGM. I was horrified at what I heard about this deeply embedded cultural practice. This practice has no medical benefits; indeed it results in great pain and distress as well as causing medical complications during child birth.

That's why I am proud that this government is making good on its pledge at the International Girl Summit to invest in these valuable projects, which will change hearts and minds in local communities, train frontline workers and help bring an end to this terrible practice.
The funding will be shared by 17 projects across England – including 2 nationwide groups to create a network of community champions that will work to 'change hearts and minds' about female genital mutilation and 'honour' based violence. The funded projects are:
Projects against female genital mutilation
Projects against "honour" based violence including forced marriage
Protecting victims and prosecuting offenders
The £10 million for women's refuges announced in November will be available over this year and next – local authorities are invited to apply for funding to ensure the protection of refuges in their area.
Refuges are especially important in providing a safe haven for victims of domestic violence who, on average, make 32 attempts to leave before they finally escape.
Latest figures published by the Crown Prosecution Service show the conviction rate for violence against women and girls is at its highest ever level, reaching 74.6% successful outcomes in 2013 to 2014.
Police referrals to the CPS for charging decisions have also reached their highest ever levels, and prosecutions and convictions have both risen by over 10% in the last year. Sentence lengths for rapists have increased and 'no crime' rates for rape have fallen year on year since 2010.
Image: ThingLink
Further information
At the International Girl Summit staged in London this summer, the government set aside £270,000 for community groups aimed at ending female genital mutilation and 'honour' based violence.
More than 70 groups applied for funding. Those projects that were unsuccessful in this round will be offered guidance on the application process for future rounds.
On 25 November 2014 the government announced £100 million funding for refuges, and ministers wrote to England's 326 councils to remind them of their legal duty to house women and children who have been forced to flee their homes for fear of violence and abuse.
Councils have until Friday 16 January 2015 to bid, and can do so by emailing: refugefunding@communities.gsi.gov.uk. £3million of the funding will be available in 2014 to 2015 with the remaining £7 million available from April 2015. Read the guidance on this website.
The government funds UKRefugesOnline a UK wide database of domestic violence services which supports the national 24 hour free phone domestic violence helpline. This service enables those working with victims of domestic violence to identify appropriate services and potential refuge vacancies around the country so that victims can get the help they need as quickly as possible.
Office address and general enquiries
2 Marsham Street
London
SW1P 4DF
Contact form https://forms.communit...
General enquiries: please use this number if you are a member of the public 030 3444 0000
If your enquiry is related to COVID-19 please check our guidance page first before you contact us - https://www.gov.uk/guidance/coronavirus-covid-19-guidance-for-local-government.

If you still need to contact us please use the contact form above to get in touch, because of coronavirus (COVID-19). If you send it by post it will not receive a reply within normal timescale.
Published 5 December 2014