News story
Foreign Secretary's statement on Syria
Foreign Secretary William Hague welcomes France's decision to share information related to samples from Syria and UN Commission of Inquiry report.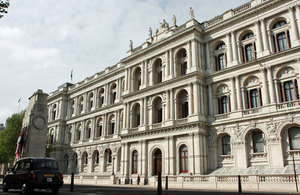 The Foreign Secretary, William Hague made the following statement today:
The scale of the atrocities being committed by the Assad regime is becoming ever clearer.

We welcome the decision by France to share information related to samples from Syria with the UN investigation so that the full facts are established around allegations of chemical weapons use in Syria. This announcement adds further weight to the need for a full and unimpeded investigation into all relevant incidents. The UN investigation team must be allowed unrestricted access to investigate on the ground in Syria and we call on the Assad regime to fully cooperate with it.

I also welcome the UN Commission of Inquiry report published today. I am deeply concerned by its findings, which highlight the ever-increasing levels of brutality in Syria. The accounts of war crimes and crimes against humanity, and the use of chemical weapons, rape, murder and executions are utterly appalling and underline the urgent need for a political solution to end the conflict.

There is evidence of human rights violations by all sides and we condemn this unreservedly. However the report is clear that the intensity and scale of the violations committed by the regime, and its systemic nature point that the prime responsibility for stopping the killing lies with the regime.

We therefore call again on Assad's forces that are continuing to lay siege to Qusayr, and preventing access to humanitarian agencies to help the thousands of civilians trapped there, to allow immediate humanitarian access to Qusayr.

We will continue to give our full support to the work of the UN Commission of Inquiry. And we will continue to work intensively with our partners on preparations for the Geneva II conference aimed at achieving a political solution to this crisis.
Further information
Follow the Foreign Secretary on twitter @WilliamJHague
Follow the Foreign Office on twitter @foreignoffice
Follow the Foreign Office on facebook and Google+
Subscribe to the announcements feed or email alerts to get our latest news and announcements
Published 4 June 2013