Press release
Foreign Secretary to visit Czech Republic, Romania and Slovakia
Foreign Secretary Boris Johnson will visit Prague, Bucharest and Bratislava for high-level talks following the Prime Minister's speech on the UK's EU exit.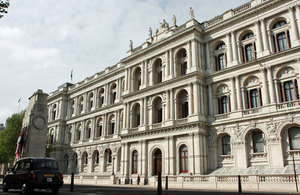 The Foreign Secretary has landed in Prague at the start of a 2-day, 3-country European trip.
Boris Johnson will meet with Czech Foreign Minister Zaorálek in Prague, and Romanian Foreign Minister Melescanu in Bucharest today [25 September], and with Slovakian Prime Minister Fico and Deputy Foreign Minister Korčok in Bratislava tomorrow [26 September].
These visits will also highlight the shared values and interests the UK has with all three countries, in addition to being close EU partners.
The deep and special relationship that we seek with the EU will ensure close co-operation continues on security and defence policy, countering Russian influence and our shared desire to increase trade between our countries.
Following on from the Prime Minister's speech in Florence on 22 September, the Foreign Secretary will discuss with counterparts how the UK leaving the EU will provide even more opportunity for the UK to deepen the bilateral relationship it has with its friends.
Ahead of his visit, the Foreign Secretary, Boris Johnson said:
I am looking forward to visiting the Czech Republic, Romania and Slovakia and to meeting with our friends and allies to discuss how we can co-operate ever more effectively after the UK leaves the EU.

I will also be making clear that the UK and EU's security is inseparable.

After the Prime Minister's speech in Florence, these visits provide me with an opportunity to re-iterate directly to our friends that Britain has always – and will always – stand with its allies in defence of our shared values, security, and our prosperity.
Watch the Foreign Secretary talk about his visit to Romania
Published 25 September 2017