News story
Foreign Secretary in Qatar and Kuwait for Gulf talks
Foreign Secretary Boris Johnson is today (Saturday 8 July) visiting Kuwait and Qatar for a second day of talks on the current Gulf tensions.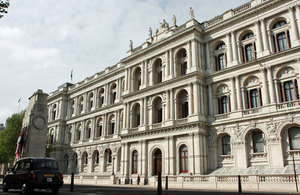 Mr Johnson, who yesterday met senior representatives of Saudi Arabia and the UAE, has arrived in Kuwait for discussions with His Excellency Sheikh Sabah Khaled Al-Hamad Al-Sabah, Kuwait's First Deputy Prime Minister and Minister of Foreign Affairs, and His Excellency Sheikh Mohammad Abdullah Al-Sabah, Minister of State for Cabinet Affairs.
The UK strongly supports Kuwait's mediation efforts and the Foreign Secretary will pay tribute to the work of the Emir of Kuwait.
Later today he will also travel to Qatar for meetings with His Highness Sheikh Tamim bin Hamad Al Thani, the Emir of Qatar, His Excellency Sheikh Abdullah Bin Nasser Al Thani, the Prime Minister of Qatar, and Sheikh Mohammed bin Abdulrahman Al Thani, the Foreign Minister of Qatar.
The Foreign Secretary is urging all parties to get behind Kuwait's mediation efforts and work towards de-escalation and Gulf unity for the sake of regional stability. He is also discussing a range of security and bilateral issues with a particular focus on working together to address the common threats of extremism, radicalisation and terrorism.
In Saudi Arabia yesterday, the Mr Johnson met His Royal Highness Prince Mohammed bin Salman, the Crown Prince and Deputy Prime Minister of Saudi Arabia, and His Highness Sheikh Mohammed bin Zayed Al Nahyan, the Crown Prince of Abu Dhabi.
Published 8 July 2017