Press release
Foreign Secretary holds talks with Iranian Foreign Minister
Foreign Secretary William Hague says Britain is open to improved relations with Iran, while stressing the need for progress on nuclear issue.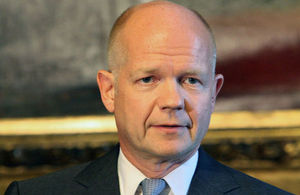 The Foreign Secretary, William Hague, today met the Iranian Foreign Minister, Mohammed Javad Zarif, in the margins of the UN General Assembly in New York. They discussed a range of issues, including Iran's nuclear programme, the conflict in Syria and UK-Iran relations.
Speaking after the meeting, the Foreign Secretary said:
I was pleased to meet my Iranian counterpart Mohammed Javad Zarif in New York today and to congratulate him in person on his recent appointment. We discussed a number of issues, including Iran's nuclear programme, the terrible conflict in Syria, human rights, and bilateral relations between our two countries.
Foreign Minister Zarif and I agreed on the need for an early resumption of E3+3 talks on the nuclear issue. We talked about the need for peace in Syria, where Iran could play a constructive role, including by supporting the Geneva framework for a negotiation between the Assad regime and the opposition and stopping its direct support for regime forces. And while welcoming recent announcements on the release of some political prisoners, I raised our concerns about human rights in Iran.
The United Kingdom does not seek a confrontational relationship with Iran and is open to better relations. The United Kingdom welcomes President Rouhani and Foreign Minister Zarif's recent statements about Iran's wish to improve its relations with the outside world. The time is now right for those statements to be matched by concrete steps by Iran to address the international community's concerns about Iran's intentions. If such steps are taken, I believe a more constructive relationship can be created.
Further information
68th Session of the UN General Assembly.
Follow the Foreign Secretary on facebook and on twitter: @WilliamJHague.
Follow the Foreign Office on twitter. Follow the Foreign Office on facebook & google+.
Published 23 September 2013