Press release
FCO Minister condemns ISIL brutality
Tobias Ellwood condemns the Islamic State of Iraq and the Levant's brutality following attacks in North West Iraq.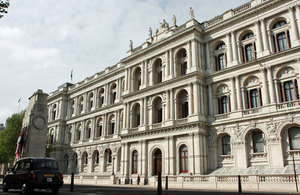 Minister for the Middle East Tobias Ellwood said:
I condemn ISIL's attacks in north west Iraq in recent days. ISIL's attacks in and around Sinjar have caused thousands to flee their homes, including from the Yezidi community, and are the latest example of ISIL's brutality, intolerance and victimisation of minority ethnic and religious groups. I am also concerned by reports of ISIL attacks against towns to the east of Mosul in the last twenty-four hours.

It is appalling that ISIL is preventing displaced and vulnerable people around Sinjar from reaching a place of safety where they can be provided with food, water and life-saving assistance. UN agencies are ready to respond, with strong support and funding from the international community, but ISIL is standing between displaced communities and the agencies that can help them.

The UK has committed £5 million to the now fully funded Iraq humanitarian appeal to provide urgent assistance to those displaced by conflict in Iraq. UK support will reach up to 140,000 people, delivered through UNHCR, the World Food Programme, UNICEF, International Rescue Committee, and others. We are also working closely with the UN and other partners to ensure aid reaches those most in need.'
Further information
DFID committed £5 million to the UN Iraq Humanitarian Strategic Response Plan, which is now fully funded, in June following prolonged fighting in the north west of Iraq that displaced many thousands of people.

The funding is allocated to UN and NGO partners and will support up to 140,000 people. We have deployed a humanitarian advisor to Erbil who is working closely with the UN and other partners to ensure aid reaches those most in need.

UK funding will be used to provide emergency medicines, including polio and measles vaccinations, food and basic shelter to women, men and children affected by the crisis. It will also enable aid agencies on the ground to trace and reunite families who have been separated while fleeing from the violence.
Follow Foreign Office Minister Tobias Ellwood on twitter @TobaisEllwoodMP
Follow the Foreign Office on twitter @foreignoffice
Follow the Foreign Office on facebook and Google+
Published 7 August 2014